The first starting quarterback in Dallas Cowboys history passed away this week.
Eddie LeBaron Jr. died of natural causes on Wednesday at the age of 85.
"On behalf of the Cowboys organization, we extend our sincere sympathies to the family of Eddie LeBaron," said Cowboys' owner/GM Jerry Jones. "Long before taking the first offensive snap in Dallas Cowboys history, he established himself as an American hero and a man of integrity. He lived a long and productive life, and his accomplishments, both on and off the field, were always worthy of great respect and admiration. He holds a special place in Cowboys history and will always be remembered."
LeBaron, a four-time Pro Bowler, played 11 years in the NFL, including his last four with the Cowboys from 1960-63. He began his career with the Redskins, playing seven years in D.C., where he earned three Pro Bowl selections.
LeBaron joined the Cowboys in 1960 in the expansion draft. In the Cowboys' inaugural regular-season game in 1960, LeBaron passed for 345 yards, three touchdowns and three interceptions as Dallas fell to the Steelers 35-28. The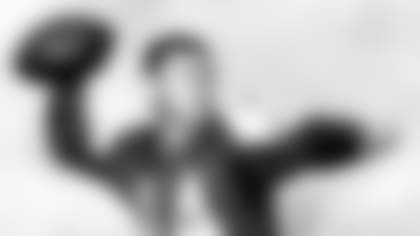 Cowboys lost all but one game in 1960, coming up with a tie later in the season against the Giants. In that 31-31 draw, LeBaron passed for 267 yards and three touchdowns.
That's also the time LeBaron started to split some time with Don Meredith, although LeBaron did make the Pro Bowl in 1962. The next season, Meredith took over as the starter for good and LeBaron retired after 1963.
LeBaron currently ranks in the Top 10 in four major passing categories for the Cowboys, including ninth in career passing yards (5,331), seventh in TD passes (45). He also ranks 10th in completions with 359 and his 692 attempts are good for ninth in club history.
A Marine Corps lieutenant who served in the Korean War after college, LeBaron also became an NFL announcer for CBS Sports following his playing career. He was later the general manager of the Atlanta Falcons, where he spent nine years in the front office.