FRISCO, Texas – The NFL is full of untold stories, unlikely relationships, and undeniable outcomes.
That's where defensive backs and teammates Jourdan Lewis and Donovan Olumba fall: somewhere between competing for shots at playing time, and traveling back home together to make an impact in the Detroit community.
Lewis is a two-year corner and former star at the University of Michigan. Olumba came to the Cowboys as an undrafted free agent, who signed in 2018 and has only one year of Division I football under his belt. But their roots took shape and bloomed once they ended up a few locker spots away from each other in Frisco, Texas.
"My second cousin played at Michigan, too," Olumba said. "What's crazy is, my cousin and Jourdan had the same number."
Julius Curry, a safety in the early 2000's at Michigan, wore number 26 for the Wolverines. A few years down the road, Lewis donned that same number.
"When I told him that," Olumba grinned, "it's been all love since."
Lewis invited Olumba to go home together and help coach at his annual skills camp over Memorial Day weekend. The Jourdan Lewis Foundation helped provide attendees with cleats and gloves for their high school season. The attendance for this year's camp more than doubled his first year's total.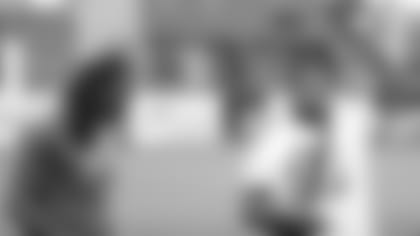 "We have 325 kids to the camp this year, so that's been a bulk of my offseason," Lewis said. "We're also trying to fund the Police Athletic Leagues teams, and get them new jerseys and helmets. As it becomes a bigger thing, we're trying to get some grants out for the kids, and scholarships too," Lewis said.
Olumba, still trying to grasp that it's been seven or eight years since he was playing youth football, enjoyed his opportunity to serve alongside Lewis.
"At that age, you're not confident in your ability. So me seeing talent in guys, and telling them, 'You're able to do things – you just gotta work hard', anything is possible," Olumba said.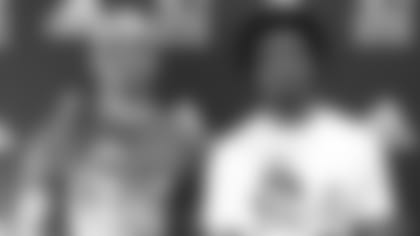 For these two, Kris Richard believes in both of their abilities to compete – even though they come from extremely different scenarios. Olumba has drawn some attention during OTA's, but his lack of football experience remains as a question mark.
"That's always going to be something you're going to question until he can get out there and prove it consistently on a down-in and down-out basis," Richard said. "Obviously, that's going to happen when the lights come on and the opportunity presents itself in these preseason games. There are a few questions he's always going to have to answer. 'You've barely played, you came from a small school, you didn't run a fast 40 time'. But while you're here, none of it really matters."
Olumba appreciates the criticisms not only from Coach Richard, but the 'iron sharpens iron' mentality of the defensive backs unit.
"If you don't play to his standard, he will hold you accountable," Olumba said. "Even if he doesn't, I have other players like Chido, Jourdan, Byron Jones, we all hold each other to that same standard. We want the success for the team."
Regardless of background, experience or playing time, these players are no stranger to one another, because their coach values immeasurable qualities that levels the playing field.
"Its one of the only talents that goes unmeasured and is not talked about. It's rarely ever talked about, but one of the main things that should be, mental toughness and physical toughness," Richard said.