Follow along with the very latest Cowboys updates as staff writers David Helman, Rob Phillips, Nick Eatman and Bryan Broaddus provide in-depth news and analysis.
Beasley Bounces Back After Drop
(Nov. 18, 6:15 p.m.) – For a guy with such sure hands, Cole Beasley didn't even know what to say about his drop.
"I can't even describe it, man. You're mad – but it's like, it never happens," he said. "I just said 'Wow.'"
It was uncharacteristic, to say the least. On the Cowboys' first possession of Sunday's game, Beasley broke open in the flat on a first-and-goal. Dak Prescott fired him a pass to his outside shoulder – where it clanged off his outstretched hands.
The offense couldn't find pay dirt on its subsequent two plays, and the Cowboys had to settle for a field goal. Even in the aftermath of a 22-19 win, Beasley didn't feel good about it – so it's a fair bet he wasn't happy in the moment, either.
"Beasley's tough on himself, and obviously right there he was just telling me how mad he was," said Dak Prescott. "I just told him 'Don't worry about it, it's over with. We're going to need you again.'"
Lo and behold, Prescott's words proved prophetic. Beasley got several more opportunities throughout the game, as he finished with 51 yards on five catches.
The timing of those catches didn't seem like a coincidence, either. He caught a 17-yard ball to set up Prescott's four-yard rushing touchdown early in the fourth quarter. Then, minutes later, he saved the best for last with a 19-yard snag over the middle of the field that helped set up Brett Maher's heroics.
"Obviously, he made a huge play right there in the two-minute drive to set us up for that game-winning field goal," Prescott said.
It was a big finish after a forgettable start, and Beasley said the hardest part was simply keeping an even keel.
"That's just it – waiting for a chance to redeem yourself is the biggest thing," he said. "But you can't press too hard and be out there and make it worse, so you've still got to stay kind of level throughout all of it. That's the hardest thing, because dropping a wide open pass – not even that. Dropping a wide open touchdown just kills you, man. It's hard to redeem yourself from that."
Chances are, Beasley will still kick himself about the misses touchdown. But there's no doubt about it: redemption felt good.
Shorthanded D-Line Rises To Occasion
The Falcons have one of the most powerful offensive attacks in the NFL, especially at home. They entered this game with arguably the best receiving corps in the league, headlined by Julio Jones and a former MVP quarterback in Matt Ryan slinging the ball around.
The Cowboys entered this game with four defensive linemen injured and not playing.
That didn't like a recipe for the Cowboys to hold Atlanta to just 19 points and one touchdown but that's exactly what happened and one of the reasons the Cowboys got the win.
Playing without Taco Charlton, David Irving, Antwan Woods and Daniel Ross, the Cowboys still managed to get three sacks on Matt Ryan, who was having to move around in the pocket all day.
While the depth was depleted, the Cowboys still had three key players in DeMarcus Lawrence, Randy Gregory and Tyrone Crawford. All three of them were credited with at least half a sack.
"We knew we had to step up," Gregory said after the game. "We were banged up, but there were no excuses. We had to suck it up and play."
Gregory recorded one of the three sacks, as Lawrence was credited with 1.5, splitting his first one with Crawford.
The Cowboys also got some big help inside from Maliek Collins and Caraun Reid, who had been inactive several times this year, but started the game and actually provided with a big rush on Ryan on the first play, nearly resulting in an interception.
Although it's a short week coming up with the annual Thanksgiving Day game, there's a chance some of their depth can return. But if not, this crew proved they can get the job done, even against one of the best passing attacks in football.
Tyron Smith Feeling Better After Stinger
(Nov. 18, 6:04 p.m.) – For a man who doesn't say much, Tyron Smith's body language spoke volumes.
Three plays before Brett Maher's game-winning kick against Atlanta, Smith took a knock in pass protection and went to the ground in agony.
"It didn't feel good, but I'll be alright," Smith said after the game.
Smith was understated as usual, but he allowed that the stinger he suffered was one of the most painful of his entire career. The Cowboys' medical staff evaluated him on the sideline to determine the severity of the problem, but Smith said he was feeling better after the game.
"We'll see what happens tomorrow, but I'll be fine," he said.
This week is obviously a short one, with Washington coming to town Thursday for the annual Thanksgiving game. With so little time to get ready, the Cowboys will undoubtedly have a close eye on their star left tackle.
But given how much pain he was in on Sunday, it's at least a relief that the injury wasn't worse.
4 D-Linemen Ruled Out For Atlanta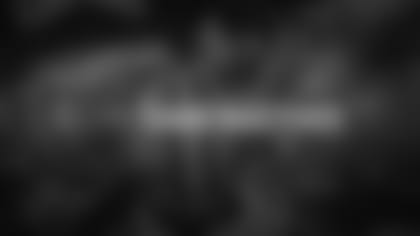 The Cowboys' inactives are going to be fairly straightforward for a second consecutive weekend.
That was bound to happen with the injuries on this team's defensive line, as they ruled Taco Charlton, David Irving and Daniel Ross out on Friday afternoon. Antwaun Woods was also listed as doubtful on Friday, and he was confirmed as inactive 90 minutes prior to today's kickoff.
The full list of inactives is defense-heavy in Atlanta. All told, Mike White, Tavon Austin and Sean Lee will join Charlton, Irving, Ross and Woods on the inactives list.
These are all lingering issues that stem back several weeks. Austin has been missing in action since he suffered a groin injury in Week 6 against Jacksonville, while Lee is missing his fifth game of the season with a hamstring strain.
The defensive line injuries have been a problem for a couple of weeks now. Irving hurt his ankle during practice before the Tennessee game, and Charlton injured his shoulder in that Monday night loss to the Titans. Add in the injuries that Ross and Woods suffered in last week's win against Philadelphia, and the Cowboys are left with a bit of a depleted group.
The front office promoted defensive tackle Christian Ringo from the practice squad to help with that. He'll get playing time alongside Tyrone Crawford, Maliek Collins and Caraun Reid to help offset the injuries.
There had been some speculation that Connor Williams might be inactive while he recovers from his knee injury, but it's a good bet that the injuries to the defensive line bumped him onto the game day roster. Instead, Austin and White will be the only inactives on offense.