IRVING, Texas – Regardless of their injury issues, the Cowboys plan on having their entire roster aboard Monday night's flight to London for the International Series game against Jacksonville.
"Right now, all the players are going," said Cowboys coach Jason Garrett on Monday afternoon.
That accounts for several banged up members of the Cowboys' roster. Most notable among them is Tony Romo, who both Garrett and Cowboys owner/general manager Jerry Jones said Sunday will make the trip.
Word broke during the weekend that Romo had fractured two transverse processes in his back as the result of the sack he took Oct. 27 against Washington. Garrett said the quarterback is progressing well after the decision was made to sit him against the Cardinals.
"He's certainly on a normal timetable for people who have had this injury. It comes to the second game about whether or not they're able to play," Garrett said. "Hopefully he makes progress here in the next couple days."
The Cowboys have plenty of other injury issues, as well. Garrett said the team is still awaiting scan results on Rolando McClain and Tyrone Crawford, who were injured during the 28-17 loss to Arizona. Garrett said both players underwent MRIs on Monday and will make the trip to London.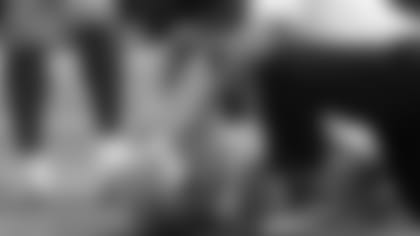 "Just kind of waiting to see what their status is," Garrett said. "Both of those guys were looked at again today, so hopefully we'll get some positive feedback. We anticipate them making the trip."
Their availability for Sunday is still in question, but starting offensive linemen Ronald Leary and Doug Free will also be on the flight. Free has now missed three games with the fractured foot he suffered in Seattle, while Leary missed his first game of the season Sunday with a groin strain.
During Garrett's Monday press conference, which was held near the team's practice fields, Leary could be seen working with the strength and conditioning staff. When asked if the pair would be able to practice in London, Garrett was optimistic.
"We're hopeful that they will do that, yes," he said.
Josh Brent isn't eligible to play against the Jaguars, but the Cowboys will also be taking their suspended defensive tackle with them overseas. Brent continues to serve his 10-game suspension, mandated by the NFL after his return to the league. He is eligible to practice during the lead-up to this game, and he will be able to play when the Cowboys return from their bye week against New York on Nov. 23.
"Just continue to improve. He had a good week last week," said Garrett when asked about Brent's work load this week.
The lion's share of attention will continue to fall on Romo as the week moves forward. Jones said Sunday the team will do everything it can to ensure Romo's comfort during the long flight to London. Garrett reiterated his stance from last week that the Cowboys will monitor Romo's recovery on a day-by-day basis.
"He's gotten better and better every day since the injury, and hopefully he'll feel better from a pain standpoint and hopefully that will positively affect his ability to move around and get some stiffness out of there," Garrett said.
"We've got a couple days until we practice, so hopefully he'll handle the flight well, get over there, blood will be flowing through his body, he'll feel good and we'll get to work."