Doing appearances as a Dallas Cowboys Cheerleader is such an honor and so exciting, but there are always a few that stick out in your mind as the most memorable of the season.
My first ever appearance as a DCC was a Group One event in September 2015 at the annual Senior Jamboree Games Day in Fort Worth. Not only was it special because it was my first appearance, but I remember laughing and smiling all day long thinking to myself how grateful I was that I got to do this for a living.
Well, it just so happens that last weekend I was able to go back to the Senior Jamboree Game Day and this time as a second-year veteran.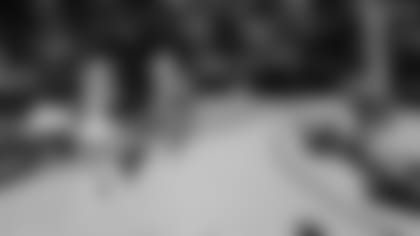 The morning started out with six of us – myself, Raylee, Claire, Allie, Maddie, and Yuko – arriving early at Camp Carter in Fort Worth and right away being greeted by all the wonderful volunteers on hand to help Bobbi Arthur, who is in charge of the event every year. Once we came out in uniform, we made our way over to Bobbi to get ready for the guests to arrive. She told us that all the guests were being driven up in buses, so we immediately thought it would be a cute idea to greet them in a tunnel-like formation and shimmer our pom-poms as they walked through us giving them a special grand entrance, just like we do for the players on a real game day.
The guests were absolutely enthused once the bus doors opened and they saw us standing there. It is moments like that when, again, I take a moment and think to myself how lucky I am to be a DCC where I can brighten someone's day up just with a simple smile and welcome greeting.
Once all the guests had arrived in seven busloads, it was time to play some games. We were able to go from booth to booth, meet with people, take pictures and cheer on some of the guests. Some of my favorite games that I took part in were beach-ball bowling, horseshoes, corn hole, archery and, of course, scooter racing!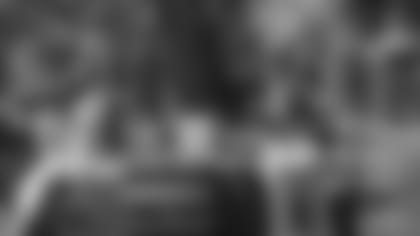 After we went to every booth and spread some DCC love and cheer it was time to meet even more of the guests while signing squad photos for them. It was so sweet to talk with everyone and see all the photos they wanted signed for their grandchildren, who were either huge Cowboys fans or dreamed of becoming a DCC.
The most-special moment of the day had to have been when a gentleman named Timothy came up to us with two large scrapbooks, saying he had brought them just so we could see them. I immediately was so curious as to what was in them and, boy, was I blown away once he opened that front cover.
The books were filled with hundreds of photos of him and past DCC, and he had a squad photo for each year dating all the way back to the 1980s. It was apparent he was, without a doubt, our biggest fan. I was completely in awe flipping through each page and was left with the biggest grin on my face talking with him and seeing pictures throughout the years of the DCC and him. He even waited a whole hour until he got the last squad photo of the day, with his name on it, to add to his amazing collection! 
Overall, the day was full of laughter and smiles, and left us all with full hearts and gratitude toward this wonderful life of being a Dallas Cowboys Cheerleader and striving to go above and beyond the boots.