IRVING, Texas – DeMarco Murray's big season continued Thursday, as he was named NFC Offensive Player of the Month for October.
If you'll think back about 30 days, this honor isn't a new one for Murray. He was named NFC Offensive Player of the Month for September after a hot start that saw him rip off four-straight 100-yard games.
He has yet to slow down, as the rest of the NFL has surely realized. Murray's 19-carry, 141-yard rushing effort against Washington on Monday night gave him his eighth-consecutive 100-yard game to open a season – an NFL record he claimed for himself at seven games on Oct. 19 against New York.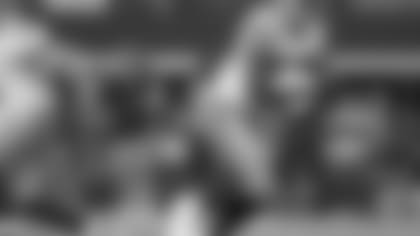 As a result, Murray is currently running away with the NFL rushing title and basically has been since he went for 167 yards in Week 2 against Tennessee. He has already surpassed 1,000 yards on the season, as his big day against the Redskins put him at 1,054 with eight more games to play.
His closest competitor, Houston's Arian Foster, trails Murray by 288 yards, as he sits on 766 for the year. Murray also leads the league in attempts, with 206 carries this season – an average of roughly 26 per game. His average of 5.1 yards per attempt is third in the NFL among running backs with 100 or more carries, behind Baltimore's Justin Forsett and Foster.
Murray also caught 17 passes for 171 yards during the month of October, highlighted by his four-catch, 80-yard effort in the loss to Washington. All told, he notched 691 yards from scrimmage in the Cowboys' four October games – best in the league
Elsewhere on the award circuit, Tom Brady won AFC Offensive Player of the Month for the first time since December 2011. Minnesota's Everson Griffin won NFC Defensive Player of the Month, Denver's Von Miller won AFC Defensive Player of the Month.
Special Teams Player of the Month was split between Miami's Jarvis Landry in the AFC and New Orleans' Shayne Graham in the NFC. Buffalo's Sammy Watkins and Baltimore's C.J. Mosley won Offensive and Defensive Rookies of the Month for October.