After hearing about the Dallas Cowboys Rhythm and Blue in 2009, I encouraged one of my hip-hop students to audition. She was part of a dance crew and was looking for a professional team that would better fit her style and challenge her with true hip hop technique. Soon after our conversation she officially became a member of DCRB! It was very evident that this team was special from the way she would constantly share stories about how wonderful her team and director were. The bond she felt with all of her teammates was very apparent. Needless to say, all the hype peaked my curiosity as a director and dancer.
A few months later, I had the opportunity to meet her director, Jenny Durbin Smith, and was able to witness a glimpse of what her team was really about; hard work, determination, and passion for dance! Almost immediately, I fell in love with the team's teaching style and culture.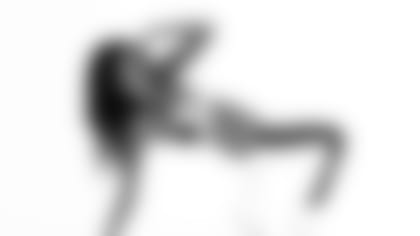 Since that day, Jenny and the Dallas Cowboys Rhythm and Blue Dancers became my inspiration.
I began sending all of my dancers to train with DCRB so they could experience the rare and special team culture the organization fostered. Dancer after dancer, I witnessed the immense difference DCRB was making on the community of performers I worked with and I knew I had to become part of it! I was terrified at first since I had never been on a hip-hop team. Their movement and style seemed so challenging and, to top it off, I had not danced in years, only directed. It was difficult for me to imagine myself being a student again. I compiled a list of excuses on why I was scared to audition but none of them were enough to stop me from fulfilling my dreams. The excuses were all made out of fear but they would not stand in my way.
I abandoned my fear and went for it – and it was the greatest thing I could have ever done for myself! All of my hard work and positive thoughts were not overlooked and I landed a coveted spot on the 2015-2016 team. Can you imagine if I hadn't at least tried? I would've passed up on an opportunity that forever changed my life. The season quickly started and it was definitely not an easy undertaking. It was clear why dancers were so terrified to audition, the team is extremely disciplined and hardworking; yet all of my teammates were so welcoming and encouraging through every step of my transformation that the journey was not scary at all! The team creates an atmosphere that encourages growth and grit. To say I am a part of this team, after overcoming so many challenges, makes me one of the happiest people on the planet. The 2016 auditions are around the corner again and absent are all my fears and excuses. I am ready for the challenge… So, what are you waiting for? Let's make history together :)