CHICAGO– A few minutes before kickoff, Josh Brent turned to safety Barry Church and told him he had never been so nervous before a game.
After all, it wasn't just any game for Brent, but rather the first game of his comeback. For the first time in two years, Brent was back on the field for the Cowboys. It's almost two years since Brent was involved in the tragic accident that killed teammate and good friend Jerry Brown and led to Brent being charged with vehicular manslaughter and sentenced to prison.
So it was natural for Brent to have those first-game jitters.
"I told him not to worry about it," Church recalled. "I told him to go out there and get that first hit under your belt. After that he would be fine. And it was great to have him back out there with us."
Brent couldn't agree more although he admitted he's got a long way to go before returning to his self.
"It was great to be out there again. I felt really good out there," Brent said. "But I'm not all the way back by any means. It's going to take some time. But getting back in the rotation felt good."
Brent was credited with two tackles while playing in a backup role to starters Tyrone Crawford and Nick Hayden.
When asked after the game if playing again will help him "move on" from the incident, Brent paused, then responded with an answer that suggested he'll likely never officially move past the night that led to Brown's tragic death.
"Whether or not other people turn the page, it's up for them to decide," Brent said. "But I will always remember what happened. That was my best friend. I'll never forget it. I've been blessed to be put back into this position. And I'm going to take advantage of it.
Tony Romo is never one to throw out a ton of excuses, but he at least admitted the four days between games last week was problematic for his nagging back injury. Not to mention, Romo said he should've had a different preparation plan for the short week.
But with a full six days in between games this time around, Romo called the extra time "a game-changer" for his ultimate health.
"I felt good out there tonight," Romo said. "I could definitely tell a difference (from last week). I think I'm getting closer to where I want to be. If I'm dealing with just the back, I think I'll be fine."
Romo admitted he's also been dealing with a broken ribs injury that occurred in the first month of the season.
But a few days off here this weekend will be beneficial for not only the quarterback, but the rest of the team.
"I'll take a few days here," Romo said. "We know we've got big games coming up and I've got to make sure I'm ready for it. But it'll be good to get some rest here before we get (started) with Philly. 
It's about time the Cowboys flipped the script on their problems with blocked kicks.
In a season where several opponents have blocked Cowboys kicks and punts, they finally managed to stuff several of Chicago's efforts on Thursday night.
It started at the tail end of the first quarter, when Bruce Carter got his hand on a Bears punt from the Chicago 30-yard line. The tipped punt traveled a mere 21 yards, setting Dallas up on its own 49-yard line. From there, the Cowboys mounted a 12-play drive that led to their first touchdown of the night.
On the second play of the fourth quarter, after an Alshon Jeffery touchdown cut the Dallas lead to 35-13, the block unit came through again. This time it was Barry Church, as he blocked the extra point to keep the lead at 22.
It wasn't all great, though. In the third quarter, Dwayne Harris had a 47-yard punt return for a touchdown nullified by an illegal block penalty on Micah Pellerin. The return would have put Dallas up, 28-7 – though the Cowboys did find the end zone on the ensuing drive, anyway.
Ironically enough, Gavin Escobar, who caught that touchdown, would later drop an onside kick – leading to a Bears recovery during their fourth quarter rally.
Dan Bailey connected on two field goals on the night, improving his bid for a first-ever Pro Bowl selection.
·         Thursday's win gave the Cowboys a 9-4 record in 2014 and surpassed Dallas' eight total wins of the last three seasons (2011-13) and marked the most wins since the 2009 squad boasted 11.  This is the first time since 1993 – eighth time overall - that the team has been 9-4.
·        Thursday's victory marked Dallas' sixth straight win on the road in 2014, and seventh overall consecutive win on the road dating back to last season at Washington (12/22/13). It is the longest road win streak since a 10-game road win streak that began in 2006 at Arizona (11/12) through 2007 at Carolina (12/22). Dallas is the only unbeaten team on the road this season.
·         Cole Beasley caught three passes for 42 yards and two touchdowns Thursday. His two scoring grabs marked his first career multi-touchdown game and gave him three touchdowns on the season to establish a career-best.
·         Dez Bryant had six receptions giving him 366 for his career to pass Bob Hayes (365) for seventh on the club's all-time receptions list.
·         Bryant's 82 yards gave him 1,034 on the season. It marks the 31st time in team history that a player has reached 1,000 yards in a season, 25th overall season the Cowboys have boasted a 1,000-yard receiver and third consecutive season (2012-14). Individually, this is Bryant's third overall 1,000-yard season to tie for third in franchise history behind Michael Irvin (7), Jason Witten (4) and tying with Tony Hill and Terrell Owens with three 1,000-yard seasons each. 
·         DeMarco Murray had a career-high 32 rushing attempts for 179 yards – second-most of his career - with one touchdown. He also caught a career-best nine passes for 49 yards
Murray's 41 overall touches (31 rush; nine receptions) are a career-high and the second-most in a single game in team history. Emmitt Smith had a franchise-best 42 touches (32 rushes; 10 receptions) at the N.Y. Giants (1/2/94)
·         By rushing for 179 yards, Murray extended his career-best for most 100-yard games in a single season to 11 to tie Emmitt Smith's 1995 total for the most in a single-season in team history.
·         Tony Romo completed 21-of-26 passes (80.8%) for 205 yards with three touchdowns and no interceptions for a 138.0 quarterback rating
·         Amongst NFL all-time passing yards leaders, Romo (32,488) moved past Kurt Warner (32,344) for 32nd on the league's all-time passing yards list
·         With three touchdown passes, Romo extended his NFL record streak to 39 consecutive games with a touchdown pass on the road. His streak began on Oct. 11, 2009 at Kansas City.
·         Romo (2,681) had 21 completions to pass Steve Young (2,667), Brad Johnson (2,668) and Jon Kitna (2,677) for 29th on the league's all-time completions list
·         Romo's 80.8 percent completion percentage was the fourth-highest of his career and the fifth time overall that he has completed 80-percent-or-more of his passes to tie for fifth in team history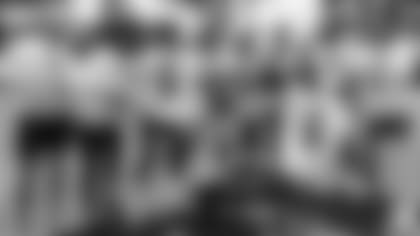 news
Practice Points: Big birthday performance for Dak 
On his 30th birthday, Dak Prescott had a nice day at practice on Saturday, one of the few practice points from the staff writers.