OXNARD, Calif. -Morris Claiborne participated in full pads Saturday for the first time since spraining his MCL in his left knee last week.
He contributed with a pass breakup in the end zone and said the swelling in his knee is gone.
"Everything felt good today," Claiborne said after Saturday's practice. "I don't know what'll happen tomorrow. It may swell up tomorrow, who knows. But when I'm out there I'm going to give 100 percent and go hard."
Claiborne also said he hasn't talked to vice president Stephen Jones, who clarified that he has no worries or frustration about Claiborne's absence after stating in an interview that he wants Claiborne out on the field.
Claiborne said he would understand if Jones or any members of the Cowboys front office were frustrated, because he knows the faith they put in him by trading up in the draft to select him in the first round.
"Anytime you put that much money in somebody to go out and play, you want him on the field playing," Claiborne said. "I understand exactly where he's coming from."
On Friday, Stephen Jones said Claiborne needs to get on the field which was mistaken as frustration in several media reports. Jones clarified on Saturday to say there is "zero concern" with Claiborne and his ability to practice.
Claiborne said he doesn't feel far behind after missing time in the offseason recovering from wrist surgery and the minor knee sprain.
He said he's still day-to-day and coaches limited his reps Friday, which helped him go all out when he was on the field. He wants to be on the field as much as possible.
"Whether it's preseason, regular season, if we can get out here and have a scrimmage with each other, I'm trying to be out here," Claiborne said. "I'm trying to be a part of it."
Tony Romo will likely be taking snaps from a different player during Monday's preseason opener than he was accustomed to for the majority of training camp, after starter Phil Costa had an MRI on his back.
David Arkin, who's had troubles snapping while rotating from guard to center, took a majority of the first-team center snaps since Costa's injury. Harland Gunn is also in the center rotation.
Jerry Jones said having Romo comfortable behind his offensive line is a priority. Injuries have plagued the offensive line during training camp, with six linemen on the roster having missed time.
Romo also appeared to wear a small wrap on his right index finger Saturday, though he said nothing was wrong and he practiced fully. Despite the battered line, Romo said he thinks the Cowboys are ready to start hitting a new team.
"I think, obviously, we'd like things to be a little different," Romo said.  "But we've got roll. Guys are working hard and they're going to get an opportunity. We've got to get some reps with a lot of guys, the snaps and things like that will be good for guys to get."
Just one day after Jerry Jones made the statement that Andre Holmes, "has a chance to play a lot this year," the 6-4 receiver had possibly his best practice of training camp thus far.
Holmes caught everything that was thrown to him while running a number of different routes on Saturday. Perhaps the highlight of the day was when he caught a Hail Mary pass that was lobbed into the end zone by Kyle Orton. There were three defenders surrounding him, but Holmes used his height to go up and get the ball.
"I feel like I've been building," said Holmes. "I felt like I did really good on special teams today. I did some good things today, but there's definitely some stuff I need to work on."
With Miles Austin and Dez Bryant both nursing their hamstrings, expect Holmes to see plenty of snaps in the first preseason game against Oakland on Monday night. The team is still trying to figure out who will settle into the third receiver spot this season and Holmes will get plenty of looks before the end of training camp.
Offensive tackle Daniel Loper has only been with the Dallas Cowboys for one week, but he has already caught the injury bug that has been plaguing much of the offensive line. He hurt his elbow Saturday in practice and will undergo an MRI on Sunday.
The injury comes at difficult time for the Cowboys who are already thin at the offensive line. Loper had been playing reps at guard to make up for numerous injuries at the position.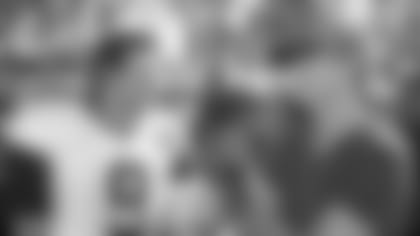 Rookie safety Matt Johnson expects to be in full pads by Wednesday. He has yet to play in full pads since joining the Cowboys. Johnson said that he has recovered from his hamstring injury and will be back playing with the team on Wednesday.
Sunday's hour-long walkthrough will be open to the public. Every day from 10:30-11:30 a.m. the Cowboys participate in an hour-long walkthrough.
Film and television star Ashton Kutcher showed up to Cowboys' training camp on Saturday to watch practice. Kutcher stayed for the duration of practice and had a brief conversation with Tony Romo after the team was finished.  -Jonathan Auping