IRVING, Texas – The Cowboys worked out a pair of second-year players at two trouble positions on Monday afternoon.
Offensive tackle Keavon Milton and linebacker Troy Davis – both undrafted free agents in 2013 – both worked out for the team following the Cowboys' division win against New York on Sunday.
The positions in question are hardly surprising, as Dallas has dealt with several injuries at linebacker this season and is currently without starting right tackle Doug Free.
Milton signed with New Orleans as a rookie out of Louisiana-Monroe but was cut after training camp. He spent the 2013 season on Cleveland's active roster, where he appeared in eight games. The Browns released him at the tail end of this year's preseason.
Davis, who played at Central Florida, was signed by the Jets and placed on their practice squad. He was promoted to New York's active roster in October of last year, and he contributed on special teams before he was placed on injured reserve in November.
The Jets released Davis at the end of the preseason this year.
The Cowboys have been bouncing Keith Smith back and forth from their own practice squad this season, as Justin Durant, Rolando McClain and Bruce Carter have all spent time coping with injuries. Smith was promoted to the active roster on Sunday – for the third time this season.
Jermey Parnell appeared to acquit himself well in the starting lineup against the Giants, but the Cowboys continue to examine the tackle depth behind him and injured starter Free. They claimed Donald Hawkins off waivers at the start of the regular season, but he has yet to appear in much action this year. They also signed Tony Hills off Miami's practice squad last week.
Speaking of the Cowboys' No. 3 tackle, Cowboys coach Jason Garrett said Parnell handled himself well as a starter against the Giants.
"Certainly some things that you really like to this: his physicalness in the run game but also as a pass protector was there," Garrett said. "Technically it's always a work in progress with a player who hasn't played that much and that's something we can hone in on when he gets a chance to see the tape to continue to try to improve."
The Cowboys expect Free to miss three to four weeks with a fracture in his foot, which means Parnell is likely to play against the Redskins and Cardinals, and perhaps the Jaguars. That gives him plenty of opportunities to practice going forward.
"What's exciting is he can improve immensely and I think he'll improve with experience and coaching," Garrett said.
Parnell said Sunday evening he was taken aback by the speed of the game compared to preseason action.
"I noticed, from the preseason to the regular season, it's way faster – that's the main difference," he said. "As the game got going, I started picking it up."
In the postgame locker room after the Giants game, Garrett gave a game ball to tight ends coach Mike Pope, who had extra reason to be excited for the win.
Pope coached for the Giants for 23 years – once from 1983 until 1991, and again from 2000 until 2013. He coached for all five of New York's Super Bowl teams, including all four Super Bowl champion squads.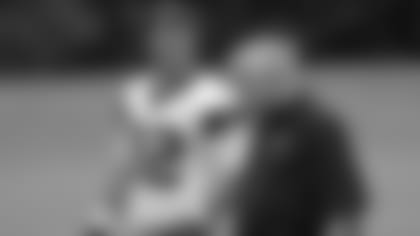 In a postgame video, Garrett appeared to get emotional when giving the game ball to the longtime coach. Garrett spent four seasons with Pope as a backup quarterback with the Giants from 2000-03, and he hired him after New York released Pope this past offseason.
"He was very much of a mentor to me, a good friend to me and he's done a fantastic job for our football team in a short period of time," Garrett said. "So I have real fondness for him, fondness for his service to the league, all the guys he's coached, all the great teams he's been a part of and just thought that was the appropriate thing to give him that recognition."