FRISCO, Texas – No position on the Cowboys' roster, maybe in the entire NFC, fostered as much intrigue as the wide receiver drama in Dallas this offseason.
In March, the Cowboys signed veteran wideouts Allen Hurns and Deonte Thompson. And Dez Bryant remained on the roster. In early April, the Cowboys continued their due diligence on the top receivers in this year's draft class. And Bryant remained a Cowboy.
On April 13, the club officially parted ways with its all-time leader in receiving touchdowns and will now move forward with a committee approach to replace Bryant.
Third-round draft pick Michael Gallup, a highly productive player for two years at Colorado State, is now part of that mix.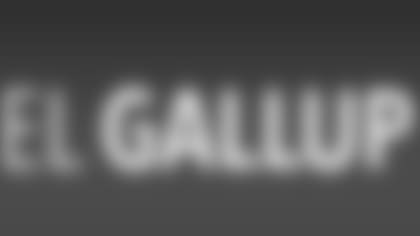 Here's just how much the Cowboys valued Gallup on draft weekend: Some in the war room believed he would have been a solid selection in the second round.
Ultimately, the Cowboys decided the higher priority was stabilizing their offensive line. Texas' Connor Williams was the pick at No. 50. Two hours and 31 picks later, they were delighted to see Gallup – the last available receiver in a group of prospects they really liked – still on the board.
There's plenty to like, indeed. Gallup was a consensus All-American in his final year in college. The junior college transfer posted 21 receiving touchdowns in two seasons at Colorado State and was one of two players in the nation last season with multiple 200-yard games.
"He can get vertical down the field. He's got stature to him," Cowboys head coach Jason Garrett said of the 6-1, 200-pound Gallup. "He's a good run after the catch guy and the competitiveness, and the fight he displays is evident all throughout the tape. He leaps off the screen at you. Great reports from the school. The scouts did a great job doing the due diligence on him, and we feel like he has a really good upside, too."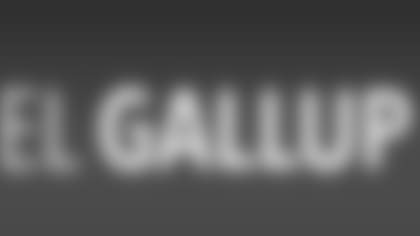 Here at the start of May, it's hard to slot Gallup into one specific role within the Cowboys' offense because so much has changed on the receiver depth chart. Terrance Williams and Cole Beasley are the only returning receivers who played more than 160 snaps for this offense last year.
Gallup offers some immediate insurance for Williams, who had offseason foot surgery, though the Cowboys haven't indicated any concerns about him being ready for the start of the season.
Long term, Gallup should compete with Hurns and Williams for snaps in the rotation. The Cowboys see him as a starting-caliber prospect, but receivers typically need time to develop in the
One thing is certain: The Cowboys aren't asking Gallup to be Dez Bryant in Year One. Replacing his production will be a committee approach.
"We have come to grips that we are not going to have a quote, un-quote, No. 1 wide receiver. We're just not going to get it done that way," team executive vice president Stephen Jones said. "I don't think that there was anyone in this draft that was going to change that for this year. Now can guys develop into that, absolutely.
"We really had a big grouping of receivers that were a lot of varying opinions in terms of our debate in our room with scouts and coaches as to where guys should fit in this draft. It was a debate, a lot of looking at film. Everybody had them sorted different ways, and it was a challenge, but the good news is that we came up with one of them that we really think can make a difference for us."
---
Pick & Role: Identifying Scarbrough's Potential Role In Versatile RB Group