(Editor's Note: Throughout training camp, Bryan Broaddus will break down every position battle on the roster, analyzing players' roles and their impact in practice.)
If there is one group that has been impressive through the first week of training camp, it has been the defensive backs -- namely the cornerbacks.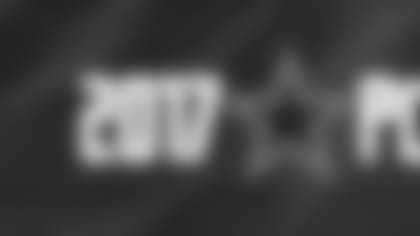 The starters have been Orlando Scandrick and Nolan Carroll with Anthony Brown, Chidobe Awuzie, Marquez White and Leon McFadden in supporting roles.
Carroll had a rough opening practice but managed to rally the following day during the one-on-one period in having to deal with Dez Bryant.
Scandrick finally looks healthy and his play has reflected that. When the defense goes to its sub packages (nickel/dime) Anthony Brown comes into the game and plays on the outside, kicking Scandrick inside. Like his counterparts, Brown has won his share of battles with the best receivers on the offense. His positioning on routes has been exceptional and he has shown the ball skills to create turnovers when those chances present themselves.
Not surprising has been the play of Awuzie, who has lined up all over the field and handled his various assignments with ease. He showed flashes of playmaking ability during the OTAs and minicamp practices.
The forgotten man of the group coming into camp was Marquez White, the sixth-round selection from Florida State. Not many folks gave White a chance to make the 53-man roster, but like Awuzie, White has been consistent through these practices defending passes. His length makes him an idea candidate to play on the outside.
The bonus for the group will be the addition of Jourdan Lewis, who should begin practicing on Saturday. Of the corners that were drafted, Lewis is the one who intrigues me the most. His movement in coverage and ball skills are outstanding. His ability could allow the Cowboys to think about moving Awuzie to safety in the future.
Overall, this is a unique mix of veterans and youth with the potential of that youth pushing veterans out of jobs.