IRVING, Texas – The Cowboys have signed linebacker Tim Dobbins to the active roster and moved Justin Durant to season-ending injured reserve.
The move isn't a big surprise, as Durant tore his bicep during Monday night's loss to the Washington Redskins. It does come contrary to Cowboys coach Jason Garrett's indication that the team is still weighing its options regarding Durant's injury.
"We're still involved in that process and gathering the information about where he is, how severe the injury is, what the timetable is for the injury," Garrett said Wednesday morning.
It didn't seem likely Durant's prognosis would be less than the eight weeks remaining in the regular season, which prompted the roster move.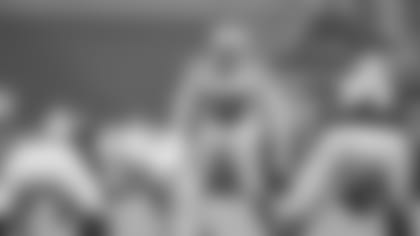 Dobbins was a fifth-round pick out of Iowa State in the 2006 NFL Draft. He's played eight seasons with three different teams – San Diego, Miami and Houston – and amassed 253 total tackles in that time span.
His last stint was with the Atlanta Falcons, but he was released following training camp before the start of the 2013 season. Dobbins' best season came in 2010 with the Miami Dolphins, when he notched six starts and made 47 tackles in 16 total appearances on the year.
Rolando McClain was another Dallas linebacker to miss Wednesday's practice, which comes as more of a surprise. Garrett didn't include McClain in his rundown of injuries from the loss to Washington.
Elsewhere at practice, the vast majority of the Cowboys' absences were to be expected. Tony Romo missed, as he usually does on Wednesdays, after Garrett said he was "day-by-day" at his daily press conference. Doug Free was also absent, though Garrett said he was hopeful the tackle could do something this week.
"He won't do much today, but hopefully he'll be able to do something tomorrow, working his way back here," Garrett said.
Ronald Leary attended practice, but he sat out of the proceedings with his groin injury. Garrett said he was hopeful Leary would be able to work his way back later this week.
Suspended defensive tackle Josh Brent attended practice, and he wore jersey No. 56 – though he did not participate. Brent is ineligible to play until after the team's bye week, but the Cowboys expect him to work on the side of practice in the coming weeks.