WACO, Texas—  Over the next few weeks, just about all of the major universities will hold their annual Pro Day workouts, giving the school's top athletes a chance to showcase their skills one final time before the April 30 draft.
Maybe the players want to improve on their 40-times or bench press stats from the combine. Maybe an injury prevented them working out a few weeks back in Indy, or it's also possible some of these players weren't even invited to the Indianapolis combine at all.
So the Pro Day is a chance for these players to shine under the comfortable conditions of their home campus.
On Wednesday, several scouts made the trek to Waco, on the campus of Baylor University, where one of the top quarterbacks in the draft worked out at the school's indoor practice facility.
Among the teams with strong representation at the Pro Day were the Cowboys, who sent two scouts along with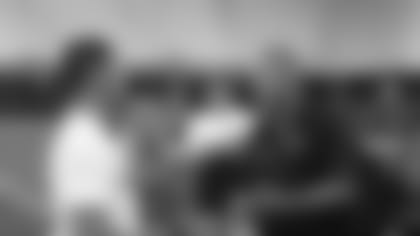 quarterbacks coach Wade Wilson.
Top Pick(s): QB Bryce Petty, WR Antwan Goodley, LB Bryce Hagar, P Spencer Roth, WR/KR Levi Norwood, LB/S Colin Brence.
Possible Cowboys Fits:  The best fit in Dallas might be the player most of the scouts came down to see. Even though Tony Romo figures to be the Cowboys' starter for a few more years, maybe as much as five as Jerry Jones mentioned a few weeks ago, the need for a solid backup to one-day replace Romo should be discussed.
A guy like Bryce Petty might be the perfect fit for that role, with his ability to learn and grow. That's something he has already proven to do, having sat behind both Robert Griffin and then Nick Florence for three seasons before taking over in 2013. Petty's two years at Baylor earned him Heisman Trophy votes in both seasons, even finishing sixth in 2013.
Petty threw the ball nearly 80 times and all of them were after taking snaps from center. Baylor's offense puts Petty in shotgun for just about every snap so NFL teams are looking to see if Petty could take snaps and how his footwork will translate in the pocket. Petty did a nice job of moving around and was very accurate in all of his throws. Aside from a few drops, Petty did his best to keep the ball off the ground.
An interesting player from Baylor is wide receiver Antwan Goodley, who doesn't exactly fit the ideal profile for a receiver with his 5-10, 209-pound frame. But while he might look like a running back, his speed and hands suggest he's in the right position at receiver. Goodley is strong off the line of scrimmage and has deceptively good deep speed. Goodley had one nice diving catch over the middle but did have a drop some 50 yards down the field on what could've been Petty's best throw of the day. Overall, Goodley had a good day catching the ball and getting out of his breaks quick on his route-running. Goodley ran a 4.44 at the combine and opted not to run again Wednesday.
Bryce Hagar is a smart inside linebacker who always seems to find himself around the ball. The son of former Texas Longhorns standout Britt Hagar, Bryce was one of Baylor's most knowledgeable and aware defenders. He performed well at the combine in the individual drills. With the Cowboys' changes at linebacker, the position was somewhat patched up with some veteran linebackers but look for the Cowboys to add some depth, perhaps in the later rounds. Hagar impressed some of the scouts Wednesday with his footwork and awareness during the individual drills.
Top Performer: Overall, the best player was Petty, who took over the workout with his leadership skills. But his feet were
just as good as his arm. Taking five- and seven-step drops aren't the norm for Petty and the Baylor offense. But you wouldn't have been able to tell much of a difference from Wednesday's workout. While he's not Robert Griffin III, who was in attendance, Petty has always had deceptive mobility and agility in the pocket.  
Who Else Stood Out: A guy who also helped himself Wednesday was wide receiver Levi Norwood, a four-year contributor on offense, catching at least 35 balls in each of the last three years. Norwood also served as the team's primary punt returner. Norwood ran a 4.57 in the 40 and was smooth in his route-running for Petty. He made a few catches on some of the high-balls and had just one true dropped ball. Norwood also went outside to field punts, showing teams and scouts his special teams ability. At Baylor, Norwood returned two punts for touchdowns during the 2013 season.
In the Crowd: Along with Cowboys' QB coach Wade Wilson, Baylor had several former players in attendance, including Cowboys wide receiver Terrance Williams. Former Baylor stars Robert Griffin III and Kendall Wright, a pair of first-round picks in 2012, also made it back to Waco.
Cowboys QB coach Wade Wilson on what he's looking for at a Pro Day with no defenders on the field:
"Well he played in the shotgun in college so taking snaps wasn't something he did often. I wanted to see him transition away from center and get to the top of the drop, and see if he can make NFL type throws – stuff he didn't do a ton of in his college tape. It's more about seeing the footwork, seeing arm strength and arm talent in person – sometimes you don't see that stuff on tape. Anytime you get a live look at a guy, it really helps you."
Baylor coach Art Briles on Petty's overall draft value:
"I still think he's going to be a first-round draft choice. To me, it's all about production on the field. You can find a lot of guys who are successful on the field. His character, his demeanor and then his chip on his shoulder and his attitude to be great. If you burn hot, you play hot. He's a guy that burns hot and that's something I appreciate about him."
Petty on taking all of the snaps under center:
"Yeah, that's exactly what we wanted to do. All of my tapes are in the (shotgun). I wanted to have every throw under center. I have history in the shotgun so I didn't think I necessarily had to show that."
Petty, a native of Dallas suburb Midlothian, on seeing Cowboys' QB coach Wade Wilson in attendance.
"Growing up in the Metroplex, all my friends are Cowboys fans, so it was awesome to see him here. His support and interest in great. God has a plan of where he wants me to be, whether it's the Cowboys or whoever else. I'm just having a blast doing it."
Petty on his overall goal of the workout:
"Really that I could just make all the throws. All the questions that are surrounding me are: 'Can he play in the gun? Can he make all the throws? Is he a one-read guy?' So to be able to say that I can play in any system and be able to run it and run it successfully."
Goodley on having an unorthodox body type for a wide receiver:
"I've heard some good and bad. Some scouts say I'm too big and need to trim down. But I feel like I'm a big guy. I like to play heavy. That's when I feel like I'm the most explosive. It's just a different aspect to the game. A lot of corners don't expect physicality like that. I'm definitely bringing it to them."
Goodley on his familiarity with Petty during such an important day?
"Yeah that helps a lot. It takes a lot of pressure of. I've been working with him for a couple of years now. I've been preparing the whole time for this. Today was just the easy part. I thought Bryce did a great job. He's a competitor and a perfectionist. I bet he feels good about what he did today."
Norwood on catching punts:
"It's something I did here and in high school and in little league. It's something I hope I can do at the next level."