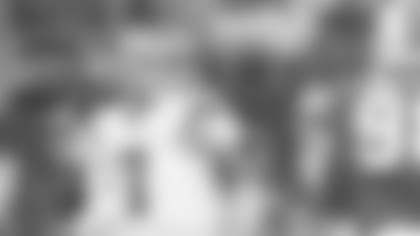 In the last audition for those fighting for a roster spot, the Cowboys defeated the Dolphins, 30-13, in front of 73,481 fans, Dallas finishing their preseason schedule with a 3-1 record. Center Phil Costa was the only starter to see any action, having just returned from a back injury that had kept him out of recent exhibition play.
As the rest of the first-string took a seat for the night, it was a battle of Texas A&M quarterbacks that got things going in the Cowboys' fourth and final preseason contest. Stephen McGee, class of 2008, took on Miami's Ryan Tannehill, a member of the 2011 Aggie squad, as both got the starting nod for their respective teams.
Tannehill, who is slated to be the starter for the Dolphins this season, only saw two series of action, totaling 41 yards on 6-of-8 passing, while leading his team to an early three-point lead thanks to a 10-play, 73-yard drive that resulted in a 21-yard field goal by Dan Carpenter.
McGee, on the other hand, played the entire first half, and while he earned a spot on the team in just such situations in previous preseasons, his effort in this game may not have been enough to convince the Cowboys to keep a third quarterback with depth issues a concern at other positions.
Still, McGee tried to make his case, although he threw for only 124 yards on 9-of-20 passing with a rating of 65.4. But, he did engineer three lengthy scoring drives, all in the second quarter.
The first of those came after Carpenter added a 53-yard field goal following a fumble by Teddy Williams on the kickoff return after the Dolphins first three points. Taking over at his own 20, McGee marched the team 73 yards to give Dan Bailey a chip-shot 25-yard field goal to narrow the score to 6-3.
Orie Lemon then picked off a pass and returned it 26 yards for a touchdown and a 10-6 lead, an advantage that Dallas would never surrender. On the Cowboys' very next possession, McGee took the team 80 yards in 10 plays for their first offensive score of the game, a 1-yard plunge by Phillip Tanner.
During the drive, McGee made two outstanding plays. The first was a 32-yard completion that was right on the money to Andre Holmes down the left sideline. The other then saw him scramble to his right before finding Tim Benford at the Miami 4-yard line to set up the Tanner score.
Before he was done, McGee was then able to work the two-minute offense to perfection, taking his team 50 yards in the final 1:29 of the half. A slant to rookie Danny Coale over the middle provided the final 13 yards, setting Bailey up for a 30-yard field goal with four seconds left, Dallas up 20-6 at the half.
Rudy Carpenter took over at quarterback in the third quarter, although it was rookie Lance Dunbar who then stepped to the forefront. Fighting for a spot after being limited early in training camp due to injury, the North Texas product first took a punt return back 43 yards with a nifty escape move, then on the Cowboys' very next play, slipped a would-be tackler and sprinted 58 yards for the touchdown, Dallas now up 27-6.
Miami was able to add another touchdown in the third quarter, Lamar Miller taking it in from the 1-yard line, but Carpenter and Co. responded with a clock-chewing 12-play, 89-yard possession in the fourth frame. The drive ended with a 26-yard field goal by Bailey, the scoring done for the night, 30-13.
Dunbar finished with a game-high 105 yards on just 15 carries with Tanner adding another 48 yards on nine attempts. Jamize Olawale, in line for perhaps a practice-squad spot, earned 53 yards on seven tries.
Overall, the Cowboys collected 238 rushing yards and 404 yards of total offense, while limiting Miami to just 243 total yards, including only 127 through the air. As could perhaps be expected, there were plenty of penalties, Dallas getting flagged eight times for 66 yards and the Dolphins 10 times for 126 yards.
The Cowboys now have until Friday evening to trim their roster down to 53 players, while also preparing for next week's season opener at the defending-champion Giants on Sept. 5.