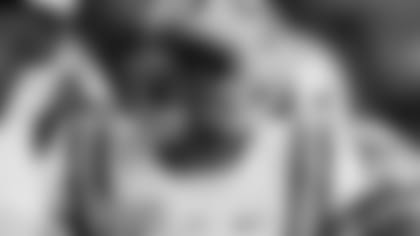 BATON ROUGE – The Cowboys may not have to travel far across the country to find their next starting safety.
They created a need at the position after letting go of veteran starter Gerald Sensabaugh, and they added help by bringing on former Steelers safety Will Allen to vie for playing time with Barry Church and Matt Johnson.
But that doesn't mean they won't look to the draft to create more competition.
University of Texas safety Kenny Vaccaro is expected to be the first safety off the board and an option with the No. 18 pick, but he isn't the only top safety prospect the Cowboys worked out. They also brought in LSU's Eric Reid for a workout and may take a chance on the former Tigers safety.
"I had (a workout) with them last Monday," Reid said Wednesday at LSU's Pro Day. "I have a workout with Tennessee tomorrow morning, and then waiting for the draft. I'm going to be here. This is home for me. I'm going to work out with the team and go home and see my daughter as much as I can."
LSU is at least close to home for Reid, who grew up in Geismar, La., roughly 30 minutes south of Baton Rouge on the way to New Orleans. Reid wasn't surprised with the amount of Saints coaches and scouts on hand at LSU's Pro Day, and while playing close to home would be exciting for the safety, there's another team he'd also be thrilled to go to.
If the Cowboys selected Reid, he'd be rejoining his former teammate in cornerback Morris Claiborne. The duo played two seasons together in the LSU secondary, going to the national championship in Claiborne's final season, and Reid said it would be amazing to get to play with him again.
"We definitely have that chemistry, being that we played in college together," Reid said. "I think that would make my transition to the NFL that much smoother, having a guy that I already know how he plays, we already have that level of communication, and we're teammates. It'd be a great place for me."
Reid's one of the many Tigers who helped themselves out at Pro Day. He said his goal was to showcase his smoothness in position drills and run a faster 40-yard dash, and his time of 4.50 seconds shaved off .03 seconds from what he ran at the NFL Combine. He also looked fluid and comfortable in ball drills and may be on a few more teams' radars after the event.
At 6-foot-1, 210 pounds, he already has the body type most teams would search for at the position. Reid also said scouts like that he's a team player. The 2012 first-team All-SEC safety, who finished third on the Tigers with 91 tackles, was named a permanent captain by his teammates last season.
"I'm hearing some positive things," Reid said. "The scouts say they like me. They like the way I work. It's just a waiting game now to see what happens in April."
The waiting game can be nerve-racking as players guess which teams could be interested and where they could end up. Reid admits the process was nerve-racking at first, but it's become enjoyable.  He doesn't want to waste time guessing what team will take him.
"You never know," he said. "You think you might know something, and I heard stories like Mo last year, he didn't speak a word to Dallas and they drafted him. I'm just trying to enjoy the process, not stress about anything and have fun."
Reid was expected to be a second or third round pick, but his recent performances in front of scouts at the NFL Combine and LSU Pro Day could vault him into the first round. If the Cowboys want Reid and don't select a safety with their top pick, they may miss out on him.
The LSU safety said he tries not to listen to his draft projections. He doesn't know where he's going to go, and the Cowboys didn't tell him where they'd select him if he was available.
"I guess the overall thing for every team is if you want to be realistic about it, they want to get you for cheap," he said. "They hope all the players they want slide to them."
The Cowboys may hope the same thing for one of Reid's teammates, defensive tackle Bennie Logan, who said he worked out for the Cowboys last Tuesday, which would have been a day after Reid. Logan's ability to rush the passer from the interior of the line has drawn interest from teams, who may look at him in the middle rounds.
Logan said if he went to the Cowboys, he'd likely play the one or the three technique. He said he should stand out among other college athletes, because unlike other defensive linemen the Cowboys may be targeting, he managed to turn heads in what he considers college football's top conference.
"Every tackle can't play in the SEC," Logan said. "Every tackle can't play SEC games back to back to back. Those tackles are good and whatnot, but me, I feel like until you play in the SEC week to week, then you see."
Right now, all Logan and Reid can focus on in staying in shape and getting stronger as they [embedded_ad]
wait out the process. The Cowboys have needs at safety and defensive line, so the players know they could end up in Dallas.
Cowboys safety Danny McCray, another former Tiger, said the more former Tigers on the Cowboys, the better. Reid got to LSU a year after McCray left, but he knows what the safety's capable of.
"I met him a couple times," McCray recalled. "Hadn't really known him, but heard good things about him. Of course I watched him, he's a great player."
Reid just hopes he can hold it together when his time finally comes.
"Guys say that it's a dream, but for me, I've lived it," Reid said. "I grew up here, I went to LSU, that was my dream, and now I'm taking that next step, and that's the NFL. For me, it kind of hasn't even hit me yet. When the draft comes, I guess the hardest thing for me to do is not to cry."