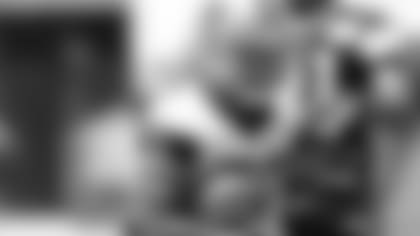 IRVING, Texas – If any position on the roster seemed rather set going into training camp, tight end would seemingly have been in the conversation. The Cowboys feel like Jason Witten is the best in the NFL and he's coming off a record-breaking season in terms of catches by a tight end.
They drafted another one in the second round in Gavin Escobar and James Hanna showed enough flashes last year as a rookie to have the Cowboys excited about his progress.
But like all teams, getting better remains a top priority. So when the chance came up to land a veteran such as Dante Rosario, the Cowboys capitalized, signing the tight end on Monday. Rosario has practiced the last two days and seems grateful for the opportunity.
"This has been a great organization for years and years now," Rosario said of the Cowboys. "I'm more thankful than anything, especially after sitting around for a few months. I've been training and hoping, but it's hard just not knowing when that call would come. But it did and I took advantage of it."
Rosario spent the first four of his six-year career in Carolina, where he played in all but two games, including 22 starts. The last two years, Rosario has bounced from Denver to Miami to San Diego, where he played special teams for coach Rich Bisaccia, who is now in Dallas.
"I know he had spoke very highly of me and had a lot to do with me coming here," Rosario said. "I enjoyed playing under him on special teams in San Diego and I'm looking forward to doing that again here. Pretty much every position in the NFL, with the exception of quarterback, if you're not a starter, you're expected to play special teams just with the limited number of spots they're allowed to dress. That's something I expect and something that has been a part of my game my entire career, and I plan on continuing it."
However, Rosario also sees himself as possible contributor in the offense, too. He has 99 career catches for 1,106 yards and eight touchdowns, including a career-high three last year for the Chargers. [embedded_ad]
"He's a very versatile player and very good special teams player," head coach Jason Garrett said. "He can line up both on the line of scrimmage and as a move guy, and he's someone we've targeted for a couple of years."
Rosario got to work with Antonio Gates in San Diego and said he's just as excited with the chance to play with eight-time Pro Bowler Jason Witten.
"Obviously being able to learn from a guy like Jason Witten, who I consider to be one of, if not the best all-around tight end in the league … to have that opportunity to learn from him will be great for me," he said.