(Editor's Note: Throughout the off-season, DallasCowboys.com staff writers will take a closer look at the roster, analyzing players' impact last season and how each fits into the team's 2013 plans. Today's Roster Rundown entry features wide receiver Dwayne Harris.)
Name: Dwayne Harris
Position: Wide Receiver
Height/Weight: 5-10 / 200
Experience: 2 seasons
College: East Carolina
Key stat: Harris only had a half a season to return punts after taking over for Dez Bryant, but while his number of returns may be low, his production certainly isn't. Harris' 16.1 yards per punt return ranked second in the league behind the Bills' Leodis McKelvin. Harris returned 22 punts for 354 yards, including one touchdown return.
Contract Status: Signed through 2014.
2012 Impact: To be really honest, I wasn't sure where Dwayne Harris fit in the plans for the 2012 season post draft. His 2011 didn't show the promise that I had observed in his college tape at East Carolina but it was during the OTA's and mini camps, he appeared to be quicker and physically in much better shape. His training camp earned him the right to be one of the 53 and when given the opportunity, he took full advantage of that. It started on special teams with his ability not only as a cover guy but in the return game as well. He had a 14 yard punt return against the Giants at Cowboys Stadium that opened the door for him. Then the following two weeks, he averaged 30 yards a return on five punts but it was in the Washington game on Thanksgiving when the receiver group took a hit losing Miles Austin where Harris was able to shine. When I watched Harris play, I saw toughness as a blocker but also the skill to find ways to run his routes in order to buy separation and present himself as a good target for Tony Romo. He had a nice feel for depth of the route and his hands were steady and reliable. He was much more of a confident player and you could see that as the season wore on. The more the coaches put on his plate, the better job he was able to do.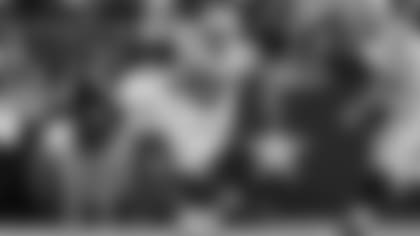 2013 Where He Fits: There were so many questions before the 2012 season of who would step up and be the third receiver on this team. The job was initially Kevin Ogletree's but as the season wore on you could see that the coaches were looking at other options whether that was Dwayne Harris or Cole Beasley. What lies ahead is that Ogletree is an unrestricted free agent in 2013 so his time is most likely over with the Cowboys so that leaves Harris, Beasley and Danny Coale to compete for that role. I feel like that Harris will have the upper hand here just for the simple reason that he has the experience over Coale but he is a better fit on the outside than Beasley. If the offensive coaches want to keep Miles Austin in the slot, than that means that they will need someone on the outside and Harris can handle that. Harris can also be a nice fit if the coaches decide to pair him with Bryant who can attack defenses down the field while Harris works the underneath routes. Harris not only gained the confidence of the coaching staff but the quarterback as well and we all know how important that is going forward. Harris will start 2013 as the third receiver on this club and from what I have seen, he can more than handle the job. [embedded_ad]
Rowan Kavner –  The more Harris became enveloped in the punt return game, the more his looks as a receiver increased as well. He didn't have a catch through the first 10 weeks of the season but finished the year with 17 catches for 222 yards and a touchdown, to go along with his punt returns and 11 kickoff returns. He had at least one catch in each of his last seven games, and stayed on the field during some of the more crucial drives of the season. He developed a rapport with Tony Romo as a possession receiver who could make defenders miss. If he can demonstrate that elusive ability, sure-handedness and a knack for running crisp routes on a consistent basis, it's feasible he could compete not only for a third receiver spot, but a second receiver spot as well. Regardless how many snaps he get, Harris will be a factor and will see playing time next season.