(Editor's Note: Throughout the off-season, DallasCowboys.com staff writers will take a closer look at the roster, analyzing players' impact last season and how each fits into the team's 2012 plans. Today's Roster Rundown entry features linebacker Kyle Wilber.)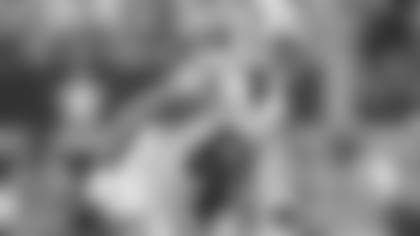 Name: Kyle Wilber
Position: Linebacker  
Height/Weight: 6-4/ 246
Experience: 1 season
College: Wake Forest
Key stat:The fourth-round pick was active for 10 of the Cowboys' 16 games last season, making at least one tackle in four of those games. He was needed more throughout the year as injuries continued at linebacker. 
Contract Status:Signed through 2015.
2012 Impact:Where Wilber first caught my eye was during the OTAs and mini camps after the draft where the rookies were getting all the reps and there he was playing as the Sam linebacker in Ryan's 3-4 scheme. It didn't surprise me that he was in the lineup but more so how natural he looked playing the position. In college he was a 4-3 defensive end the majority of his career but his last season he was a 3-4 Will linebacker so he had not had much experience playing as a standup guy. In studying his college film, I didn't see a player that I thought was very strong at the point but I did see a guy that could run and get to the ball. When he lined up on the strong side, I was honestly expecting the worst but he was far from that. He was able to play with his hands and control blockers. He looked productive as a pass rusher not only in the one-on-one drills but in team as well. Going into Oxnard camp, my expectations really changed and I felt like he could have been a core special teamer and a nice backup to Anthony Spencer but he broke his thumb and those hopes were all sent out the window. I really thought that he could have had the type of season that Tyrone Crawford had where each week, he developed a little more with technique work and game experience. With all the injuries to all the linebackers during the season, he just wasn't ready to play because of the time that he missed and he never caught up. The defensive coaches tried him as the nickel linebacker inside one game and he really had no shot. He didn't have the feel or the awareness of the position and was taken out of the role. It was a stretch to play him there but with all the injuries, the coaches tried to get him on the field. He did see action on the special teams when he was active and did manage six tackles. Again, I had a lot of hope that he could have done more during the season but it just didn't materialize.    
Where He Fits:This will be a really important offseason for Wilber because he will need to develop more upper body strength to play as the Sam linebacker in this 4-3 scheme. He should battle Alex Albright for that job as they sit today, Albright is probably in better position to win it because of his physical make up. I do believe that Wilber will give him a battle but where you might also see Wilber play is as the weak side defensive end behind DeMarcus Ware. Again, this was a position that he played at Wake Forest when they ran the 4-3 defense. He does have some position flexibility but again he needs to make some nice jumps in the weight room first.      [embedded_ad]
Writers' Analysis: Rowan Kavner –It was clear Wilber was still getting his feet wet in the NFL making the transition from Wake Forest. It didn't help that he broke his thumb during the first preseason game and wasn't active until Week 3 against Tampa Bay. He could have used as much time as possible in the preseason to prepare for the speed of the game. Wilber was a valuable special teams player and could retain that role unless he makes a noticeable jump in the offseason to compete for a linebacker or defensive end spot. Undoubtedly, Bruce Carter and Sean Lee will be starting in some capacity at linebacker, but the third spot is currently for the taking.