*(Editor's Note: Throughout the offseason, DallasCowboys.com staff writers will take a closer look at the roster, analyzing each player's impact last season and how he fits into the team's 2013 plans. Today's Roster Rundown entry features offensive tackle Jermey Parnell.) *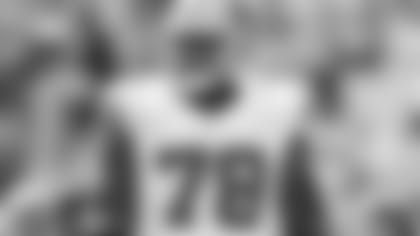 Name: Jermey Parnell
Position: Offensive Tackle
Height/Weight: 6-6/311
Experience: 3 seasons
College: Ole Miss
Key stat:Parnell started his first and only career game on Thanksgiving Day when he replaced an injured Tyron Smith at left tackle. The Cowboys amassed 458 yards that day while Tony Romo passed 62 times and was sacked only twice.
Contract Status:Signed through 2014.
2012 Impact:  The position where this team has really struggled to develop young players has been the offensive line, but that looks like that might have changed with Parnell, from what I observed. Parnell started the season as the swing tackle for Bill Callahan, mainly seeing action on the left side. By the beginning of December, though, he was getting work on the right side with Doug Free. Parnell did make the start on the left side against the Redskins on Thanksgiving Day and was able to hold his own there. I have liked what these coaches have done with Parnell since the front office poached him from the Saints practice squad a couple of seasons ago. There is ability there with his technique, but where Callahan has really made a difference with him is getting him to play with more of a sense of urgency. There were times in the preseason where he would play 10 to 12 really good plays, then on snaps 13 and 14 he would lose
concentration, giving up a pressure or missing a cut-off block in the running game. When he was splitting time last season, he did a much better job of competing play to play and it showed in his consistency. Parnell has the ability to be more than just a backup swing tackle in this league. He can develop into a player that you can count on down after down.     
Where He Fits:  I really thought it was a smart thing by these offensive coaches to give Parnell the opportunity to play during the season as more than just the extra blocking tight end. Not only did it help his development, but it allowed Free to take some time to regroup where he was at during the season. This move allowed the front office and coaches to not have to speculate on where they stood with Parnell, and if they do in fact have to make a move with Free because of cap concerns, they can do it with a clear piece of mind. There is also a possibility that in the draft, if they do make a move on Free, then they could draft a tackle to fill that spot and allow Parnell to continue his role as the swing guy. Keep an eye on Lane Johnson of Oklahoma if he were to get in range. Whether or not his grade would be better than that of one of the current Cowboys guards or offensive linemen, Parnell has a least put himself in the discussion.  
Writers' Analysis: [embedded_ad]
Rowan Kavner –Parnell filled in for Tyron Smith to make the start against the Redskins in the teams' first matchup after Smith injured his ankle. It marked Parnell's first and only start of the season, but it almost served as a dress rehearsal for the rest of the year. Two weeks later, he began rotating in and out with Free at right tackle, and that rotation seemed to work for both. As a former basketball player, Parnell was always viewed as a project. It's becoming more and more possible that the work he's put in could earn him more playing time and even a starting position in the pros.