(Editor's Note: Throughout the off-season, DallasCowboys.com staff writers will take a closer look at the roster, analyzing players' impact last season and how each fits into the team's 2012 plans. Today's Roster Rundown entry features tight end Jason Witten.)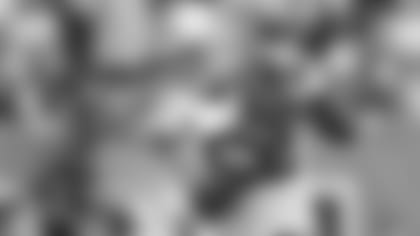 Name: Jason Witten
Position: Tight End
Height/Weight: 6-6/ 261
Experience: 10 seasons
College: Tennessee
Key stat:After starting the season slowly coming back from a spleen injury, Witten set the single-season tight end record for receptions in a season with 110 catches. His previous season-best was 96 catches, set in 2007.
Contract Status:Signed through 2017.
2012 Impact:  The highest compliment that a scout can pay a player is that he is a "Pro's pro". When I think of Jason Witten and the type of career that he has had, that is the first thing that comes to my mind. He has always done everything the right way and with the well-being of the team in mind first. Witten's 2012 season didn't get off to the best start with the injury that he suffered in the Oakland game during the pre-season but to his credit, he did everything in his power to make it back for the Giants game because he understood how important it was for he and his teammates to win that game. Witten managed only eight catches for the first three weeks of the season and clearly was battling through the spleen injury with some drops of passes that we had not seen during his career with some vertical routes down the field.  But in a four week stretch beginning with the Bears game, Witten was back to his old self hauling in 43 passes and was once again back to that high level of play we had seen so many times before.
I remember a play standing on the sidelines during the Baltimore game where the Cowboys faced a 4th and 10 from the Ravens 32 and all really looked lost, but Witten makes one of the greatest adjusting catches near the sideline for 16 yards that I had ever witnessed. Witten catches the ball about one foot off the ground with his hands flipped the opposite way. If he tries to catch the ball the normal way, it's a drop and the game is over. That was just one example of many when you think about the type of season that he had.  
Where He Fits:  From my observations, there still is plenty left in the tank for Witten when it comes to being a player that you want to use down the field in the passing game. With James Hanna now in the mix as well, you have two tight ends that can be those kind of players. Witten has always taken a great deal of pride in his ability to be a point of attack blocker but to save some wear and tear on him, I believe the front office should look into drafting or signing a tight end that can do more of these types of dirty work plays not having to expose Witten to that pounding. Anything that they can do to keep him fresh and healthy is the best route in the future because he will continue to play at that high level.     [embedded_ad]
Writers' Analysis: Rowan Kavner –With just eight catches on 21 targets through the first three games, including two games with 10 receiving yards or fewer, one wondered what kind of season Witten could possibly salvage. He continued to state that the spleen injury wasn't an excuse, but something just didn't seem right. It didn't take long for Witten to not only transform back into the stellar tight end everyone grew accustomed to, but to also put together his best statistical season in his NFL career, surpassing Michael Irvin to become the team's all-time receptions leader in the process. Witten demonstrated grit to play in every game, and he's clearly still a viable threat in the league. If there's one area he could still get better, it's in the red zone, as he finished with only three touchdowns. The Cowboys need a find a way to get the sure-handed tight end the ball more often near the goal line.