In case you missed it, Cowboys quarterback Tony Romo was snubbed from the NFL's list of the league's top 100 players. Supposedly voted on by the players, we can pretty much discredit the value of the list with one very simple sentence: Joe Flacco is ranked No. 19. His fluky Super Bowl victory aside, I would need to see a near-flawless argument to convince me that Flacco even deserves to be on the list at all. Other insanities among the list include Marshawn Lynch in the top 25, Eli Manning in the top 50 and Alfred Morris in the top 65.
Even temporarily dismissing the fact that NFL players are anything but "highly qualified" to rank their peers, such lists are typically misguided. That's why I'm going to propose four reasons that Romo's exclusion from the list is an atrocity.
1. Romo produces at an elite rate.
We can talk about playoff wins all day, but the one thing everyone seems to forget is that quality stats are (usually) reflective of quality play, and quality play leads to wins. There's a reason that the playoffs are dominated by quarterbacks like Tom Brady, Peyton Manning, Drew Brees, Aaron Rodgers and other passers with elite numbers, while the Flacco-esque late-season runs are aberrations. Let's examine Flacco and Romo head-to-head:
Outside of interception rate, a number you can live with from Romo because of the big plays he generates, Flacco doesn't even compare to the Cowboys' quarterback in just about every stat that predicts team success. If we're going to praise Flacco for his Super Bowl win, we should also mention that, based on their past play, Romo is far, far more likely to win the next championship of the two, even if he has a weaker supporting cast.
2. Romo plays well in pressure situations.
I know this isn't what we're all conditioned to believe, but Romo isn't actually worse in late-game or late-season situations. But that perception exists, and it affects how people view Romo's legacy.
But let's look at the numbers. On 464 career passes in the fourth quarter of one-score games, Romo has generated a gaudy 99.9 passer rating. Don't like passer rating as a metric? You might like Romo's 8.69 yards per attempt (YPA). Or his 6.0 percent touchdown rate. Or his 2.6 percent interception rate. All of those numbers surpass Romo's overall stats, suggesting he's not really worse in crunch time, but better.
Romo has made a few costly mistakes at bad times – the dropped field goal try in the playoffs and, most recently, the late-game interception in Washington – but it's highly unlikely that a quarterback who really folds under pressure would be able to post some of the most impressive stats in the NFL in conditions that most deem as "high pressure situations."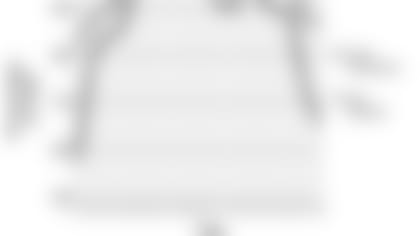 3. Romo will play the season at just 33 years old.
I've mentioned before that while 33 is over-the-hill for many positions, it's not for quarterbacks. Romo should be able to produce at a high level for four or five more seasons, at a minimum.
So if age is the justification for Romo's absence from the top 100 list, it's a poor one.
4. Matthew Stafford, Cam Newton and Matt Ryan are on the list.
Stafford, Newton and Ryan are all quality quarterbacks, but none of them have won much in the playoffs (one combined playoff win – the same as Romo). Newton hasn't been to the playoffs in two years in the league, Stafford has made it once and lost, and Ryan has a 1-4 career postseason record. Let's do the same comparison as above:
Romo trumps all three players in completion percentage, touchdown rate, YPA and passer rating. Yet Ryan ranked in the top 20 on the NFL's top 100 list and Romo isn't anywhere to be found. Makes sense.