An NFL player's stock – at least in terms of how fans perceive him – sure can fluctuate rapidly. When the Cowboys grabbed DeMarco Murray in the third round of the 2011 NFL Draft, most disliked the selection because the 'Boys were already "set" at running back with Felix Jones and Tashard Choice. Fast-forward a few months and Murray was the talk of Dallas, rushing for 824 yards over his final eight games alone.
A year later, Murray was hobbled by injuries, a problem that many now believe to be an insurmountable obstacle. After rushing for 131 yards in the 2012 season opener against the Giants, he failed to again cross the century mark in any of the nine other games in which he was able to play.
So what's the difference between this Murray and the one who dominated defenses as a rookie? Well, not much. Still only 25 years old, there are plenty of reasons to be high on Murray in 2012. Here are the four best:
1. Murray might not even be "injury prone."
A lot of what we view as "injury proneness" is just an illusion. Injuries are a low-frequency event and, for the most part, very random. That means we'd expect the distribution of injuries to be rather random as well, regardless of whether or not some players are more susceptible to injuries than others.
Nonetheless, we'd still expect a few players to be more susceptible to injuries than others. It makes sense that some people's genetic makeup is such that they're unlikely to get injured and/or likely to heal quickly after getting injured. But that doesn't mean we can predict future injuries with any sort of accuracy.
Even if injury proneness does indeed exist, it would take quite a long time to discover whether or not a player is truly more susceptible to injuries than average. Imagine that the typical player has a 10 percent chance to get injured in a given season and an injury-prone player has a 20 percent chance to get hurt. Even if that's the case, we'd still need a pretty substantial number of seasons to pass before we could claim with any sort of certainty whether or not a player's injuries were because he's injury-prone or if he just got unlucky.
Predicting injuries is kind of like projecting fumble recoveries. The events are rare, and thus susceptible to randomness. And while important, using past fumble recoveries (or injuries) to predict future ones is basically useless. That means Murray might be injury prone, or he might not, but the nine games he's missed in two seasons really can't help us make that determination.
2. He has game-breaking speed.
I've talked quite a bit about how the most predictive trait for NFL running backs is speed. There will always be Emmitt Smith and Alfred Morris outliers, but on a pretty consistent basis, the best backs are the fastest ones. At 213 pounds, Murray turned in a blazing 4.41 40-yard dash at the NFL Scouting Combine. He also had a 4.18 short shuttle and 10-4 broad jump, suggesting he's truly an explosive athlete. We saw that on Murray's 91-yard touchdown run against the Rams as a rookie. He possesses outstanding and borderline elite speed, especially for someone his size, and that's important.
3. There's obvious competition.
Whether or not he was the right pick at the time, rookie fifth-round running back Joseph Randle will provide competition for Murray, and that's always a good thing. The Cowboys have high hopes for Randle in all facets of the game. Actually, Randle's versatility is the primary reason he could be a threat to Murray. While I believe Murray to be a far, far better player, Randle can still do everything needed of a starter – run inside, run outside, play on third down, catch the ball, run in short-yardage – so Murray will probably have an eye over his shoulder.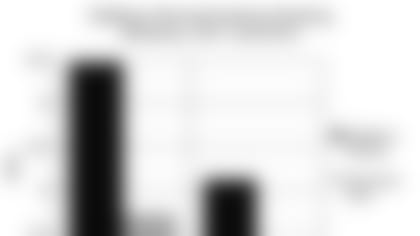 4. Murray has already done it.
Even after a lackluster 2012 season, Murray has still averaged 4.8 yards per carry during his two seasons in the NFL. That's an especially good number because the Cowboys haven't been a very good rushing offense as a whole during his time with the team.
Murray has outperformed the rest of the Cowboys' running backs, and by a wide margin. Further, it's pretty unlikely that the offensive line will be as poor this season as they were in 2012 – more evidence that Murray, with health, is in for a big year.