IRVING, Texas – He's not even officially on the roster yet, but I'm tabbing this to be a big debut opportunity for DeMarcus Lawrence. The Cowboys need to generate a pass rush, and there's no time like the present for the rookie to help out.
On top of that, I think the Cowboys need to utilize a quick passing game if they're going to neutralize this Arizona pressure scheme. I think a big component of that is going to be the often-overlooked Cole Beasley.
Let's get into my breakdown of this week's two biggest matchups:
Cowboys DE DeMarcus Lawrence against Cardinals OT Jared Veldheer
This will be the first professional action for Lawrence and his availability couldn't have come at a better time for this defense. When training camp opened, I believed Lawrence was going to play his way into this starting lineup, but with him breaking those bones in his foot -- it was a disappointing set back to say the least.
If there is a silver lining to Lawrence being out, these first eight games of the season it has allowed him to physically remake his body in the weight room. In his rehab time away from the game, it has allowed him to put on ten good pounds of muscle, which most scouts were concerned he sure could have used.
With the added strength and lack of seasonal wear and tear on his body, he will be ready to provide a much needed pass rush to a defense that has been good in providing pressure but doesn't have the sack numbers to show for it. Jermey Mincey will continue to be the starter at the right defensive end, but instead of Anthony Spencer or Laver Edwards as the backup it will be Lawrence off that edge.
Another benefit with Lawrence returning is that it will also allow Mincey to play down inside in the nickel, where he has shown the ability to get that pressure when he lined up over the guard. Putting two pressure players on that right side should generate some really nice opportunities against Jared Veldheer and guard Ted Larsen.
Cowboys WR Cole Beasley against Cardinals CB Jerraud Powers
Last week against the Eagles, Jerraud Powers was forced into the starting lineup when Patrick Peterson went out of the game with a concussion. Powers will normally line up as the nickel cornerback when the Cardinals go to that package.
With the way that the Cardinals like to play their corners in man-to-man coverage, there is a tremendous amount of confidence in both Antonio Cromartie and Patrick Peterson -- but on tape you see the confidence these coaches have in Powers and his ability to make plays. For the Cowboys, whether it's Tony Romo or Brandon Weeden at quarterback, the ball is going to need to get out quickly.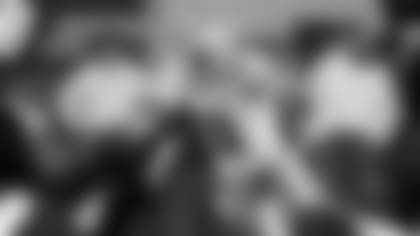 Offensively, when you deal with a defense that likes to bring pressure, receivers must win on the outside. Of the Cowboys receivers that can win off the snap, Cole Beasley can make that happen with his routes. There were several snaps against the Redskins last Monday night where the Cowboys were faced with pressure and Beasley was open, but the ball did not come in his direction.
I do not see this offense making the same mistakes in their protections or failing to get the ball in Beasley's hands. The Broncos did a really nice job of taking advantage of some of the matchups that they were able to create inside against the Cardinals.  I expect we will see the exact same thing scheme-wise from Scott Linehan against this Arizona defense.