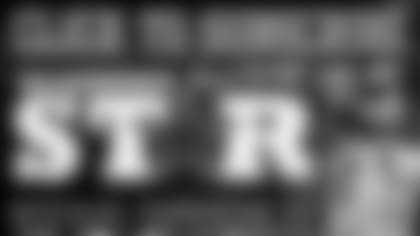 So in this, the 53rd preseason of the Dallas Cowboys, what would be more fitting than 53 bullet points on the football world that is, from training camp to the first week of the preseason to offering a few tips for upcoming fantasy drafts. So here we go, 53 thoughts from the Bald Head:
53) Can't fathom Jason Witten being ready for the Sept. 5 opener. One of the toughest athletes of his generation, but this is a spleen, not a jaw. It's not so much a threshold-of-pain situation as much as recovery. He cannot take the field if there's even a one percent greater chance of him rupturing his spleen as opposed to any other player on the field.
52) When Witten last missed a regular-season game, in Week 6 of 2003, Tyron Smith was 12 years old and Missy Franklin was in third grade.
51) All the injury talk at this point is greatly overrated. Who is definitely out for the opener? Rookie LB Caleb McSurdy? OL Bill Nagy would've been, but he was picked up on waivers by the Lions. Yeah, CB Mike Jenkins and OL Kevin Kowalski are likely out, but that's not absolute at this point. Deep breaths, it's the preseason.
50) Come the end of the first round, if Darren McFadden is there, can't see passing on him. Yeah, take the safe picks earlier on, Rodgers, Brady, Brees, Rice, Johnson, McCoy and Foster, but at some point, law of averages say he has to stay healthy. He looked like Bo Jackson in Tecmo Bowl against the Cowboys last week.
49) Really enjoying Hard Knocks, which is stunning because the Dolphins didn't seem like the most exciting subject. Kind of makes me think any NFL camp would be interesting with the HBO cameras.
48) Dez's numbers this year: 74 catches for 1,188 yards and 9 TD catches. Scores a 10th on a punt return. (Tweeted these a few weeks back; just wanted them on the record.)
47) Have said this before, for two-plus years now, but once again, Dez has without question the strongest arm on the football team. Yes, including the quarterbacks. At some point, Jason Garrett has to give the world a chance to see this on a reverse.
46) Just started the fourth season of Breaking Bad. Unreal stuff. Favorite television series since The Wire.
45) Still struggling with my predictions for next week's NFL Preview in Dallas Cowboys Star Magazine. The Cowboys' offensive line is causing some hesitation in my earlier confidence of 11 or 12 wins. Might go with 10-6. Even the eternal pessimist has to agree the talent is upgraded from a season ago when they were four snaps of the football from 12-4.
44) Can't even come up with a scenario where my Super Bowl prediction isn't New England and Green Bay. Clearly seem like the top two teams, almost like a beauty pageant in the 1980s with Christie Brinkley, Cindy Crawford and the cast of the Golden Girls. Not going to be a long voting process, you know? 
43) Could have used an older brother back in the day. We'd watch television most nights, my mother, my sister and me, and it never dawned on me that the Golden Girls *and *Blossom *really weren't meant for 14-year-old boys. Should have watched more TV with my father. His three favorite shows were *Benny Hill, ALF *and *Married With Children.
42) Think rookie free agent LB Adrian Hamilton not only makes this football team, but helps them in 2012 as well. Think he could have a Victor Butler-type debut campaign from back in 2009: 17 tackles, 3 sacks, maybe a forced fumble or two. The kid is legit; can't rationalize how he wasn't drafted.
41) Speaking of Butler, it's time to make the leap or he simply is what he is. Nothing wrong with the latter, could carve out a nice eight-year career, but the majority around the club think he's capable of more.
40) The linebackers are ridiculously loaded. Really think at season's end the unit will rank right there with San Francisco as the league's elite.
39) Think Tony Hill and Danny White are incredibly underappreciated for their careers with the Cowboys. One could make an easy case for Hill having better numbers than Ring of Honor member Drew Pearson.
38) Looking for a wideout around the third or fourth round who will put up second-round numbers? Atlanta's Julio Jones. Think he finishes with more catches, yards and touchdowns than his more celebrated teammate Roddy White.
37) Think USC finishes the regular season undefeated and Matt Barkley wins the Heisman by a whole bunch. Thought he was better than Andrew Luck when the Trojans played Stanford last year, although admittedly, the two were functioning in entirely different offense.
36) DeMarco Murray's numbers this year: 1,224 rushing yards, 42 catches, 386 receiving yards, 7 total TDs.
35) Whether the Cowboys win the Super Bowl or finish 0-16, absolutely have to take multiple offensive linemen in the first four rounds of the 2013 NFL Draft. This a young roster ready to compete at a high level for the next five years, but they need two or three more pieces up front.
34) Have to hope the Doug Free of 2010 reappears at right tackle. That season, playing 1,105 snaps, he allowed 21 quarterback hurries and 5 sacks, according to ProFootballFocus.com. In 2011, playing 1,080 snaps at left tackle, he allowed 34 hurries and 10 sacks.
33) Have come across the legendary Ace Parker here and there over the years and always assumed he was deceased. He's not. Celebrated his 100th birthday back in May and in the process, became the first Pro Football Hall of Famer to reach the Century Club.
32) Wait, there's more. There are only two men still alive who played against Lou Gehrig. Ready for this? Baseball Hall of Famer Bobby Doerr and, yes, Parker, who enjoyed a cup of coffee with the Philadelphia Athletics in 1937-38. Amazing life. Also served in World War II.
31) Am holding out hope that the Hall of Fame Veteran's Committee tabs former Green Bay Packers guard Jerry Kramer and former Dallas Cowboys linebacker Chuck Howley for this year's ballot. Would be kind of neat having two adversaries from the Ice Bowl finally earn their due simultaneously.
30) Would not touch Maurice Jones-Drew, Steven Jackson or Frank Gore in fantasy drafts. All three will go significantly earlier than they should. We saw this Jones-Drew situation play out last year with Chris Johnson. How'd that work out?
29) In terms of all three movies, think the Batman *trilogy has a seat at the table in the "Best Ever" discussion. Have to bring it with all three, so *Godfather III *and *Temple of Doom *eliminate those two. Has to be *Star Wars, Lord of the Rings *and *Back to the Future, although the second entry of the latter was a little shaky.
28) No reason to carry three quarterbacks on the active roster. Tony Romo and Kyle Orton suffice with a third on the practice squad. It's easy to say what if both go down in a game, then what? OK, how many times has that happened in the history of the franchise?
27) Have no concrete answer, am guessing a handful at most.
26) Thought he was ready to take the next step a season ago and was wrong, but Orlando Scandrick has been that guy through the offseason, training camp and even Monday night against the Raiders. Think he could be a top-3 slot cover guy in the league, blitzing the quarterback here and there, much like Charles Woodson.
25) Going to be a process with Morris Claiborne. He has missed a whole bunch of time and as Bruce Carter explained to me last December, there's a difference between studying a playbook, watching film and being on the football field. Game speeds up a whole bunch from college.
24) Arizona's Patrick Peterson is the perfect analogy. While his punt returning was drawing rave reviews and appearing on many a highlight reel last season, the rookie corner was lost in coverage. Brutal. Finished the year rated 60th out of 66 corners who played at least 50 percent of their team's snaps according to ProFootballFocus.com.
23) However, four of his five best games took place over the final five weeks. Peterson is going to be a Pro Bowler many times over at corner, there was just a learning curve, especially with the lockout. Well, Claiborne basically has been locked out himself in terms of being on a football field since the national title game.
22) Love his attitude, and most importantly, he truly seems to love football. Claiborne is going to be special, just not Week 1 against the Giants. Patience, young grasshopper.
21) Heard the call here first: *Argo *is going to win Best Picture.
20) How can hashtag be underlined as a spelling error on Twitter? Really? Shouldn't that have been the first word entered in the Twitter spellcheck?
19) Anyone else think Bailey was hotter than Jennifer on *WKRP in Cincinnati? *Think when we have the charter inductions to the Sneaky Hot Hall of Fame, Bailey has to be in attendance.
18) Easily the most important year of Rob Ryan's coaching career. Was given a pass for the most part last season with the lockout and all, but there are no more excuses. If this defense doesn't finish among the top-10 in terms of points allowed, can't see how he returns in 2013. Don't think that happens, this defense has a ginormous chip on their collective shoulders with a whole buncha talent.
17) Could see six Pro Bowlers on defense. DeMarcus Ware, Sean Lee, Jay Ratliff and Brandon Carr are locks barring injury, while Anthony Spencer, Bruce Carter and Jason Hatcher have legitimate shots.
16) Not sure there's anyone on the planet with higher expectations for Carter this year than me. His athleticism is otherworldly, love his attitude, have spoken with him a few times and the kid wants to be great.
15) Do NOT, under any circumstances, draft a kicker or defense before the final two rounds. Don't do it. Trust me on this.
14) Mentioned this about a year or so ago, and now, wow, even more so. How is no one talking about the Super Bowl host city curse. It's stunning, right there with the Madden cover. This year it's New Orleans, who you know, suffered the most severe league-imposed sanctions since the Black Sox.
13) Last year it was Indy, who finished 2-14 and lost Peyton Manning for the season. Year before was the Cowboys, who started 1-7, lost Romo for the season, fired Wade Phillips, and then endured historic snow and ice the week before the Big Game. Miami lost its quarterback, Chad Pennington, the year before that en route to a 7-9 record.
12) Jon Gruden lost his gig with Tampa Bay in 2008 after a 9-3 start. Am guessing not many coaches pulled that trick, especially having won a Super Bowl for the same franchise. Speaking of the Bucs, they were the last team to even make the playoffs the same season they were hosting, this coming a dozen years ago.
11) Would be stunned if Cowboys Stadium didn't land Super Bowl L. How cool is that? Super Bowl L is slated to be played on Jan. 31, 2016, which would be the first time in 13 years the NFL season would conclude in the calendar's first month.
10) Tony Romo's numbers this year: 4,627 passing yards, 35 TD passes and 11 interceptions.
9) Someone asked me recently if Romo would be a Hall of Famer. Impossible to answer at this point, but if forced to choose, yeah, think he will be. Romo currently has the highest passer rating, at 96.9, in NFL history (minimum 2,500 attempts).
8) Jason Garrett's mother, Jane, had eight kids in less than eight years. None were twins, either. Found that out about three weeks ago and still can't process it.
7) Dez Bryant will not be suspended by the NFL. Not happening.
6) Dan Bailey is the real deal, not a one-year flash. Yeah, Cowboys faithful saw this before with Richie Cunningham (almost feel compelled to tell a cheesy Happy Days joke) and Nick Folk, but Bailey is different. Think he's here a long time.
5) Don't think Miles Austin ever repeats his numbers from 2009. Honestly not sure there's another 1,000-yard campaign in him.
4) Don't know if the NFL Network is continuing its A Football Life *documentaries, but last year's were superb, from Bill Belichick to Tom Landry to the Reggie White/Jerome Brown one. Started researching/reporting/interviewing for *America's Team: The Authorized History of the Dallas Cowboys thinking Landry was one person and came away with a completely different perspective.
3) Think John Phillips could catch 40 balls this year. Thing is, his blocking is more important toward the success of this team, especially "chip" blocks at the line of scrimmage.
2) Been thinking this since the schedule was released, but haven't said, or written so. Here goes: The Cowboys are beating the Giants in the opener on Sept. 5. Know no defending champ has lost the Kickoff Game, just have a hunch.
1) Deep breaths, it's the preseason.
Follow Jeff Sullivan on Twitter, @SullyBaldHead, or email him at jsullivan@dallascowboys.net.