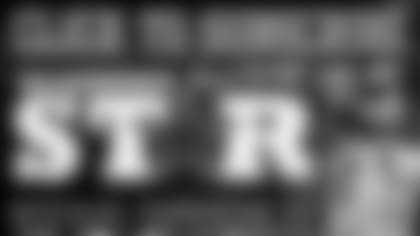 We recently offered up 53 bullet points in honor of the 53rd season of the Dallas Cowboys. This time around, 53 predictions from the Bald Head. For the record, some of these have been mentioned previously in one form or another (Twitter, previous columns), but we wanted them all in one place so we can revisit at season's end:
53) The Cowboys defense finishes top-5 in scoring and total defense. Honestly, have never felt stronger about a singular prediction in my years of prognosticating.
52) The bad news: Rob Ryan interviews for multiple head coaching positions in the offseason.
51) Dez Bryant leads all NFC East wideouts in receiving yards and touchdown catches.
50) After rushing for just five scores in 2011, Dallas triples that number this time around behind one of the league's top run-blocking units and the league's premier offensive line coach in Bill Callahan. Not saying pass protection won't be an issue at times, but the run blocking will be superb.
49) Mike Shanahan fails to produce a winning season for the third straight year in Washington. Of course, this will absolutely, positively not be his fault in any way, shape or form. Do think he returns for a fourth campaign.
48) DeMarcus Ware breaks the single-season sack record with 23.5, and wins NFL Defensive Player of the Year.
47) Ware and Brandon Carr are named first team All-Pro while Sean Lee is tabbed to the second team.
46) Tony Romo, DeMarco Murray, Tyron Smith, Ware, Carr and Lee are named to the Pro Bowl. Likely only one or two will actually play in the most useless sporting event of the year, but that's beside the point.
45) Murray becomes the fourth back in franchise history with 1,200 rushing yards and 40 receptions in the same season, joining Emmitt Smith (six times), Tony Dorsett (twice) and Herschel Walker on the list.
44) Emmitt wins Dancing with the Stars All-Stars. Have never watched it, but my mother has never missed an episode and she says he's the best one. Good enough.
43) Darren McFadden plays all 16 games, leads the league with 1,673 rushing yards and is named NFL Offensive Player of the Year.
42) Tim Tebow starts more games under center for the Jets than Mark Sanchez, but Greg McElroy starts the final two weeks.
41) The Cowboys will be favored in 12 of their final 15 games.
40) Super Bowl L, slated for February 2016, is awarded to Cowboys Stadium in the spring.
39) AFC playoff teams (in order of seeding): Patriots, Ravens, Chargers, Texans, Broncos and Bills.
38) NFC playoff teams (ditto): Packers, Falcons, Cowboys, 49ers, Eagles and Bears.
37) Week 1: Cowboys 31, Giants 16
36) Jason Witten breaks Michael Irvin's franchise mark of 750 career receptions in Week 15 vs. Pittsburgh and finishes the year with 65 catches.
35) John Phillips has more receptions than Kevin Ogletree. Or any other wide receiver not named Dez or Miles for that matter.
34) Rookie linebacker Adrian Hamilton will have a sack for the Ravens against the Cowboys in Week 6, prompting me to bang the oversized, bald head against the nearest wall at least six times. Still can't fathom he wasn't even kept on the practice squad.
33) Orlando Scandrick sets career highs across the board with 57 tackles, 11 passes defensed, four sacks and three interceptions.
32) Sean Lissemore starts at least eight games and grades as the team's best run stopper. He also adds 4.5 sacks.
31) No head coach will be fired during the regular season.
30) Linebacker Alex Albright leads the team in special teams tackles.
29) Bruce Carter scores a touchdown, likely of the did-he-just-do-that variety.
28) Victor Butler plays 450 defensive snaps and finishes third on the team with 7.5 sacks.
27) The Jerry Jones/Papa John's commercial becomes funnier with each viewing. Already a classic, just genius.
26) The Cowboys-Giants opener will be the highest-rated regular-season game in the history of the NFL.
25) The league's officials will return by Week 2. Still in shock they won't for this week.
24) Dan Bailey becomes the second player in Cowboys franchise history with back-to-back 130-point seasons. Emmitt Smith did so in 1994-95. Bailey also boots a 55-yarder at some point in 2012.
23) Mike Smith wins NFL Coach of the Year.
22) Dez matches his rookie season with two punt returns for touchdowns.
21) Carr doesn't lead the team in interceptions. Think he becomes a version of Revis Island or Deion Sanders back in the day where few balls are thrown in his direction.
20) Let's say Morris Claiborne leads with six picks because, make no mistake, teams are going to test the rookie every chance possible, especially with Carr on the other side. Also, Claiborne returns one of those interceptions for a touchdown.
19) Barry Church's jersey sales will rank top-3 among the defensive players by season's end. Cowboys' fans have always loved their hard-hitting safeties, and he's going to remind many of Darren Woodson and Roy Williams in terms of laying some serious hits over the middle.
18) Matt Ryan – yes, "Matty Ice" himself – wins NFL MVP. Yeah, this is kind of a reach, but it's boring to pick Aaron Rodgers or Tom Brady.
17) Give me Andrew Luck and Luke Kuechly for Offensive and Defensive Rookie of the Year.
16) Super Bowl XLVI: Patriots 34, Packers 31 – One for the ages, Bill Belichick matches Cowboys strength and conditioning coach Mike Woicik as the only men with six Super Bowl rings, and Brady finally equals Terry Bradshaw and Joe Montana with No. 4.
15) Chris Jones is solid enough that we don't hear Mat McBriar's name mentioned by the talking heads.
14) Joe Buck and Troy Aikman call eight Cowboys games.
13) Either Week 15 vs. Pittsburgh or the following Sunday against New Orleans will be flexed to the night game, meaning Dallas will play five evening contests in 2012.
12) Rookie tight end James Hanna has a 40-yard reception, likely running for more than half those yards after the catch.
11) Anthony Spencer enjoys his most consistent season with the Cowboys, although doesn't quite play to the level of his second half in 2009. Let's say 7.5 sacks.
10) The Cowboys lose a game they should win by two touchdowns. Best candidates are Week 2 at Seattle and Week 14 at Cincinnati.
9) Ready for this one: Dallas finishes 5-1 in the NFC East, sweeps the Giants and Redskins and splits with Philly.
8) Tyron Smith leads the team with nine penalties, six false starts and three holds, but as mentioned earlier, earns his first Pro Bowl nod.
7) Felix Jones settles into a niche role as the backup running back and kick returner. Let's say 1,300 all-purpose yards, about 700 on returns, 400 rushing and 200 receiving.
6) Think Russell Wilson puts up better numbers, significantly so, than Ryan Tannehill and Brandon Weeden.
5) By the time the Super Bowl kicks off in February, a franchise will be slated to move to Los Angeles. It's been 18 years now that the country's second-largest city has lacked an NFL team. Unreal.
4) Cowboys make a trade before the newly-extended Week 8 deadline. Not saying a blockbuster by any means, but a deal.
3) Romo plays in all 16 games and sets a career high with a 108.7 passer rating, yet half the posts on the Cowboys message boards will say he's overrated or should be traded. Will never figure out how people can be so completely and utterly clueless.
2) Charles Haley and Larry Allen are among the five elected to the Pro Football Hall of Fame on Feb. 2. The others will be Bill Parcells, Cris Carter and Warren Sapp.
1) The Cowboys finish 11-5 and win a playoff game before bowing out a game shy of the NFC Championship Game.