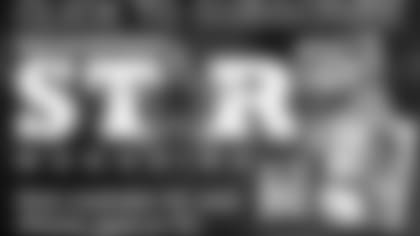 Larry Allen has been left for dead many times. Not just as a football player, either.
When he was just 9 years of age, while protecting his younger brother from a 12-year-old neighbor, Allen was stabbed 12 times in the head and shoulder. And knives weren't the only issue. There were the bullets that so often monopolized his childhood in Compton, by all accounts the toughest section of Los Angeles, if not the entire country.
Many a night was spent on the floor, under his mother's protective embrace, hoping they would survive the latest gang-related shootout.
This wasn't a movie, this was reality. No white picket fence. Not a whole lot of hope. Sure, there were dreamers, but opportunity was scarce. This is where Allen could have become a mere footnote, if that, instead of emerging as arguably the greatest offensive lineman in the history of the National Football League. Many would even say to drop the arguably, Allen simply is the G.O.A.T., the Greatest Of All Time.
This from a kid who couldn't afford to play Pop Warner, didn't graduate from high school or junior college, and was chilling on his mother's couch at 19 with absolutely, positively no future. Heck, he couldn't even land a job at McDonald's.
The stories have already become legend, though, which is mindboggling considering Allen, who was inducted into the Pro Football Hall of Fame last weekend in Canton, is just 41 years old. He's kind of the real-life football version of Paul Bunyan. Yet, there are countless witnesses, oftentimes video evidence, to collaborate the shaking-my-head, there-is-no-earthly-way-that-happened tales.
Like the time he dunked a basketball on his first day at Sonoma State. In street clothes, two-handed no less, without a running start. He just took a step or two, minutes after having driven some eight hours in a car.
Oh yeah, he was 350 pounds at the time and wearing flip-flops. And he's not exactly Ed "Too Tall" Jones, standing just 6-foot 3-inches, if that.
Thing is, he first dunked at 14, when he wasn't even 6 feet tall. And he was never skinny.
Then there's the iconic game against UC Davis when Allen hit the trifecta, literally, knocking unconscious a defensive tackle, a linebacker and a safety … wait for it …
Allen never stopped running up field, either. Who's next? Probably the only reason that occurred just once was dudes in the secondary were "accidently" losing their balance when Allen was headed anywhere in the zip code of their direction. Exit, stage right. Or left. Just not in the path of this athletic freak, this mythical Greek god sent here to wreak havoc and destruction before all in his path.
They gave this a name in the NFL. Yeah, yeah, Sonoma State, wherever that is, who couldn't dominate with Allen's size and speed? Big deal. OK, now we're talking National Football League. The big boys, mean, angry men, in the trenches. Strong and vicious like Allen. Now he's going to learn some lessons.
Not so much. Allen's teammates talked about it quite openly during his career, and more recently, opposing players have joined in, most notably former Giants All-Pro defensive end Michael Strahan, who once referred to Allen as "a legalized killer" and famously said, "The saddest thing is how many players will watch him on film during the week and then pull up with some mysterious injury or flu or something. We call that catching 'Allen-itis.'"
There are more stories: The time he ran down one of the league's fastest linebackers from behind, the bench press heard 'round the world, and so many others.
First, though, who exactly is Larry Allen? For a player so revered, who dominated on the grandest of NFL stages, America's Team, we know so little. Which, of course, is exactly how Allen wanted it during his illustrious 14-year career, 1994-2007. For him, talking with the media, or sharing his world, his life, with strangers was kind of like a pass-rusher attempting to reach his quarterback. Wasn't happening. No way, no how.
He was more than happy to throw a pinch or two of Copenhagen in his lower lip and do his own thing.
Looking back, Allen says, "I just wanted to play football. I didn't want to be involved in any of that media stuff. That's for quarterbacks and running backs. And Michael Irvin."
After saying that last part, Allen chuckles, sort of a high-pitched cackle, one that teammates and coaches heard often, but fans and media seldom did. The man does have a sense of humor, a pretty good one at that.
"I used to tell people that Larry was a quiet man until the ball was snapped, but honestly, Larry talked all the time. He was always asking questions, as much as any player I coached," former Cowboys offensive line coach Hudson Houck says. "And we would talk about football for hours, after practice, watching film, he always wanted to know about technique and his favorite question was, 'Coach, what if this happens?' He wanted a plan for every possible situation.
"I know everyone was aware of his physical gifts, but I'm not sure there's an appreciation for how intelligent he is. Larry is one of the most intelligent players I coached in 40-plus years."
Citing Houck as an offensive line coach is like saying the Pope is a religious man. Both are true, but oh so understated. The case can easily be made that no man coached the offensive line talent that Houck did before he retired with the Cowboys following the 2011 campaign. At USC, Anthony Munoz and Bruce Matthews. While in the NFL, Jackie Slater, Allen and 15 more Pro Bowlers. A stunning collection of talent with Munoz, Matthews, Slater and now Allen each being selected to Canton on their first ballot. He's seen the best of the best, the most talented to ever put their hand on the grass.
"I was very fortunate to coach some of the more athletic and successful linemen to ever play the game, and Larry's at the top of that list," Houck says. "Larry made me a better football coach than I was. He possessed some skills that I couldn't coach. He is absolutely as dominant as anyone I have ever seen play the game, and not only offensive linemen.
"Larry enjoyed playing football, it was fun for him, and that's not the case with a lot of guys. And the harder it was, the more he enjoyed it. He'd come out of that first huddle of the game with this little grin, like 'Yeah, here I am. It's going to be a long day for you.'"
Growing up in Compton, Allen never played organized football. He would play with his cousins on Thanksgiving, but that was about it. Basketball was his game; he could almost always be found down the street on the courts. While always a big kid, Allen was gifted athletically, agile, could run and jump with those carrying 50 to 60 fewer pounds.
School was never a huge priority for Allen. The main focus was surviving the day-to-day, the gangs, the gunfire. A Norman Rockwell painting his childhood wasn't.
Shortly before Allen was drafted in 1994, his mother, Vera Allen, told the Los Angeles Times, "We would hear the gunfire outside our house, we would automatically roll out of the bed, lay on the floor until the shooting stopped, then get back in bed and go to sleep. After a while, we got pretty good at that."
Allen's father, Larry Sr., left the family when his namesake was 11, leaving Vera and a younger brother, Von.
Thereafter, the family moved 12 times in eight years, with Vera always wanting a better life for her two boys. Allen would attend four high schools, three of which were in Northern California, where Vera found a much safer environment for her children. He returned to Compton for his junior year, which is when the football thing started to turn some heads, but with gangs becoming an issue, he asked his mother about returning to the Bay Area for his senior year.
Now, it should be noted that Allen, while mostly innocent, was by no means an Eagle Scout. He joined a gang at one point, but Vera found out and sent him to the rival gang's high school, so he "could see how bad you really are." That was the last of the gangs for Larry. There were fights, too, but nothing as serious as the stabbing of his youth.
"Compton is well known for the street gangs, the Bloods and the Crips, and yeah, growing up was a rough experience," Allen says. "Looking back, I think it taught me to be a tough person. Maybe sometimes on the football field, especially in high school and college, I was taking out some of my frustrations."
Despite not graduating from Napa's Vintage High School, the dean of students hooked Allen, now weighing about 365 pounds, with the head coach, Craig Rigsbee, at Butte Community College, about two hours farther north, although still in California. Allen earned his GED and played two years there – well, dominated is more accurate.
It was during this time, though, that he once phoned his mother in need of money to eat, and Vera immediately went to the nearest Western Union with her last $28. The Western Union service fee was $13, leaving $15 for her son.
Allen didn't complete his associate degree, and returned to Compton, moving in with his father before eventually landing back with his mother, 19 years old, broke, with absolutely no idea of the future.
His days consisted of playing some basketball and watching television on the couch. Sure, the big-time programs were all interested in Allen, had heard about his otherworldly talent, the size, the athleticism, and he was still raw. But he didn't have the grades, didn't earn his degree, so his name was crossed off everyone's list. No more Larry Allen, the football career was at best on life support.
Except for this guy, Frank Scalercio, the offensive line coach at Sonoma State, a Division II program about 50 miles north of San Francisco that lacked athletic scholarships. Scalercio saw Allen play multiple times at Butte, and was just flabbergasted.
"Never seen anything like it, before or since. He was just tossing guys around," Scalercio says. "They did a good job coaching him at Butte, but he was so dominating that he got away with stuff. First time I saw him play, he body slammed, literally picked someone up and slammed the poor kid to the ground, a half dozen times. Who does that? He didn't really have any technique, but honestly, he didn't need it."
Scalercio heard that Allen had left Butte without graduating and was back in Compton. He knew all the major schools had moved on, and that maybe, just maybe, there was a chance. He became borderline obsessed, calling daily, but Allen was moving around so much, finding a working phone number became a challenge in and of itself. This was 1992, no cell phones.
Eventually Scalercio was able to start a dialogue with Vera, talking with her several times a week. He also sent a few of his players to scour basketball courts in Compton with a note for Allen to call him. Finally, Scalercio connected with Allen and asked if he would consider playing at Sonoma State.
"I thought he was joking, honestly," Allen says laughing. "I didn't know there was a Sonoma State."
Vera stepped in, convincing her son it was worth taking a chance, was perhaps his last chance. She called Scalercio and asked, "Do you want my baby?" "Yes ma'am, I do," was the reply, so Allen threw some clothes into a couple of trash bags and drove up in a teammate's pickup truck. Upon arrival, the head coach, Tim Walsh, who thought Scalercio had wasted way too much time on this Allen kid, immediately dismissed the rumor about Allen being able to dunk a basketball. So he tossed Allen a ball and said, "Let's see it, big fella."
"I had never seen him actually dunk, just heard the stories," Scalercio says. "I was bragging about this kid for months, and would always include the fact he could dunk. So here we were, the basketball team is in the gym, a few football players, just all watching him. And he throws down this two-handed slam like none of us had ever seen. The ball was just bouncing on the floor for like 10 seconds, maybe longer, and no one said a word. I have never heard silence like that in my life."
Allen took 24 credits that summer, dedicated himself like never before, and passed.
"If Larry was forced to make grades, he could pull them," Scalercio says. "Larry is one of the more intelligent football players I ever coached. He wasn't the shy kid in the corner, either. Larry was very social, he liked being around others, and everyone wanted to be around him. He wasn't the most talkative guy in the world, but he fit in quite well."
He also wouldn't lift weights. No interest. Yes, the strongest man in the history of the National Football League didn't lift in college.
Well, that's not entirely true.
Allen did not enjoy lifting, and told his coaches just that. OK, they said, if you can break the school bench-press record of 365 pounds, you don't have to lift. Sure enough, Allen, without warming up, had 370 put on the bar, broke the mark, and promptly walked out of the room.
"Larry was once in a lifetime with ease. The first time I saw him play was a special moment for me, a cool moment in my life. I had never seen anyone who could run like that with that strength," Scalercio says. "He never bragged about it, but he knew he was good. He just didn't know how good he was. Larry never made an enemy at Sonoma State, either. We were given weekly reports from all of our players' teachers, and there was never a single bad comment about Larry. Not one."
In two seasons at Sonoma, Allen allowed one sack. Scalercio, who was named the team's head coach for Allen's senior year, doesn't recall the sack, but is certain the defensive player in question is still bragging about it to this day.
"He's the only player I've ever seen on any level who could lose his balance coming out of his stance, and still recuperate and dominate the rusher," Scalercio says. "This might sound ridiculous considering he was coming out of a Division II program, but when he was drafted, I honestly would've been more surprised if he wasn't elected to the Pro Football Hall of Fame."
Allen, always wanting to help, gave away the majority of his financial aid money to friends and family. His mother was only able to see him play once in college, having to take a bus three hours each way. Larry promised her then and there, that when he was drafted, he would buy her a car.
Selected in the second round by the Cowboys in 1994, Allen fulfilled his vow. He also bought his mother a house in Sacramento.
"Everything she gave and did for my brother and me, that was the one gift I was able to give to her," Allen says. "She did everything for my brother and me. My life could've ended up much differently."
Allen, admittedly, has always been fortunate to have the right people around him when the time and situation demanded it, from his mother to Rigsbee to Scalercio to Houck.
Life is about those moments, seemingly insignificant at the time, yet anything but. Houck was sitting in a staff meeting before the draft, one of countless hundreds he endured during his legendary career, and then-defensive coordinator Butch Davis was angling to select a tackle or end in the second round of the 1994 NFL Draft. Thing was, he just wasn't sure any of them were good enough for that high a pick.
Houck chimed in, "Hey, this kid from Sonoma State is pretty good."
That's what he said, too. "Pretty good." And Cowboys owner/general manager Jerry Jones said, "yeah, well, let's take a look." And Houck and Jones watched some tape on Larry Allen from who knows where and, wow, indeed, this kid is pretty good. Put him on the board.
"I remember Jerry looking at me and saying, 'Whoa, this is a hell of a player. There is no one else. This is our guy,' and Butch was trying on draft day to take a defensive guy, but Larry was the pick," Houck says.
The unlikely tandem of Houck and Allen formed an immediate connection, a father-son kind of relationship. Before the first game of his rookie campaign, Houck hosted Allen and his future wife at his house. In the midst of dinner, he told them, "Your lives are going to change, there's going to be restraints and challenges. You are going to be on display, watch out for people wanting your money."
Houck went on and on, trying to give the young couple a guide on what to expect. Finally, Allen's wife-to-be, Janelle, said, "You really think he's going to be any good?"
Without hesitation, Houck, the man who coached Allen's lone childhood idol, Slater, said, "You bet. Get ready for it."
Yes, Houck knew before seeing Allen play a single regular-season game. Actually, he knew after a single practice. Heck, he knew the first play of the first practice, when Allen manhandled Charles Haley, who had been talking trash before the snap. Despite joining the two-time defending Super Bowl champions, with one of the better offensive lines in the history of the NFL, Allen cracked the starting lineup as a rookie.
"I was so fortunate to be drafted by the Cowboys and watch guys like Nate Newton, Erik Williams, Mark Tuinei, Mark Stepnoski. These guys were already Pro Bowlers," Allen says. "And then to have the best offensive line coach in the game, the guy who coached my idol, Jackie Slater, it really couldn't have worked out any better."
The following season, 1995, Allen earned his first of 11 Pro Bowl nods and helped the Cowboys win a third Super Bowl in four years. Thereafter, while playing every offensive line position besides center, Allen was the most dominant player in the game, a six-time First Team All-Pro.
"I always hear people say Larry was the best offensive lineman in the game, and that's just not right," Michael Irvin once said. "Larry was the best player in the league and it wasn't even close."
That quote could also be attributed to Deion Sanders, Troy Aikman, John Madden, John Randle and countless others.
For the most part, Allen avoided the limelight during his 14-year career, with the exception of the accolades and two defining moments that the overwhelming majority of Cowboys fans will never forget.
The first came during Allen's rookie season on Monday Night Football, when he chased down New Orleans Saints linebacker Darion Conner following an interception. The most impressive aspect of the play – well, outside of a 325-pound man running down a linebacker with 4.5 speed – is that Allen was flat-footed when the interception took place, while Connor had a running start. Allen tackled Connor at the 16-yard line, 52 yards from where the ball was picked and the Cowboys held the Saints to a field goal.
The second is the bench press, from the spring of 2001, some 692 pounds, which makes for one of the more entertaining videos on YouTube, highlighted by Rocket Ismail diving atop Allen and the bench. Now, keep in mind, when Allen put up nearly 700 pounds, no one else on the team was benching 400.
However, what may be even more impressive was the first time Allen actually lifted as a member of the Cowboys, spending an hour or so in the weight room doing reps and sets. That occurred early in his rookie season with fellow offensive lineman Mark Tuinei. After a few warm-up sets, which Allen did with ease, Tuinei, already stunned, decided to see what the kid could do, and put 400 pounds on the bar. Sure enough, Allen put it up.
So, to review, as a rookie, Allen could run a 4.8 40-yard dash and bench 400 pounds.
As for the Cowboys Ring of Honor, which saw him inducted in 2011, and the Pro Football Hall of Fame, Allen never really thought about stuff like that. Make no mistake, he's honored, but that wasn't his mindset taking the field 200-plus times. It was much more simplistic.
"My main focus was making sure I didn't lose my job so I could always take care of my family," Allen says. "The better I did on the field, the better life would be for them, for my wife, for my kids, for my mother. I played football and went home. I never thought about my legacy or how dominant I was. I just wanted to make the other guy across from me give up, tap out."
For Allen, the choice of Jones to present him during the Canton ceremonies was a no-brainer.
"Jerry is a great man, and when I saw what he was doing with his life, it made me want to work harder in my life," Allen says.
No one made more of an impact on Allen's NFL career than Houck, his line coach for his first eight seasons. The two spent countless hours together, on and off the field, and remain close to this day. The relationship went way beyond coach and player.
"I love him to death. I owe him so much," Allen says of Houck. "He taught me technique, he worked with me every day, answered all my questions, would meet with me before and after practice. He didn't only make me a better football player, either. He helped me become a better person. He's really been like a father for me."
Men in general, never mind football players and coaches, aren't exactly known for expressing their feelings. Such is not the case for Allen and Houck, who is now 70 and retired from coaching.
"We developed this incredible friendship and bond. We were in the battles together for so many years, the meetings, the practices, the celebrations," Houck says. "We have this understanding, this raw feeling for one another that is exposed. I know how he feels and he knows how I feel. We understand each other in every way. There is no false front. I love Larry."
Alas, while Houck, Rigsbee, Scalercio, and Larry's father and brother were on hand for Allen's shining moment in Canton, Vera was not. The woman who sacrificed everything she possessed for her two sons passed away in July 2012 at the age of 59.
"It's going to be tough, going to be emotional not having her there," Allen said before the ceremony. "I know she'll be looking down, though, seeing her baby up there on stage. I miss her so much. She's one of the biggest reasons I'm where I am. I miss talking with her. She'd always know how to make me laugh."
Although his Ring of Honor remarks lasted all of 12 seconds, much has been made about Allen's Hall of Fame speech. Nothing, however, will ever compare to his eulogy of Vera at her funeral. Yes, he cried through the majority of it, but he never stopped talking.
Vera would've been proud. She was proud. She couldn't have been prouder.
"He poured his heart out. It was beautiful," Scalercio says. "We talked about once a month after Larry left for school, and kept in touch after that. She was a wonderful woman, so smart and savvy. She did everything for her two sons – they were her life. The sacrifices she made to give them a better chance.
"A few weeks ago I was cleaning out my garage, moving boxes, and found this picture of Vera. It was incredibly random. I didn't even know I had it."
Scalercio planned on bringing the photo to Canton, his way of letting Allen know that his mother was there, still watching over him.
He is a father himself now with three children. Allen's oldest daughter, Jayla, who attends Pepperdine, helped him with his Hall of Fame speech, and Larry III is likely headed to a Division I program to play football as a highly-recruited lineman. He also has a younger daughter named Loriana.
Allen's kids did grow up with the white picket fence, the Norman Rockwell painting, in part because of Vera's sacrifices, her singular objective to keep her children safe and make a better life for them. Vera's baby is safe now. No more bullets, no more knives, just honors and an acronym.
* * Follow Jeff Sullivan on Twitter, @SullyBaldHead, or email him at jsullivan@dallascowboys.net.