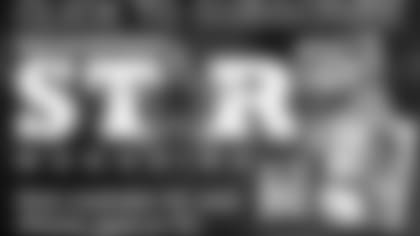 Back again with some predictions for the season ahead. Looked back at some of mine from a season ago and like anyone, was mostly a split deal. Had Dez Bryant leading the NFC East in receiving yards and touchdowns. Check. Called four of the five Pro Football Hall of Fame inductees, missed on Charles Haley. Wrote Anthony Spencer would have his best season and think we all agree he did just that. Completely missed on a few others, Darren McFadden winning Offensive Player of the Year and Tim Tebow starting more games than Mark Sanchez.
So here we go, our predictions for the season ahead. The first one has been made crystal clear at this point, and no one, absolutely no one is on board with me. But, that's fine. The Cowboys are going 12-4 this year. Also have them beating the Giants, 34-20, in the season opener.
Dez is breaking records this year. Will eclipse Michael Irvin's team mark of 1,603 yards as well as the 15 TD catches of Terrell Owens from 2007. Talking first-team All-Pro. Let's say 101 receptions for 1,678 yards and 18 touchdowns.
My 12 playoff teams are New England, Denver, Cincinnati, Houston, Indianapolis and Kansas City in the AFC; Atlanta, Dallas, Seattle, San Francisco, New Orleans and Green Bay in the NFC. Texans beat the Falcons, 26-24, in the Super Bowl. Wade Phillips gives us the celebration of the ages when Atlanta misses a potential game-winning field goal in the final seconds.
Sean Lee wins Defensive Player of the Year, barely edging out Geno Atkins and Luke Kuechly. Will be the second player in franchise history to win the honor, joining Harvey Martin from 1977.
No inductions this year to the Ring of Honor. Next year, Darren Woodson, Deion Sanders and Jimmy Johnson. Yes, Jimmy. Going to be the 50th anniversary season of Jerry Jones and Jimmy winning their national championship at Arkansas.
DeMarco Murray rushes for 1,222 yards, but Joseph Randle leads the team with six rushing touchdowns. And the Cowboys as a team run for 16 touchdowns this year, twice as many as last.
Eight Cowboys are selected to the Pro Bowl: Tony Romo, Dez, Jason Witten, Tyron Smith, Sean Lee, Bruce Carter, DeMarcus Ware and Brandon Carr.
J.J. Wilcox starts the last 14 games at safety and leads the team with six interceptions.
Peyton Manning does not lead the NFL in passing touchdowns. Not even with his seven last night.
Andrew Luck makes the leap and is a top-5 quarterback. This year. Thinking 4,500 yards and 32 TD passes.
Rest of the award winners: MVP – Aaron Rodgers; Offensive Player of the Year – Trent Richardson; Offensive Rookie of the Year – Giovani Bernard; Defensive Rookie of the Year – Tyrann Mathieu; Comeback Player of the Year – Darrelle Revis; Coach of the Year – Andy Reid.
The NFL career of Tebow is finished. Won't be signed by another team. Not sure how ESPN will survive.
Jason Garrett signs a five-year extension before the season ends.
For the second straight year, a redshirt freshman wins the Heisman Trophy. This time around, it's Florida State's Jameis Winston.
No NFC East team besides the Cowboys finishes with a winning record.
Have the Steelers struggling through a transition year at 7-9. That defense is old. Heck, the entire team is.
The Jets finish 2-14, and take Jadeveon Clowney with the No. 1 overall pick, allowing the Oakland Raiders to select Teddy Bridgewater second.
The Bengals win a playoff game for the first time since 1990. Could see them in the Super Bowl very easily.
Rookie wideout Terrance Williams catches 38 passes for 512 yards.
Murray, Carter, Lee and Miles Austin all play 16 games. Time for this team to catch a few breaks at some point.
Travis Frederick is called for just two penalties and doesn't miss a single snap.
Don't see James Hanna or rookie Gavin Escobar making a big impact on the offense. Neither will catch 20 balls.
Here are my 2014 Pro Football Hall of Fame selections: Charles Haley (absolute mortal lock, long overdue), Jerome Bettis, Michael Strahan, Will Shields and Derrick Brooks. Pretty sure both of the veteran's committee candidates will be enshrined as well in Ray Guy, who will be the first-ever punter, and former Falcons defensive end Claude Humphrey.
Think Doug Free has a solid bounce-back season, cuts both his QB hurries and penalties in half from a season ago, say, 20 and 7, respectively. The line as a whole is significantly better, especially with the addition of Brian Waters. Free has looked much quicker with that first step during camp and the preseason.
Once again, for the record, the 2013 Dallas Cowboys: 12-4. Want it out there since there is literally no one else on the planet predicting this. It's football season, nothing better.
Follow Jeff Sullivan on Twitter, @SullyBaldHead, or email him at jsullivan@dallascowboys.net.