Jim Garrett, who left this world on February 9th, 2018 at 87 years old, not only lived the American Dream, he personified it. Eight successful children, 27 healthy grandchildren, married more than 67 years to his incomparable bride, Jane, who was okay with him heading to the batting cage minutes after their wedding because, as Jim said, "Well, I was on a hot streak. I wanted to keep it going. This batting cage was special. You would hit toward the ocean, and they had distances. I kept hitting every ball 225 (feet), and I told her, 'Hon, I just know I can hit one 250.'
"So, you don't think I didn't hear about that over the years? I mean, we eventually got a hotel."
A couple of summers ago, I visited Garrett in Monmouth Beach, New Jersey, at the house his family called home, no matter his NFL job, for nearly a half century, across the street from one of the most popular ocean-side sand fronts on the Jersey Shore. We had met once previously in Dallas, and also spoken on the phone a half-dozen times or so. I've said and written this many times: My two all-time favorite people to interview are Barry Switzer and Jim Garrett.
This was nearly three years after he suffered a massive stroke in September 2012, and while his mind was still as brilliant as ever, the man who ran 2.5 miles every single day for 25 years – yes, never missed a day no matter what – could no longer walk or stand up on his own. After a grueling and often painful six months in hospitals, he returned to the family house where he spent his remaining time sleeping in a hospital bed in the living room.
I asked a few questions that morning; at least I'm pretty sure I did. For the most part, though, I listened in awe of the life he had lived. And I enjoyed the stories, the most wonderfully entertaining, there's-no-way-that-actually-happened stories one could imagine.
There was the time in high school when Jim and a few of his friends from the Rutherford, New Jersey, neighborhood in which he grew up hitchhiked to Florida for spring training. He started spending his time with the Pittsburgh Pirates, and even caught batting practice one day. Three weeks passed before an uncle was able to track him down and convince him to return home.
Baseball was always Jim's favorite sport, his beloved New York Yankees his favorite team. I'd be willing to bet that Jim and his son Jason Garrett spoke more the last decade – and they spoke several times a week – about the Yankees than the Cowboys.
However, Jim was 6 feet, 200 pounds coming out of high school and landed a football scholarship at St. Mary's College in California. He later transferred to Utah State and played a few seasons in the NFL for the New York Giants. His coordinators those seasons were Tom Landry and Vince Lombardi.
Later in life, when Jim was the defensive coordinator for the Giants in the 1970s, they beat Landry's Cowboys.
"I was afraid to go across the field to shake hands with him, but sure enough, I look up and he's coming at me, shook my hand, offered congratulations, couldn't have been any nicer," Garrett said. "That's who he was. He wanted to make sure he shook hands with a former player of his. He was the most humble guy you could ever meet, and the most tremendous teacher of the game I've ever been around."
Jim met his wife, previously Jane Lentz, because he broke his leg in six places and dislocated his ankle on the same play while with the Giants. He said the treatment in those days was, 'Here's an icepack.'
Back then, players bought their own cleats, so when he was ready to return to the team, he called a family friend's daughter who worked at Abercrombie & Fitch. After buying the new cleats, he asked her out on a date. She said no. Then she said no again.
"I said, 'What do you mean, no?'" recalled Jim. "She finally said yes, and that was it. That's the best thing that ever happened to me."
After his playing career ended, following a few seasons in the Canadian Football League, Jim started a near half-century run coaching and scouting. At Susquehanna University, he went 39-11-1 with two undefeated seasons over a six-year run. Following that, it was mostly the NFL, first as an assistant coach and then as a scout for the Cowboys for nearly 20 years before retiring in 2004.
On that front, there are two famous stories: He was the first to scout Tony Romo at Eastern Illinois, talking with his coaches extensively and reporting, "Tony wanted to put the entire team on his shoulders. He wanted to stick the ball in there no matter the coverage. He just found ways to create plays."
The second story regards the final meeting between the Cowboys' scouts and the front office before the 1998 NFL Draft. There was much debate about wide receiver Randy Moss and his off-the-field issues that had come to light in the months before. As the debate reached a crescendo, Jim literally jumped on a desk and pleaded with owner Jerry Jones, "This isn't the Boy Scouts. It's the NFL."
At heart, Jim Garrett was a teacher, and for more than 40 years, he ran weekend workouts on the makeshift field next to his beach house. Jason recalls as many as 60 players running around the yard, which measured 80 yards long and not quite regulation size in width. Among those were Pro Bowl linebacker Sam Mills and former Cowboys receiver Miles Austin, who attended nearby Monmouth College. Jane would serve the boys refreshments, sandwiches and lemonade, after the drills.
The eight Garrett children, four boys, four girls, were born in less than eight years … and this despite no twins. They were a close-knit family, and while summers were always at the beach in Jersey, the nomadic life of a football coach led to school years in New Orleans, Cleveland, where Jason attended high school, Buffalo and Houston. Twelve moves total in 15 years.
Raising eight children was obviously hectic, especially with Jim working long days or traveling with his teams, but there was always time for another family pet.
"There were always dogs. One of the defining memories of my childhood is the presence of dogs," Jason said. "My dad always had this spirit, this infectious spirit about him. He would see a stray dog on the way home and walk in the door, 'Hey, I saw the dog, and wanted to bring the dog home.' So, there would be another dog.
"My dad has such a spirit and a presence about him that everything was always going to be good, we were always going to figure it out, and I think he instilled that in all of his kids.
"He has this great spirit, great enthusiasm for life. Bound down the steps in the morning, loud voice, just strong energy, passion, enthusiasm, all those kinds of things. There were different times in his life when he had some tough times to get through, I don't know that he had a great upbringing, but he never showed us that."
The similarities between Jim and Jason are many, beginning with their optimistic outlooks on just about any situation. They are also both men of habit (more on that in a second). Then there are the notebooks. Jason's office has hundreds of notebooks, the majority not filled with any offensive play, but rather notes on leadership as well as stories and quotes from those he admires. There are three notebooks alone on Duke basketball coach Mike Krzyzewski, whom he has visited on several occasions to watch practices and games.
After Jim retired, he took classes, 16 credits worth, at Princeton. He was 74 years old, already possessed a masters' degree from Columbia, but would drive 42 miles three days a week. When I visited him in July 2015, he still had double-digit notebooks from those classes. Every single page of each notebook was filled, every single line. The ink was both blue and red on each page.
"The red is what I didn't understand, and I wanted to ask them the next day," Jim said, "so I would take notes with two pens."
I bumped into Jason one afternoon at the old team headquarters in Valley Ranch a day or two after I spoke with his father on the phone, I guess this was the spring of 2014. In telling him about the call, I mentioned that I always felt smarter after talking with his father. Jason smiled, and as he began to speak, he paused as he teared up before saying, "I learn something from him every time we talk, I really do."
In the almost 10 years I've known Jason Garrett, I've seen him tear up a handful of occasions, each time when speaking about his father. The bond between the two, the mutual admiration, the friendship is unquestioned. Speaking to either, it was obvious how much they were in awe of each other.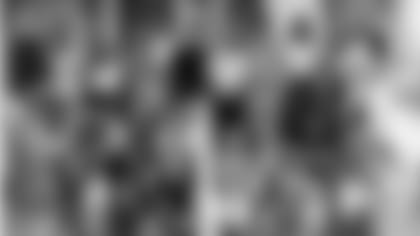 ---
Death is never joyous. As much as the life lived can be honored, as much as those who cared for the deceased can come together and share stories while simultaneously laughing and crying, the loved and admired is still no longer with us.
Still, there is a certain sense of celebration when those fortunate enough live the life they wanted to live and lived it for nearly nine decades. As Ralph Waldo Emerson once wrote, "To leave the world a bit better, whether by a healthy child, a garden patch, a redeemed social condition; to know that even one life has breathed easier because you have lived – that is to have succeeded."
I'm not sure I've ever known anyone who has embodied those words more than Jim Garrett. May he forever Rest in Peace. Before I left his house, as we were shaking hands, he smiled and said, "I have lived a good life … my cup runneth over."