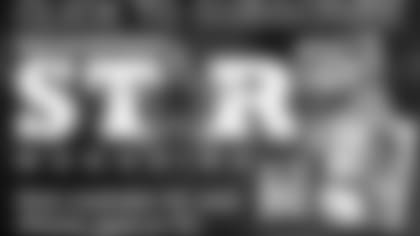 Heading into a Presidential Election, the Democratic Party certainly isn't pouring significant funds into Massachusetts or the District of Columbia. Same for Texas and Nebraska for the Republicans. Just not worth it. Those, and other states, seem to stick with a political affiliation, the Red and Blue as they were dubbed by Tim Russert in 2000.
The remainder are the swing states, which for those wondering what this brief political lesson has anything to do with the 2012 Dallas Cowboys, we figured in the full spirit of an Election Year, why not break down this season's team in terms of swing players, meaning those who will likely determine its success.
Now, immediately names like DeMarcus Ware, Tony Romo and Sean Lee come to mind, but quite honestly, those aren't swing players because we fully expect a high level of performance. Each should rank among the league's elite at his position.
On the flip side, expecting the last two or three guys to make the team to then determine wins and losses on a weekly basis is just plain unrealistic. Those players are on the roster to anchor the special teams, provide depth when needed and hopefully, improve as the season progresses. It's just the reality, kind of like the adage of a baseball season: Every team is going to win 54 games, every team is going to lose 54 games; it's the outcome of the other 54 games that make the difference.
For the Cowboys in 2012, we have identified eight such swing players (listed in alphabetical order):
All the discussion throughout the offseason about the No. 3 receiver, easily the dominant debate of the talking heads this spring and summer, and yet here are Austin's numbers the last 14 games of 2011: 29 catches for 346 yards and three touchdowns. Yes, he missed six of those contests, but that, too, is a concern, especially since the seventh-year wideout didn't take the field during the preseason because of, yes, a hamstring strain.
This isn't a one-year setback either. Since Week 8 of 2010, Austin has two 100-yard outings. Two in 19 games. Among receivers who played at least 25 percent of their team's snaps, his 1.65 yards per route run placed 40th in the NFL last season, according to ProFootballFocus.com, while his 8.51 percent drop rate was 37th.
He is still just 28 years old, and receivers don't age as quickly as running backs, so there's reason for optimism. But there is no way this team maximizes its potential offensively without a 1,000-yard season from Austin.
Few franchises have enjoyed more stellar rookie kicking campaigns than the Cowboys, from Lin Elliott to Chris Boniol to Richie Cunningham to Nick Folk. Even David Buehler had a promising season in 2010, tying a franchise record with four 50-plus-yard field goals. So while Bailey was superb, setting an NFL rookie record with 26 straight field goals, we've been here before. Also, it's worth noting he was 5-of-9 the last five weeks of 2011.
Bailey was sensational throughout camp and the preseason (8-of-8), looks like he's added a few yards on kickoffs and was routinely drilling field goals from 55 yards out in practice.
Under Jason Garrett, the Cowboys have played mostly close games, and there's no reason to think that won't be the case this time around. Consequently, there's no reason to think Bailey won't have 35-to-40 field-goal attempts. The team would also like to see his touchback average closer to 50 percent as opposed to 35.8 from a season ago.
 After more or less taking a redshirt as a rookie while fully recovering from a torn ACL, the time is now for the 2011 second-round pick. Carter started the opener at the Giants, beating out free agent veteran Dan Connor for first-team duties, and performed well.
Athletically speaking, Carter is on another stratosphere compared to his predecessors, Keith Brooking and Bradie James, and from sideline to sideline, few in the league will match his quickness. Also, in pass coverage, his backpedaling ability is ridiculous, much like a Derrick Brooks. Look for Rob Ryan to utilize the former high school quarterback all over the field.
That said, we still haven't seen the production on the field, haven't seen if he's the playmaker Lee proved to be last year, capable of reading the alignment, intercepting a few passes, the sixth sense of always being around the football.
Carter himself has said that while one can study the playbook and watch film 24/7, the more drastic improvement comes through on-field reps. He saw all of 41 defensive snaps in 2011.
More times than not, it's all about the tackles on the offensive line. Yeah, Phil Costa, or whoever is at center, needs to make sure the ball is delivered to Romo's hands in the shotgun and not over his head, and guards Mackenzy Bernadeau and Nate Livings are somewhat unknown but should be solid enough; can't imagine them performing at a lower level than Kyle Kosier a season ago.
And yes, Tyron Smith is making the transition from the right to the left, but the kid's a stud. Offensive line coach Bill Callahan isn't worried, so we shouldn't be either.
Knowing what the expectations should be in 2012 is difficult, but make no mistake, he's the key to the offensive front. Over 1,676 snaps combined at right tackle in 2009 and on the left side in 2010, Free was superb, allowing just 10 quarterback hits and six sacks while excelling in run blocking. Then came last season, when he allowed 34 quarterback hurries and 10 sacks. He was also flagged for 10 penalties, and perhaps most stunningly, even his always reliable run blocking wasn't up to his normal standards.
It's just a matter of whether the move back to the right side translates to the same level of play Free showcased previously.
There is no way of gauging what Jenkins will do this season, perhaps more so than any other player, which is bizarre considering the former first-round pick has started 46 games the last four years. His career numbers include 40 passes defensed and eight interceptions.
Still, the offseason was , well, not even a roller coaster. More like one of those free-fall rides. First, there was the trade demand after the Cowboys signed Brandon Carr and moved up in the first round to select Morris Claiborne, followed by shoulder surgery which knocked him out for the entire preseason.
Jenkins missed the opener, but returned to the lineup in Week 2 at Seattle. In the last year of his rookie deal, he has much to prove, be it to the Cowboys brass and/or the other 31 NFL teams. Playing time shouldn't be an issue. What Jenkins does with that time is.
Easily the most criticized player this preseason, from the moment he failed the conditioning test the first day of camp, Jones is still going to play an instrumental role for this offense, at least that's the plan. Make no mistake, this isn't a committee. DeMarco Murray is the starter, but Jones should see 150-175 touches if he's able to stay healthy, and that's not including kick returns.
Now, that's easier said than done considering he has missed 16 games in four NFL seasons. Somewhat forgotten, however, is that Jones averaged 4.975 yards per touch in 2011 and is only 25 years old. Also, no running back in franchise history (minimum 400 attempts) has a higher career average than his 5.1. And the burst is still there, as evidenced against St. Louis in the preseason.
Also, Murray hasn't been able to remain healthy for an entire season at the college or pro level.
 According to ProFootballFocus.com, the highest-rated run defender on the Cowboys in 2011 was indeed Lissemore, barely edging Lee. The third-year lineman was impressive across the board, too, with 18 solo tackles, eight quarterback hurries and two sacks.
Ryan said long before camp started that he planned on using Lissemore more and that was before Jay Ratliff was slowed by an ankle injury.
Look for Lissemore to line up across the front, at end, tackle and nose. Now, there's a difference between playing 17-18 snaps per game, which he averaged last year, and being in a platoon rotation of 35-40 snaps. If his performance remains at the 2011 level with the increase in playing time, he could challenge Ratliff as the team's most effective lineman.
The Cowboys weren't crushed to see Martellus Bennett sign with the Giants and while little, or nothing, will be lost in the passing game, surprisingly, few were better in run blocking. In fact, according to multiple grading systems, Bennett was the top-ranked run-blocking tight end in the NFL last season.
At both H-back and tight end in 2011, Phillips wasn't overly impressive in run blocking. He can catch the ball, and likely will see 40 or so targets, maybe more, but his blocking has to improve. Even a quick chip block on a blitzing linebacker can be the difference between Romo finding a second read or taking a sack.
Also, there's not much depth at tight end, with only the rookie Hanna also on the roster. And blocking certainly isn't his forte, either.
As with swing states in a Presidential election, chances are the final outcome of the nine aforementioned players will be split at season's end as well. Still, hopefully enough of them avoid the pratfalls that have similarly derailed many a political candidate, allowing the Cowboys to enjoy a romp at the polls.
Follow Jeff Sullivan on Twitter, @SullyBaldHead, or email him at jsullivan@dallascowboys.net.