Over the past four years I have had the privilege of being able to do many amazing things as a cheerleader. I have traveled to foreign countries, performed on numerous stages for countless people, and taught a LOT of camps.
Teaching camp truly is one of my favorite experiences as a Dallas Cowboys Cheerleader. We have such a unique opportunity to influence the youth of America.
And perhaps no one better understands that than myself. I grew up as a camper at DCC Academy, and it was through meeting the amazing cheerleaders of the past that I wanted to audition to be a member of this team myself. Little did I know that the roles would reverse, and I would one day be in their shoes.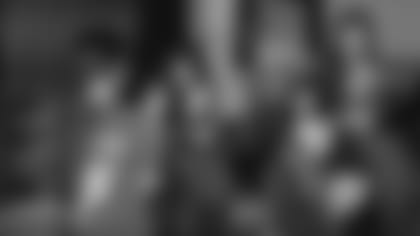 We teach camps all summer long, all over the world on USO tours, and even throughout the football season at schools and on weekends. This year Jinelle, Melissa and myself were able to conduct a very short camp-like experience at the Alice Carlson Applied Learning Center in Fort Worth. We started how we normally do any dance class – with an incredibly energetic Zumba warm-up from Jinelle. She has been deemed our "Zumba master," and her love for children makes her the perfect camp instructor.
Afterward, I taught a dance combo using a song from one of our favorite artists and former Thanksgiving halftime performer, Pitbull. The students were eager to learn and because of that picked up the material so quickly. Normally in a dance class, new moves make people slightly uncomfortable. That in turn slows down the learning process as nerves take place and a lack of confidence surmounts. Until kids hit that threshold of feeling good, it can be slow going and even frustrating for them.
Not at the Applied Learning Center. All the students had hand-selected this cluster activity, and we felt nothing but their positivity and excitement throughout the entire day. Even their amazing little hip-hop king joined in full force right from the start.
Being the only boy in a classroom full of girls, taught and supervised by women, can be incredibly daunting. But this student thrived in a way that was remarkable. While our piece stayed true to hip-hop and gender-neutral choreography, he embraced every step with so much zeal. It was hard not to have a good time watching him and the rest of the performers dance. We even were able to add in a few "Cowboys" moves! Just a little Dez Bryant "X," a few Cole Beasley catches and energetic high knees were sprinkled into the mix.
After dancing, we always want to leave as much of a positive message as possible. Students get the opportunity to ask us questions, and then we introduce how to be "World Class." This truly is a one of our team focuses and a staple at every camp. Defining our DCC acronym as Dedication, Character and Community, we emphasize the importance of using our talents well, all while being people that are contributing to society in a kind-hearted and service-oriented way.
Melissa shines best here by always being able to bring a relatable, yet intelligent quality to every discussion. Following our time dancing together, students are so eager to engage in personal conversation. This allowed them to fully embrace our three key words and speak about ways to effectively initiate being world class.
At the end of the day we were really struggling to leave. We had already bonded with these students that we had only met two hours prior. That's just what dance does. It allows people to grow together in a unique way that strengthens relationships and even personal confidence.
After many, MANY group hugs, and one precious invitation to join the students for their upcoming choir concert, we left with our hearts full and our minds reengaged to the energy and joy of camp. While they were thanking us profusely for a wonderful afternoon, it was us who left with the bigger blessing.
Thank you Alice Carlson Applied Learning Center for allowing us to teach you what we love most!