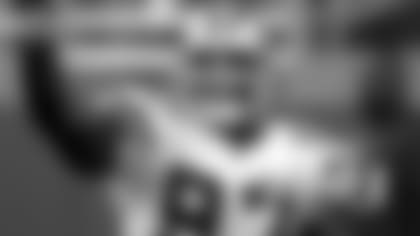 The most important part of each season may be the daily practice grind in July and August, when a team is truly built. As a countdown to this year's training camp, we celebrate the 53rd year of Cowboys football by constructing the team's all-time 53-man roster, picking one player for each season.
Not so much the 53 best players in club history, DallasCowboys.com has constructed the ultimate team, filling out the depth chart and making room for contributors at every position, including special teams, while at the same time looking ahead to how this year's 53-man roster might shake out.
The series continues today with 2003 and defensive tackle La'Roi Glover.
Name: La'Roi Glover 
Position: Defensive tackle 
College:San Diego State 
Height/Weight: 6-2 / 285
Cowboys Tenure: 2002-05
Why Him?Simply put, La'Roi Glover might be one of the better football players the Cowboys have ever had, but just played in the wrong time and the wrong era to ever get fully appreciated. Current head coach Jason Garrett likes to call certain guys "football players" meaning they don't always have the best attributes, but just know how to play the game the right way. That's the best way to describe La'Roi Glover, who signed with the Cowboys in 2002 as a free agent. In four years, Glover played on just one playoff team (2003) but still managed to make four Pro Bowls. He's the only player in franchise history to play at least three seasons and make the Pro Bowl in every year with the team. Not afraid to get dirty in the trenches, Glover wasn't the biggest player on the team but willed himself to make plays. After a slow start to his career, the Raiders basically gave up on Glover, who latched on with the Saints and became one of the best defensive linemen in all of football. He continued that success to both the Cowboys and Rams to finish his career.
The Role: While one might make the argument Glover didn't play long enough to be considered on the Cowboys' Ultimate 53-man roster, all he did was produce from the moment he got here. There aren't many defensive linemen in franchise history with four Pro Bowls (Harvey Martin had four and Ed "Too Tall" Jones went to three). Glover wasn't a lifelong Cowboys player but he's deserving of this spot. As for his role, Glover would be great for depth, both as a defensive tackle and a defensive end. His four years with the Cowboys were at the end of Dave Campo's run with the team, playing a 4-3 scheme, which they used in the first three years of Bill Parcells' stint with the club. Parcells didn't like Glover's fit in the 3-4, but for this defense, we think he can play two positions in a backup role.
Back To The Future: It's hard not to compare La'Roi Glover to current defensive tackle Jay Ratliff. Not only do they both have four Pro Bowls with the Cowboys, but the style of play is similar. Both Glover and Ratliff found a way to use their quickness both in feet and hands, with a combination of strength and determination to be successful, despite being considered undersized to play the middle of a defensive line. Both players weren't highly touted coming out of college, but in a quick time became one of the best players in the NFL at their respective position.