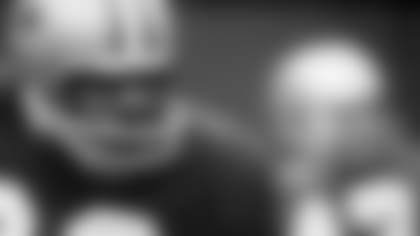 IRVING, Texas – Rarely do the Cowboys enter a draft with a glaring need at any one position. And by the time it rolls around this late-April, who knows how badly the Cowboys will need a safety.
But as it stands currently, the team looks rather thin at the position, where they are counting on two players who were injured most of last year.
In fact, the Cowboys have entered several drafts in recent history with a need at safety.
So it begs the question: Just who are the best safeties in Cowboys history. It's a rather top-heavy list, but the staff of DallasCowboys.com came up with the Top 10 with a couple of honorable mentions.
Honorable Mention:The two that just missed the list had tons of potential. One developed into a better safety after he left and the other had injuries that plagued his career. Randy Hughes was supposed to be the next Cliff Harris and was on his way. He was a fearless hitter with range. But constant shoulder injuries cut Hughes' career short, as he played just six years with the Cowboys (1975-80). As for Brock Marion, a seventh-round pick who started alongside Darren Woodson, he went to the Dolphins and became a Pro Bowler.
10. Bill Bates –It's hard to leave off Bates on any list, particularly one featuring top safeties. That was Bates' position his entire career although he thrived more as a special teams player. Still, Bates started 47 games, mostly from 1986-88. He did have a game-clinching interception in the 1991 playoffs to give Jimmy Johnson his first postseason win.
9. Mike Gaechter – A seven-year starter for the Cowboys in the 1960s, Gaechter had 21 career interceptions, good for 13th in club history. His 100-yard interception return for a touchdown was the longest in franchise history for nearly 40 years before Bryan McCann (101 yards) topped that in 2010.
8. James Washington – If you can make the list for basically one game, Washington has done that. Sure he was a starter on Super Bowl teams, but not all of them. He was a role player at times, but his performance in Super Bowl XXVIII was one of the best in franchise history. He was involved in three turnovers, including a game-tying fumble return to open the second half. He also had an interception and forced a fumble in the Cowboys' 30-13 win over the Bills. 
7. Michael Downs– He was the other rookie free agent who started for the Cowboys in 1981. Everson Walls got the attention with his 11 interceptions as a rookie, but Downs also made his mark early on. He started for about eight seasons on some bad teams, but still led the team in picks three times and is tied for fifth in franchise history with 34 interceptions.
6. Roy Williams –When the Cowboys drafted him eighth overall in 2002, they anticipated having the best safety in franchise history when it was all said and done. As it turned out, Williams did make five Pro Bowls and had quite a start to his career. But it turned sour toward the end as he struggled in coverage and seemingly lost his confidence. Still, early on, Williams was a catalytic player who had a presence in the secondary.
5. Cornell Green – He could've been higher on this list had he played safety his entire career. But Green also spent a lot of his time at cornerback. Still, he was a playmaker at any position. Green spent his first seven years at cornerback before being moved to safety, where he made two Pro Bowls. He is tied for fifth in team history with 34 career interceptions. 
4. Charlie Waters – Not the biggest, fastest or strongest, but he made plays. He knew how to get to the football and he knew how to get his teammates in position, too. Waters had 41 career interceptions. It helped to play alongside Cliff Harris, who could certainly say the same about Waters. Together, they formed quite a duo – possibly the best 1-2 safety tandem in franchise history.  
3. Mel Renfro – If this was a pure defensive backs list, Renfro would likely be No. 1 overall. He did play safety for seven years and made the Pro Bowl in six straight seasons from 1964-69. But he finished the second half of his career at cornerback. In fact, most Cowboys historians view him as a corner and kick returner, although he did spend his early years at safety. Renfro could play any position in the secondary and shine.
2. Cliff Harris – When it came to hitting, Harris delivered more blows than anyone in the secondary. The guys up front like Ed Jones, Harvey Martin and Randy White are identified with the "Doomsday Defense" moniker, but Harris was a big part of that on the back end. He made six Pro Bowls in his career and was named to the All-Decade team at safety for the 1970s. Not counting Renfro, Harris is the only true safety currently in the Cowboys' Ring of Honor.
1. Darren Woodson – He took a backseat to Emmitt, Aikman and Irvin on those Super Bowl teams of the 1990s, but Woodson was the quarterback of the defense. A five-time Pro Bowler, he is currently the Cowboys' all-time leading tackler with 1,350 stops. He played linebacker in college at Arizona State, but had blazing speed for a player his size. In fact, he played in the slot as a safety, something that is unheard of in today's wide-open passing game. Also, Woodson was one of the Cowboys' better special teams player, even after he took over as the starter rather early in his stellar career. Woodson is the only Cowboys player to play for both Jimmy Johnson and Bill Parcells.