Photo Gallery: Play 60 Youth Team Announcement >>](/node/278516)
IRVING, Texas - There were 11 excited young kids at Valley Ranch on Wednesday as they were selected by The Salvation Army and Dallas Cowboys to meet DeMarcus Ware as part of the Cowboys Play 60 youth team.
The local kids got to visit with the All-Pro linebacker, were presented with jerseys and received a few X-box games.
But their excitement went up another level when Ware came back from the presentation, wheeling a cart full of X-box consoles, turning the smiles into a joyous group of kids who were guaranteed a great holiday season on the spot. [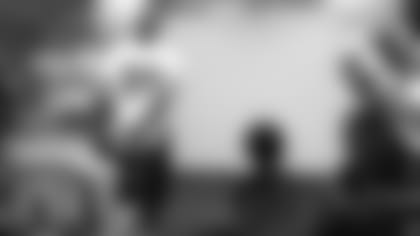 "This is my Christmas!" shouted one excited young man. "This is the best gift ever."
Ware said the looks on those faces make an event like this worthwhile.
"It's just an opportunity for them to be happy … spread the blessings on Thanksgiving," Ware said. "It's just great to be a role model for the kids who are doing the right things in the community. I was Santa today. I gave away some Xboxes with some games. You never know what type of gifts those kids will get on Christmas, but that was a big one today."
And Ware was alright with the notion the kids were a little more excited about the gift, than even meeting Ware and being on the field Thursday in a presentation before the Redskins game.
"They were like, 'Ah, that's DeMarcus. I think we're going to see him in the game tomorrow,'" Ware said. "But when they brought the game consoles out, it was big smiles, really big smiles."
The youth were selected by The Salvation Army to be part of the Dallas Cowboys Play 60 youth team for continually demonstrating the five character traits valued by The Salvation Army's mission – being "Passionate, Compassionate, Brave, Uplifting and Trustworthy" – both on and off the football field. Selected from The Salvation Army Cedar Crest Community Center, all of the youth are members of The Salvation Army's Pop Warner football league.
The Dallas Cowboys and NFL Play 60 initiative is designed to tackle childhood obesity and inspire kids to play well and eat better. NFL PLAY 60 brings together the NFL and Dallas Cowboys' long-standing commitment to health and fitness with an impressive roster of partner organizations – like Kinect for Xbox 360 and The Salvation Army.