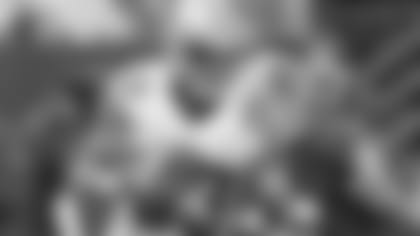 LANDOVER, Md. – The first offensive play of the game for the Cowboys was essentially a dropped touchdown pass by Terrance Williams.
Three hours later, he was the difference maker on a game-winning, season-saving touchdown drive that gave the Cowboys a 24-23 win over the Redskins Sunday at FedExField.
A 51-yard pass from a scrambling Tony Romo to Williams set up the game-winning score by DeMarco Murray. Williams was able to get behind the defense for the catch, flipping the field from the Cowboys' 28 to the Redskins' 21 with just over two minutes to play.
"I saw Tony roll out and I just took off and he found me," Williams said. "He put it out there and I just tried to look it all the way in and make sure I got it."
The 51-yard catch wasn't the only big play by Williams, even on that drive, which began at their own 13 with 3:39 left. The rookie from Baylor also caught a 15-yard pass for a first down that occurred the play after he couldn't haul in a short pass to the same left side of the field.
The drive earlier, Williams had a clutch third-down grab on the sideline for 13 yards and a key first down. He took a big hit on the play but managed to get both feet in bounds and hang on to the pass when he hit the ground.
"That's one of those plays where you know you're going to get hit, so you might as well catch it," Williams said. "I think it shows Tony has enough faith in me to make that play." [embedded_ad]
Williams also had a three-man block down the sideline early in the second quarter, aiding Murray for a season-long 43-yard run.
But all of that came after Williams couldn't hang on to a pass from Romo to open the game. A quick slant was a tad behind the rookie who says the Redskins defender reached in to get a hand on it.
"He got a piece of it but I have to make that catch," Williams said. "When you're down there and it hits your hands and body, you've got to make it."
At least he made up for it.