The offseason practices are in the rearview mirror as the Cowboys are heading towards training camp, which begins on July 24 in Oxnard, Calif.
That's usually the place where many of the questions regarding this team start to get answered.
The staff writers at DallasCowboys.com – Rob Phillips, David Helman, Nick Eatman and Bryan Broaddus – are attempting to answer 20 pressing questions as the team gets ready for camp and the 2017 season.
Today, we continue the series discussing which player in a deep Cowboys rotation will produce the most quarterback sacks this season:
10) Looking To Bolster Pass Rush, Who Leads Team in Sacks in 2017?
Broaddus:I am probably going to regret this but my gut says to go with it. This is the season where DeMarcus Lawrence is able to put together a completely heathy season and finds a way to secure between nine and 10 sacks. The suspension to start the year did him no favors so I could see him putting all that behind him and focusing on a great season in a contract year. Of all the defensive ends on the roster, his ability and technique should put him in position to reach those numbers that I have projected for him. If not, we've likely seen him for the final time.
Eatman: I didn't realize it had been five years since a Cowboys pass rusher led the team in sacks in consecutive years (DeMarcus Ware 2011-12). That just shows the lack of consistency here in that department. And I don't think it's going to change because I'm not picking Mayowa. This one is tricky because they have a rotation where the best rusher isn't much better than the eighth guy and that's not really a good thing. To answer the question, I'll go with David Irving. Yes, he'll miss four games but he's still ready the turn the corner and his sacks seem to come in bunches. With his skill set, he can play both end and tackle so he should be able to play in most pass-rushing situations. I think he can get to nine, maybe 10 despite the suspension.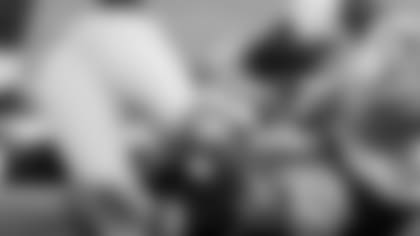 Phillips: Injuries have kept DeMarcus Lawrence from becoming a regular double-digit sack guy, or very close to it. Two back surgeries the last two years certainly isn't ideal for a 25-year-old player who relies on an explosive first step to get to the quarterback. But Lawrence is focused on being healthy this year, and maybe a slightly lighter playing weight can help his back over a full 16-game season. Lawrence's eight sacks in 2015 are the most by a Cowboys player since Jason Hatcher's 11 sacks in 2013. But he spent part of last season basically just trying to manage his back after serving a four-game NFL suspension. If he can stay [Anchor]  healthy, he's arguably the most talented defensive end on the roster and versatile enough to play either side.
Helman:I'm just going to go ahead and jump on the Maliek Collins hype train, full speed. The guy was fantastic as a rookie, and he's coming back with another year under his belt – not to mention I think his supporting cast might be a bit better in 2017. We've all talked endlessly about how important the three-technique position is in Rod Marinelli's defense, and Collins might be the best guy to play that position during Marinelli's time in Dallas. I think Collins is going to be disruptive, and I think he's good enough to reach eight sacks. Of course, you could point out that eight sacks is not a great number for your leader – but the Cowboys' pass rush just isn't going to be an elite unit this year. I think the Cowboys are going to struggle to generate pressure on the edge, but Collins can help pick up the slack and lead this team in the process.