The offseason practices are in the rearview mirror as the Cowboys are heading towards training camp, which begins on July 24 in Oxnard, Calif.
That's usually the place where many of the questions regarding this team start to get answered.
The staff writers at DallasCowboys.com – Rob Phillips, David Helman, Nick Eatman and Bryan Broaddus – are attempting to answer 20 pressing questions as the team gets ready for camp and the 2017 season.
Today, we continue the series with a focus on undrafted rookies. Over the years, the Cowboys have found great players after the draft and still have a few key players on this team including Cole Beasley, Jeff Heath and Dan Bailey. So which player will stand out this year?
19) Which Undrafted Rookie Has Best Chance To Make Roster?
Helman:I'm going to go out on a limb and say there won't be one in 2017. That's a pretty bold prediction, given this team's success in finding undrafted talents like Cole Beasley, Ron Leary and Jeff Heath just in the past few years. But the numbers just don't work out very well this year. It's hard to imagine an undrafted rookie cracking the 53-man roster at quarterback, wide receiver, defensive line, or defensive back. Perhaps Nate Theaker or Dan Skipper can earn a spot on the offensive line, but that's arguably the deepest position on the team. Jahad Thomas is another intriguing talent, but he'll be facing stiff competition from the likes of Alfred Morris and Rod Smith, who already have the edge of experience. This is a deep roster, and I'm not going to be surprised if the veterans hold off the undrafted rookies this summer.
Broaddus: Depending on how things shake out at running back - - Jahad Thomas has the best chance to make the team. If you remember last season, the front office went long at the position to keep Darius Jackson on the roster. I could see them doing the same with Thomas especially if he shows up in the five preseason games they're about to play. If you remember, the scouting report on Thomas coming out of Temple was he wasn't an explosive player and he didn't have the extended speed to finish long runs. His best trait is his ability to catch passes. He did a really nice job of adjusting to the ball and catching it in his hands. You can throw the ball low or high and he's going to make the catch. Will need work as a pass blocker. Technique is poor. Tends to cut instead of staying square. Needs to develop better awareness when helping across the pocket. There were snaps where he got in the quarterback's way. Nothing flashy about his game – steady and productive. Was used as a punt returner his final season so we could see him doing that as well.    
Phillips: Let's go with Jahad Thomas, even though the running back depth chart looks stacked again. Ezekiel Elliott's primary backups, Darren McFadden and Morris, are former 1,000-yard rushers. But remember, the Cowboys started last season with four tailbacks: Elliott, Morris, Lance Dunbar and Darius Jackson while McFadden was on the Non-Football Injury list. Dunbar and Jackson are gone, but Thomas – a versatile back out of Temple – has a chance to claim Dunbar's old role as a shifty runner and receiver with kickoff return experience. Also, Morris hasn't really been a special teams guy throughout his career. If the Cowboys have to go lighter at tailback, could a guy like Thomas push him for that third spot?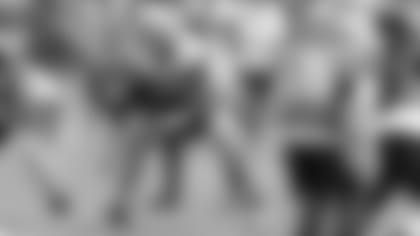 Eatman: While history suggests the Cowboys will have a couple of rookie free agents stick around, let's not forget how good this team was last year. It's a good, young team so it's not easy for those guys to make it anymore. But if I have to pick one, I'll go with Dan Skipper, the 6-10 tackle from Arkansas. I'm calling him a tackle because I still don't think there's any way he will truly be a guard, but he's both spots. And that's a good thing for any rookie free agent – the ability to play more than one position. At this point, you're looking for a guy with some traits, and being 6-10 with long arms would classify as that. He's also a guy who will play with a mean streak – something it gets the best of him. But if he can control that and play with size and leverage, I think he'd be someone to keep around. And if he blocks a field goal during the preseason, it won't hurt his chances.