(Editor's Note: With the draft still about three months away, Bryan Broaddus has already begun his draft research although we're still early in the game. Each day, we'll focus on a position, with Broaddus profiling a handful of top players, going off mainly their college film. Today, we'll focus on the wide receivers.)
Here are a few wide receivers to keep an eye on as we get ready for the 2013 NFL Draft:
Cordarrelle Patterson                     6-3. 205                              Tennessee
Has an interesting background in that he has only played one year of major college football….is a clear playmaker on tape…every chance he gets to do something with the ball in his hands, he makes the most of it…can catch the ball on the move…nice run after catch…can make the first man miss and once that happens, he can be off to the races…have seen him snatch the ball out of the air but I have also seen him work to cradle the ball with his body…there were times where he would jump to put himself in position to catch the ball with his body when he doesn't have to….does this a great deal on slants…he has the quickness to get in and out of routes…good sideline awareness and how to get his feet down in bounds…will lay out for catches…was very good at this against North Carolina State…able to adjust to the low ball…can get vertical on the "9" or the go route but had a terrible drop against Florida where Bray laid the ball right in there for him and he dropped it…was used throughout the season on reverses and with huge success….showed running back skills with the ball in his hands…against Georgia was able to weave through the defense and show an extra gear to get in the end zone…doesn't look like he is running than he is by the defender…can be dynamic with the ball in his hands…had to battle his rear off against Banks of Mississippi State who tried to bang him around in press coverage…not afraid to use his size and hands to push off defenders to get open…had a nice touchdown on a double move against State in the red zone…love the play making ability he shows and how he was able to do it against outstanding competition but still has so much to learn about route running and becoming more consistent catching the ball….just a thought, but very much like Dez Bryant in the limited amount of college games he played but the ability and potential are very similar.
Tavon Austin                                     5-9, 174                              West Virginia
My old boss in Green Bay, Ron Wolf used to say during draft meetings, if a receiver is a small guy, he better walk on water for us to consider him….Austin is short but he doesn't play that way….lines up mainly in the slot and runs all kinds of option routes….has the ability to break down coverage…outstanding football savvy and awareness…outstanding initial quickness and a burst…can turn little plays into big ones…took a short pass inside against Texas and took it the distance through the defense…runs well enough to split coverage…don't see many down the field routes…has a real feel for how to get open…really plays with his eyes…clutch player…reliable…rarely see the ball on the ground when it is thrown in his direction…team was faced with two 4th down situations in the Texas game and both times, Geno Smith threw him the ball…will go get the ball if its thrown poorly….can be a back breaker for a defense with the ball in his hands…really does a nice job of running the "Fly" sweep, had a touchdown against Kansas State….plays with very good concentration, was held off the line against Kansas State badly but still managed to catch the ball….showed really nice explosiveness against TCU catch the ball underneath and getting up the field…he one of those receivers that can make cuts quickly to create separation….there is no doubt that he has the faith and confidence of the quarterback when it comes to making plays…the ball goes his direction without hesitation…could be a mismatch player out of the slot with his quickness initially in a three wide package…respect his football awareness and the toughness that he plays with….bottom line is that he makes plays.
Keenan Allen                                     6-3, 205                              California
Sure that he is a better player than the tape showed because his quarterback was awful….there were plenty of chances where he worked hard to get open and the ball was nowhere close…has to fight for every ball that he catches because of the quarterback's lack of accuracy…..will catch the ball in traffic…plays out of the slot a majority of the time…like Allen runs a lot of option routes…see him go after the ball when it's in the air or square up to make a catch on the spot…more initial quickness than deep speed…runs a ton of underneath routes…really doesn't separate…has a hard time running away from defenders…plays with sideline awareness…can adjust his body to make plays….knows how to work zones and find the soft spots but doesn't have the quick of Allen…good at catching screens and fades….thought he could have done a better job of using his size as a blocker…see him as a speed deficient receiver that has good catching skills but not excellent ones…he really doesn't get open against tight coverage and again, he doesn't have the speed to make defensive backs have to worry about him…have to admit that he is a hard guy to grade because the quarterback play was so bad…best trait he has is his ability to catch the ball in traffic.
DeAndre Hopkins                             5-11, 205                            Clemson
Had an outstanding game against LSU in the bowl to finish his career….is a Junior coming out and you can see times where he plays like he needs more work on his techniques…when you see him play down after down there are positive traits but plenty of negative ones as well….I didn't see a smooth route runner and I didn't see that explosiveness that I observed in Patterson of Tennessee or Austin of West Virginia….played like he struggled against the press…didn't show quickness or power to get away from the defender….thought his hands were inconsistent….times where he would snatch the ball above his head and then next pass he would just flat miss play….like Patterson you will see him try and body catch the ball on the slant…had a touchdown against LSU where he caught a touchdown on a slant…on another inside route he thought he was going to get whacked and he didn't run through it…able to adjust to the low ball because he can use his body to catch it…I didn't see a receiver with strong hands like Austin…ran a nice switch route against South Carolina that resulted in a big gain in the middle of the field…would not call him a blazer on the "9" route…it takes him some time to get going….showed more balance in the LSU game than he did in the others….I didn't see much after the catch….saw him jump too early for a ball down the field that ended up on the ground…had more questions about his game than answers.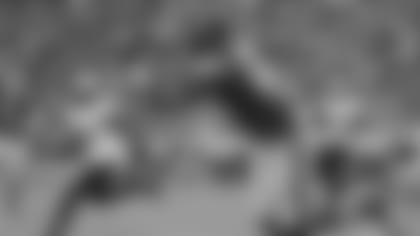 Robert Woods                                  6-1, 190                              USC
Productive, playmaker that plays with good foot quickness and a wiggle...runs solid routes and uses his quickness to get in and out of breaks…. Is one of those receivers that really sees the whole field whether its running routes or with the ball in his hands… good vision….plays with a burst with the ball in his hands….can make things happen on the move…flashes the ability to catch passes away from his frame with his hands….strong handed player… can make catches in traffic and run down passes over his shoulder…. at times shows the strength and agility to spin out of tackle attempts in the secondary…. Has the courage and is willing to go over the middle to take a hit and hang on….really like his toughness… Has the speed to run past defenders but not afraid to push off from defenders to buy himself some space….Finds ways to get open….doesn't stay in one spot….always moving….benefits from a quarterback that knows how to get him the ball….will see him body catch some passes but not as bad as Patterson or Hopkins….has a nose for the goal line….makes things happen with the ball in his hands…has played in some big time football games over his career and responded to the challenge…would draft him high just off the Stanford tape from 2012…plays with a chip on his shoulder….as a freshmen was an all PAC-10 performer as a kickoff returner…something to keep in mind when you are talking about his value to a club.