(Editor's Note: With the draft still about three months away, Bryan Broaddus has already begun his draft research although we're still early in the game. Each day, we'll focus on a position, with Broaddus profiling a handful of top players, going off mainly their college film. Today, we'll focus on the cornerbacks.)
Here are a few cornerbacks to keep an eye on as we get ready for the 2013 NFL Draft:
*Dee Milliner                       6-1, 198                              Alabama                            *
Will usually line up as the boundary corner or to the sideline side but will line up at times to the field….will also see him line up in the slot…best trait is his ability to react…when he sees the ball, he will come and get it…is one of those corners that always seems to be in position in the route….hard man to run away from….there is not much separation when he has to carry his man up the field or when they try and run across the middle…plays with a burst and quickness…is able to recovery from mistakes because of his smarts but this quickness…showed nice quickness in the A&M game when he had to run down a receiver that shook loose from coverage…see him play press coverage quite a bit but will also react out of zone…like him better in press because he doesn't give the receiver any room…it was rare that you saw a bad play from him…looks more than confident to play on that island and not get discouraged…plays like he has the right mental approach…will stick his nose in the action…not a selective tackler…will drive to deliver blow and wrap…knows how to play off blocks to get in position to make plays…is not a small corner that will get targeted in games because they play shy…will be used as a blitzer out of the slot but did not see any pressure from him…was used in A&M and Georgia game this way….played the option well in the Tennessee game, again good awareness...looks ready to plug in and start right now.
Xavier Rhodes                   6-1, 217                              Florida State
Will most likely be the biggest corner weight wise in this draft….heard rumors about him be a soft player but in the games I studied, he was far from that…like Milliner of Alabama and Banks of Mississippi State likes to play press man…is a physical player…will take on pulling offensive linemen…nice willingness in this area…for a thicker guy, moves well…can go up then back without problems…bit on a double move against of Miami but was able to rally back into [embedded_ad]
position to cause an incompletion…shows the ability to adjust in route…don't see him have to hold or grab to stay with his man…like Milliner of Alabama will play in the boundary…awareness to help in coverage….plays with the right mental approach…slot corner had a bust in the Clemson game and dropped his coverage to try and make a play on the ball…for the most part is a wrap up tackler…did a nice job in the Clemson game handling the tight end to the flat and making the play in the open field…able to avoid the block on the screen and make play….plays with quickness in his pedal….had a poor play against Ellington of Clemson where he allowed him around the corner and took a bad angle to the ball which resulted in a nice gain but the majority of plays were done with focus and concentration….productive player when teams throw his direction...didn't see a problem his weight in relation to his quickness…will be interesting to see what he runs at the Combine or at his Pro Day, could tell you a lot where he is drafted.
Jonathan Banks                 6-1, 185                              Mississippi State
Will usually line up at right corner but has also played safety in his career so might be a consideration for the position like Malcolm Jenkins was for the Saints out of Ohio State…has ideal length with very quick feet….really does a nice job when he pedals, reads and reacts…really can break on the route…plays with catch up speed…can really see this in the Tennessee game…turns and moves really easily….no wasted motion….it was rare to see him out of position in a route…is able to carry his man without a problem…has very good coverage skills because of his athletic ability…has the ability to play out of the slot…Excellent mirror and change of direction skills, displays loose hips despite being a tall corner….knows how to play his responsibility in zone coverage….showed good instincts and recognition…if he has a weakness I would say unlike Milliner and Rhodes, he is not a strong player…you will see times where he struggles to get off the wide receiver's block….had a problem in the A&M game with this and it resulted in a big gain on a screen…had a problem with this against LSU as well….needs to get rid of blockers quicker…needs to do a better job of wrapping up ball carrier….I really like the length and his ability to cover…curious to see if somebody works him as a safety as a fit.
Desmond Trufant      5-11,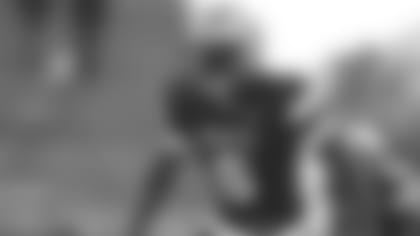 190              Washington Early in the season drew "Star Coverage" against LSU so you see him play all over the field….can play on the outside or the slot and be just fine…was one of the better cornerbacks during the Senior Bowl practices…was not afraid to line up across from any receiver and battle one-on-one….the majority of his snaps are in press coverage…likes to grab and clutch receivers as they run down the field…did a nice job of reacting to the slant when he facing Woods of USC….saw the route develop and exploded out of his pedal forward to meet the ball and Woods at the same spot…has the speed and quickness to carry the route across the field…does a good job quickly flipping his hips to get outside when he is crocked inside…has a little DeAngelo Hall in him jumping routes…is not afraid to gamble or take a chance but will pay for it at times…of the corners I have studied, he gets in more personal battles during the game than the others…he has the foot quickness and the speed to run with receivers and not have problems….if he has a weakness, he can be a shaky tackler even when he is in position to do it…thought he needed to do it quicker…he did make a nice tackle in space against LSU but this isn't one of his strong suits…struggled in the Boise game…has the blood lines of two brothers that have lined up in this league and will most likely be the third…as much as he likes to grab in coverage will be interesting to see if this is something that carries over to the NFL and if he can get away with it but I do like his swagger.
Robert Alford                    5-10, 186                            Southwestern- Louisiana Like Trufant of Washington was another player that caught my eye….usually small school players will fade into the background when working against kids from big programs but Alford was right in the middle of the action…did not look out of place at all…has a slight build but he was a hard player to get away from during his week in Mobile…fluid adjust and athletic ability….able to mirror and turn without any problems…didn't matter whether they tried to take him down the field on a "9" route or a simple out, he was right there….Consistently competitive at the line in press coverage even against larger receivers. Has fluid hips and quick feet to open up and run down the sideline and smooth backpedal to maintain cushion….it was hard to run him out of his pedal… aware zone defender who sees and attacks the underneath route… Good closing speed to the receiver when playing off…liked how much of a physical tackler he was… can avoid blocks in the run game…Used in the slot and as a blitzer because of his quickness…has a feel for this….Shows ball skills….did a nice job during the practices of catching the ball on the move….did not see him fight it at all…able to run in route and play the ball in the air…seems to be the next in line of those small school Louisiana kids that become productive NFL players….there is no doubt of his skill and talent….can help early in nickel packages whether on the outside or the slot.