The Dallas Cowboys Cheerleaders held their annual Christmas retreat this season in true rustic form.
The retreat began with a bus ride to the Camp Willawalla Ranch in Montague County where the ladies took over a cabin for an early Christmas Eve and Christmas Morning experience. All 36 squad members "camped out" along with the DCC management team.
From Karaoke and campfires, to Secret Santa gifts and a nighttime "spotlight" hunt, the weekend proved to be both memorable and meaningful.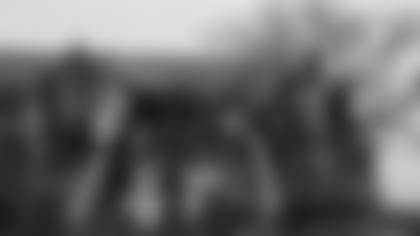 The highlight of the Christmas retreat was a surprise gift from "The Spirit of DCC," which is the 700-member DCC Alumni Association. Alumni coordinator Brooke Wicker presented this year's squad with a handcrafted Christmas tree skirt that will now adorn the holiday tree in the DCC dance studio, one that features more than 500 handmade rookie ornaments.
The DCC tree skirt was meticulously created by the current DCC uniform maker, Lisa Dobson, who lovingly crafted a circular display of authentic elements of the timeless DCC uniform, incorporating fabric, stars, fringe and belt buckles.
Following the holiday fun, the cheerleaders have now returned to a full week of rehearsals in preparation for the Dec. 26 Monday Night Football game when the Dallas Cowboys will take on the Detroit Lions.
A look at some of our favorite photos from the 2016 DCC Christmas Campout.