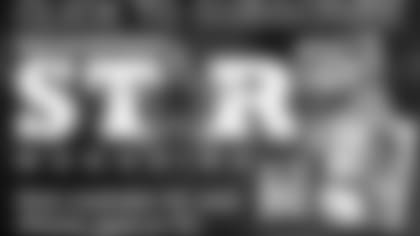 Looking back, there really wasn't a player less prepared and equipped to handle becoming a national celebrity for all the wrong reasons than Leon Lett. Unbeknown to just about everyone, friends, family, teammates and fans, the shy kid who grew up on a dirt road in Fairhope, Ala., a small town of about 15,000, suffered from severe social anxiety. The kind that's somewhat treatable nowadays, but 20 years ago, was another story altogether. And while it was manageable for his first few seasons with the Dallas Cowboys, that was before just about everyone in the country knew his name.
Lett was shy, painfully so. Not on the football field. Oh no, that's where he took out all those frustrations. His teammates called him "Big Cat," for how quick he exploded off the line and his ridiculous agility. We're talking about a 6-foot-6 guy who played point guard in college. A seventh-round pick out of Emporia State in 1991, Lett was as physically talented as any defensive tackle in franchise history, perhaps more so.
He ended up winning a trio of Super Bowls, being named to two Pro Bowls, which should have been more like four or five, and enjoying a solid 11-year run in the NFL. Of course, there were those two plays. Yeah, those two. Know what? No reason to delve into them here. Been there, done that many times over: Super Bowl XXVII and Thanksgiving 1993.
Google them if need be, but that's the first and last reference in this story because the time has come – heck, the time has long since passed – where those two plays shouldn't define a man who has overcome and persevered so much when it would have been oh-so-easy to recoil from the world and become that guy who chases reporters off his lawn or moves to a farm in Idaho and says forget the whole thing. Leon Lett isn't that man.
That's not to say it's been an easy ride. No, not at all. There was unfathomable insecurity, panic attacks, NFL suspensions for substance abuse and those stretches of time when Lett would simply disappear from the world, unable to deal. The man just wanted to play football. He was incredibly well liked, adored even by his teammates, who all watched over him off the field as they would a younger brother. They had his back, as did his coaches, Cowboys owner Jerry Jones and the team's longtime public relations director Rich Dalrymple. It was almost impossible to know Lett and not want to protect him from those who wanted to harm him.
And we're not talking about his opponents on the gridiron. That was easy stuff for Lett. The man was born to play football, and to many, including Jimmy Johnson, John Madden and Jones, he was the most underrated player on either side of the ball during the Cowboys dynasty of the 1990s.
Lett tried talking to reporters, at least on those days when he didn't start sweating like he had just played a double-overtime game in the Sahara Desert. Thing is, this was even before anyone knew who he was. Then suddenly, overnight really, everyone knew the name Leon Lett. Then it happened again 10 months later. Life can be cruel.
Still, Lett tried, allowing Dalrymple to set up an interview with O.J. Simpson, then an NBC reporter, at Super Bowl XXVIII in Atlanta. Yeah, he was willing to talk about the gaffes. Let's do it.
"I went looking for him and he wasn't there," Dalrymple said. "So we had to search for Leon throughout the hotel, but he was nowhere to be found. Eventually we rescheduled, which he did do then.
"He had a panic attack at the Georgia Dome on Media Day. He was just all sweaty and you felt so bad for him. He was a really nice kid, and that's why no one thought he was a jerk. They seemed to understand he just had this shyness. He had a hard time dealing with the media, which leads to where he is today and makes me just marvel."
Where Lett is today is serving his third season as the assistant defensive line coach for the Dallas Cowboys. His Dallas Cowboys, the team he grew up idolizing, the team who made his dreams come true by drafting him, and the team to whom he gave his heart and so much more for over 10 seasons. Lett loved the Cowboys as much as any player who has come through Valley Ranch.
He also adores Jones, who has served as a father figure to him since those early days when the world could be a confusing place for Lett. And no one has been more supportive of his coaching career.
"When I was younger and making some mistakes, Jerry took the time out to talk to me like a man, treat me like a man, point out, 'Hey, this is what you're doing wrong,' and at the same time said, 'Hey, I was once your age and I made mistakes,' and just really related to me on that level. It stuck with me, too," Lett said. "As I moved on in life after the NFL, I always reflected back on some of those conversations we had. He would always say, 'Don't think about where you are now, think about where you want to be and live your life that way.'
"When they hired [defensive coordinator] Monte Kiffin and [defensive line coach] Rod Marinelli this offseason, he pulled me aside at the Senior Bowl and said, 'This is an opportunity for you to learn from some really strong minds in the NFL game. These guys have wisdom and knowledge of 40 or 50 years combined. Really take advantage of it.'
"He's always been there for me. I've been so incredibly blessed to have him in my life."
For as high profile as Jones is as a personality, arguably more so than any owner in professional sports, it's not well known just how close he becomes with many of his players and coaches. Not in terms of just football, either, although there's that, too, but Jones has bonded with countless players over the years, oftentimes serving as a mentor.
While that has been the case with Lett, this relationship has meant more to both men. Their bond is rare, one that Jones has experienced with just a handful of players, if that, in 25 years as owner of the Cowboys. And the case can be made that few have needed a father figure more, with Lett losing his own when he was just 16 years young after Leon Sr., a massive man himself, passed away, leaving Lett's mother to raise four kids.
"First of all, Leon has become a grown man, a quite impressive man, and a quality football coach right before my eyes, and that's pretty emotional for me," Jones said. "He's a living testimony of overcoming adversity. He's played such a key role with our staff this year, especially with all the injuries on the defensive line.
"This is a kid who, if he went to a bigger school, I think there's no doubt he's a first-round pick. Leon was an outstanding player, so underappreciated for how great he was on the field. I've been fortunate to get to know his family pretty well over the years. I've met many of them in Alabama and think very highly of them. Leon and I have been close for a long time now."
Jones noticed pretty early on during Lett's career that there were anxiety issues. There were also off-the-field problems that led to five violations of the league's substance abuse policy and three suspensions, costing him 28 games over four seasons. And while some were legitimate, others were not, according to Jones, who talks publically about the incidents for the first time.
"There were some difficult times for Leon off the field," Jones said. "He learned from his mistakes, though, and now he's sharing his experiences to help others. Some aspects of the substance-abuse programs weren't fair back in those days, either.
"There were instances where Leon shouldn't have been disciplined, the issues were relative to his anxiety and had little to do with addictive use. And I pleaded with the commissioner, I went to New York and did everything I could to lay in front of the train for Leon, get him the recognition his situation warranted. His situation would have been handled differently today by the league."
This was not an overnight fix for Lett. He didn't wake up one morning with all of his problems solved. It's easy to view him now, the successful 45-year-old NFL assistant coach, serving as a mentor and sounding board for so many, and think that was the case. It wasn't. He has been clean for 13 years now, with his teenage daughter, Leondra, serving as his greatest inspiration.
After his playing career, Lett dabbled in real estate before returning to college to finish his degree. While at UNLV, he became a volunteer assistant coach, and soon enough, he was a full-fledged assistant line coach at Louisiana-Monroe in 2010. A year later, the NFL came calling.
For many, Lett seems like a strange fit as an assistant coach, but in truth, he was more or less grooming himself for such a position during his playing days.
"I felt like it was something I wanted to do even back then, but I knew the hours were long and tough," Lett said. "I was always studying film and the playbook when I was playing. I would start with the personnel formations, and then I went to the offensive linemen and their mannerisms, and then the quarterback, just trying to see if I could pick anything up. I'd watch film Friday nights and at the hotel on Saturdays.
"And when I arrived in Dallas, I tried to see who the successful guys were and hang out, take notes and listen. Guys like Jack Del Rio, Jim Jeffcoat, Ken Norton."
Several players raved when asked about Lett's ability to use his own experiences as a player in coaching. He holds nothing back, football and the challenges that surround it, the demons.
"I try to share everything, some of my mistakes, my greatest hits," Lett said. "Some guys know me from my playing days, not all of them. We signed a new guy a few weeks back and he comes in the first day and says, 'You're a living legend.' I told him, 'I wouldn't go that far, but let's get to work.' I had never heard that one before."
As for dealing with the media and interacting with new people, Lett is stunningly at ease considering how much he struggled during his playing days. It was a maturation process where Lett had to make peace with himself before being able to conquer his struggles with anxiety and social settings.
"I still feel like I have a ways to go with the presentation side of it, but I do feel more comfortable," Lett said. "I'm having a good time with it, and I learned to just go for it. Don't get in my own way. Don't fear what could happen. [embedded_ad]
"It still happens all the time. People relate my career to those two plays, and you hear, 'You know Leon Lett, that's the guy.' At first, it was tough, but now when it comes up that way I have fun with it, try and crack a joke. Sometimes I'll say, 'Well, give me one situation where you made a mistake.'
"One of the things Coach [Jason] Garrett addresses the team about all the time, and it's a great message, is to be that person that when people tell you that you can't do it, that you shouldn't do it, be the one that says I will do it, I can do it."
Leon Lett has done just that and so much more. And now he's serving as an inspiration for those who fall down and think: Maybe I don't want to get back up. Maybe it's easier down here.
Lett's been there; he's been the guy down in the hole. And he knows the way out. He's a walking, breathing example of perseverance and overcoming his darkest fears.
And throughout it all, the highest of highs and the lowest of lows, Lett has never really changed as a person, which is one of the reasons so many have wanted to help and so many are ridiculously proud of the man he has become.
"When I bought the Cowboys and came into the NFL, one of my hopes was meeting people, having relationships with the kind of people you dream about knowing in this world. That quality of person with the highest of integrity, that fits that profile of what we all want to be as a man," Jones said. "And in 25 years, there have been maybe a handful of those people in that upper tier. One of them is Leon Lett."