/ Editor's Note: Each weekday, DallasCowboys.com's writers will field two questions from the fans. Click here to email your question now. **
(Editor's Note: Each day we will take the 2 best questions for our staff writers to answer from the Mailbag. /"Click here" to email questions now.)
BOB KUREK - BLACKSBURG, VA: If the owners get their way in these negotiations and the players' portion of the revenue shrinks, what are the implications on the salary cap and the Cowboys' ability to sign free agents?
Nick: I think the real effects would be seen in the next few years. You probably wouldn't see big changes right now because the majority of the contracts are already written. Maybe there would be a few salary-cap moves to cut players like Leonard Davis or Roy Williams or Marion Barber. But those moves could happen whether there's a cap or not. I really don't see the aspect of signing players changing that much. The players will just get less, but they'll get less across the board. It's not like they're going to hold out because that's what they were making last year or the year before.
Josh: Well, I don't think there will be a noticeable change. Whatever the salary cap number ultimately is, it won't be less than in was 2009, the last time there was a cap. It's just that it (and players' salaries themselves) won't continue to grow at the exponential rate it has over the last decade. I think that's what the owners are trying to slow as much as anything.
DOUG MCBROOM - RED SPRINGS, NC: A good pass rush leads QBs to rush and throw more interceptions. The flip side of that is a good pass defense keeps the ball in the QBs hands longer and allows more sacks and more other mistakes. Do you lean one way or the other, and if you had to choose between adding pass rush or secondary help for the Cowboys, which would you go with?
Nick: I think it's a very good "chicken and egg" theory that is often difficult to discuss. I really don't lean one way or the other. I think Ware and Spencer were really good in 2009 and therefore Newman and Jenkins were both Pro Bowl alternates because of that. I think Ware and Spencer - mostly Spencer - had a down year in 2010 and the cornerbacks weren't very good as a result. It's a combination of both. So I don't think there's a hard-fast rule on that.
Josh: I don't think one is necessarily more important than the other because, as you say, they go hand in hand. As for the Cowboys, though, I think it's easier to improve the secondary overnight than it is the pass rush. That's mainly because they have a major opening at free safety, while one of the primary pass rushers, Anthony Spencer, is guaranteed to return. As I've been saying, the quickest way for the defense to get better isn't to replace guys like Spencer and Mike Jenkins, but for them to play better, closer to their 2009 selves. That may or may not be possible.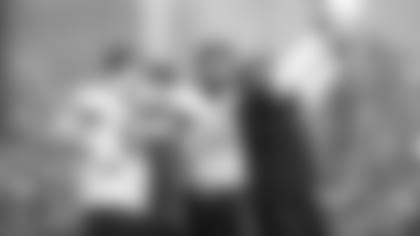 news
Mailbag: Reason For Concern At Left Guard?
We've lost our starting left guard two years in a row. Why isn't this a bigger concern this offseason?