(Editor's Note: In anticipation of the 2018 season, Bryan Broaddus has once again taken a break from scouting the Cowboys in order to scout the opposition. Over the next several weeks, he will take a position-by-position look through the 2018 schedule, analyzing the top five players at each spot for a better understanding of what the Cowboys are up against. The series continues this week breaking down the tight ends.)
FRISCO, Texas – Maybe it's about market size, or maybe it's because good players often get stuck on bad teams. But there's no doubt that not all Pro Bowl players get their due.
Today's tight end preview is an example of that, as Tennessee's Delanie Walker continues on as one of league's most underrated players at the position. From the time Walker parlayed a Super Bowl run with San Francisco into a free agent deal with the Titans, he has succeeded in relative obscurity.
The goal today is to change that, as we shine some light on a guy who has been stringing together quality seasons for five years now.
Name: Delanie Walker
Team:Tennessee Titans
Height/Weight: 6-2/248
College: Central Missouri State
Experience:13th season
NFL Draft: Selected in the sixth round, 175th overall, by San Francisco in 2006
The Titans like to use him on the move. Will line up at different spots in the formation.
For his age, he still moves well up the field. Can get vertical in a hurry. Especially dangerous working in the red zone.
Some of his best routes are working in the middle of the field. Has a feel where to sit down in order to help his quarterback. Presents himself well in order to receive the ball.
Have seen him get turned around in route but then quickly adjust back for the ball.
Will make the one-handed catch. No problems receiving the ball. Can go high or low, it doesn't matter.
Coaches find creative ways to get him the ball. Especially like to use him on delay screens inline or out of the backfield.
Shows some ability when it comes to run after the catch. Will put his head down and fight for extra yards. Have seen him run through tacklers with power.
He's a catch blocker along the line of scrimmage. Doesn't really bust his rear to make the cut off block. Will push/shove his man. Tends to get trapped along the line of scrimmage. Uses his athletic ability to seal defender off the edge. Is much better when he has to block a smaller man. At times they ask him to take on a defensive end and it doesn't work out as well.
2018 Outlook:With a promising young quarterback and a 2017 playoff appearance, the Titans have turned into one of the most exciting, young teams in the league. Walker is obviously the counter to all of that. Since joining Tennessee in 2013, he has managed 800-plus yards in four of his five seasons, offering a quality veteran options to complement young players like Derrick Henry, Taywan Taylor and Corey Davis. Walker will turn 34 while he's in training camp, but he hasn't shown any signs of slowing down, having reached the Pro Bowl three years in a row. Last time he faced Dallas was all the way back in 2014, and he hit the Cowboys for 142 yards and a touchdown in a 16-point loss. Regardless of his age, the Cowboys will need to make him a priority this November.
Name: Jordan Reed
Team: Washington Redskins
Height/Weight: 6-2/246
College: Florida
Experience:6th season
NFL Draft: Selected in the third round, 85th overall, by Washington in 2013
Outstanding hands. He will extend them away from his body or go high above his head to bring the ball in. Catches the ball easily.
Used as a flexed or detached player. You do not see him much in line.
Can win off the line. Makes moves like a wide receiver. Quickness into his routes. Can drive his man off. Plays with a burst. Shows vertical separation. Lateral quickness on the move.
Catches the contested ball. Doesn't let contact bother him. Concentration is good in traffic.
Gets his eyes around quickly for the ball. Hands are not out of position.
Shows some run after the catch. Impressive the way he covers ground with the ball in his hands.
Plays with balance as a route runner. Good in and out of his breaks. Can settle his weight down to make cuts.
Has a nose for the end zone. Finds a way to get the ball across the line. Shows some toughness breaking tackles to get there.
Really doesn't want anything to do with blocking. Avoids it at all costs.
2018 Outlook:Injuries are such a harsh criticism to level against a player, because it's such an unfortunate circumstance that's out of his control. But it is a bummer to think how much higher 
Jordan Reed would be in the NFL hierarchy if he could stay healthy. To this point in his career, he has played in just 52 of 80 possible games. He has authored one truly fantastic season, a couple of good ones – and two that have been completely marred by injury. Reed is sitting out of OTAs while he recovers from injury, but Washington is optimistic to have him back for training camp. Reed can be a monster when he's available. In 2016, he hit the Cowboys for 10 receptions, 95 yards and two touchdowns on Thanksgiving. Time will tell if he can manage to keep himself on the field for the teams' 2018 meetings.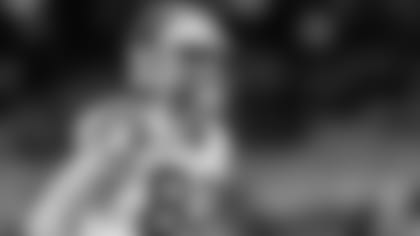 ---
Name: Greg Olsen
Team: Carolina Panthers
Height/Weight: 6-5/255
College: Miami
Experience:12th season
NFL Draft: Selected in the first round, 31st overall, by Chicago in 2007
Still has some initial quickness despite his age. Long speed is questionable. Plays inline and flexed.
Best routes are when he can work the middle of the field. Is a killer against zone coverage. Has a feel where he needs to be to find space. Works well along the sideline.
Some of the best hands in the league. Can make all kinds of receptions. One or two handed, it doesn't matter. Will go high or low to grab a ball. Cam Newton will generally challenge him to make receptions. Ball will be all over the place.
Puts himself in position to make receptions. Not afraid to lay out for the ball. Can extend.
Graceful athlete for a big man. Light on his feet with body control and balance. Plenty of chances to catch screens in the flat. Use him as a weapon this way.
Staff likes to move him around to create mismatches. Hard to defend one-on-one.
Makes receptions down the field like a receiver. Super reliable on money downs. Cam Newton is generally looking in his direction when he needs to convert on 3rd down.
Despite being inline player is really a get in the way blocker. Is not going to get much movement at the point of attack. Not part of this scheme to be a blocker.
2018 Outlook:After a decade in the league, it took an injury to finally halt Olsen's production. The veteran broke his foot in Week 2 of 2017, which wound up being the only year of his career in which he appeared in fewer than 14 games. Prior to that, Olsen was on an incredible run with the Panthers, earning three-straight 1,000-yard seasons and three-straight trips to the Pro Bowl from 2014-16. Given that he just turned 33, it's hard not to see the parallels between Olsen and Jason Witten – especially since Olsen is now the league's elder statesman at tight end after Witten's retirement. With Olsen back to full health, the Cowboys should have quite a challenge on their hands in the season opener.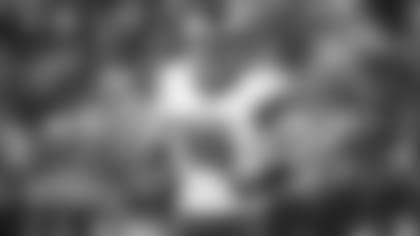 ---
Name:Zach Ertz
Team:Philadelphia Eagles
Height/Weight: 6-5/250
College:Stanford
Experience:6th season
NFL Draft:Selected in the second round, 35th overall, by the Eagles in 2013
Plays mainly detached from the formation.
Knows how to push off from the defender in order to buy space.
Catches the ball well on the move. Can adjust on all levels when it comes to receptions. Playmaker.
Is not much when it comes to run after catch. Takes the ball and heads directly up the field. Not much wiggle or movement.
Reliable hands catcher, especially on big downs. Can match him up one-on-one and he's going to make plays.  Reacts well to the ball.
Has a feel for how to run routes. Not the quickest or fastest. More on smarts than ability. Will set defenders up. Reads coverages well and is able to process information quickly.
Does a nice job of selling the screen. Blocks for two counts, then is out. Good deception. The Eagles use him this way to control the rush.
Plays in balance. There are snaps where defenders are falling all over the place and he's still on his feet. Shows body control in routes.
He's more of a "get in the way" blocker. Has trouble getting movement when put in those blocking positions. Tries to tie his man up and hope that the ball gets past him. Has to fight hard in order to sustain his block.
Is a weapon in the red zone with his ability to get open and finish with the catch. Have to account for him on all downs.
2018 Outlook:For as talented as he is, the Cowboys have actually had a lot of success against Zach Ertz. In 10 career matchups against Dallas, he's managed just 38 catches for 359 yards and just two total touchdowns. Not to mention, 139 of those yards came in one game – the 2016 season finale. Unfortunately for the Cowboys, Ertz figures to have many more opportunities to rectify that, considering he's signed with the Eagles through the 2021 season. We got a good look last year at how potent the Eagles' offense can be with Carson Wentz at the helm, and Ertz should be a big part of that attack for the foreseeable future. The Cowboys will have both of their cracks at him come in the second half of the 2018 season, on Nov. 11 and Dec. 9.
---
Name:Evan Engram
Team:New York Giants
Height/Weight:6-3/236
College:Mississippi
Experience:2ndSeason
NFL Draft:Selected in the first round 23rdoverall, by the Giants in 2017
Shows some flexibility where he lines up. Can play as a true inline "Y" or flex all the way outside as a receiver.  
Moves well. Can release off the line with a burst. Very athletic getting up the field. Executes routes at all levels. Not afraid to take his routes anywhere. 
Shows quickness in his routes. Finds the ball in a hurry. Changes direction easily. Not any wasted movement in the way he plays.
Shows lower body flex. Plays with body control and balance. Not stiff at all. 
Will extend his hands to make the catch. Plays well in space. Especially good in the red zone. His height/physical size gives defensive backs trouble. 
There are snaps where he loses concentration and for no reason drops the ball. Can be a little hit and miss on contested plays. 
Speed is good. Plays like a big wide receiver. Best routes are when he works across the field. Is able to separate. 
Aware player. Has a feel where he is on the field and able to work past the sticks. 
Outstanding position blocker. His hands and feet work well together. Does a good job of maintaining contact with the defender. Effort is really good. Not going to hammer his man off the line, but not a liability either.
2018 Outlook:Little went right for the Giants' offense in 2017, but Engram's upside was a positive. The rookie tight end led the offense in catches (64) and touchdown receptions (6) and finished behind only Sterling Shepard in receiving yards (722). In two games against Dallas last year, Engram had 8 catches for 98 yards. New York finished next-to-last in points per game (15.4) with star receiver Odell Beckham limited to only four games. But the Giants are hoping for a turnaround in 2018 under new head coach Pat Shurmur. Quarterback Eli Manning is back after a brief, controversial benching last year, and top draft pick Saquon Barkley is expected to add a new dimension at the running back spot. Barkley and a healthy Beckham could create more favorable matchups in the passing game for Engram, a tight end with unique receiving skills. The biggest improvement area for Engram is drops – he led all tight ends with 11 last year.
---