(Editor's Note: In anticipation of the 2018 season, Bryan Broaddus has once again taken a break from scouting the Cowboys in order to scout the opposition. Over the next several weeks, he will take a position-by-position look through the 2018 schedule, analyzing the top five players at each spot for a better understanding of what the Cowboys are up against. The series continues this week by breaking down defensive ends.)
FRISCO, Texas –Throughout the last two weeks, I've been praising some of the Cowboys' opposition as "unheralded" or "forgotten." That's not the case with today's preview.
J.J. Watt is as well-known a defender as there is in the NFL today – never mind the fact that injuries have limited him for much of the last two years. That's because everyone knows well exactly what he's capable of when he can play.
Watt enters his eighth NFL season – and his Week 5 matchup against the Cowboys – hoping to regain that form. He racked up 74.5 sacks in the first five seasons of his career, and he'll undoubtedly want to make up for lost time.
Watt was held without a sack in his only career meeting against Dallas, back in 2014. But as anyone who watched that game should remember, the Cowboys will have their hands full in trying to slow him down.
Name: J.J. Watt
Team: Houston Texans
Height/Weight: 6-5/295
College: Wisconsin
Experience: 8th season
NFL Draft: Selected in the first round, 11th overall, by Houston in 2011
Lines up at both left and right end. Also sees snaps inside as a nickel tackle.
Plays with rare initial quickness. Can really get off the ball.
Can avoid blockers with sudden moves. Doesn't stay still for long.
Can push and pull blockers out of their set. He has the length and the reach to create problems. Blockers have a hard time getting their hands on him.
He is so disruptive in the pass game. Not just as a rusher but with his ability to get in throwing lanes.
He's always playing with technique. Super active with his hands.
Difficult to block because he's not always square. He does a nice job of turning his shoulder to take on the blocker, holding them in place.
Knows how to redirect. Doesn't lose sight of the ball. Makes plays closing down off the edge.
Slippery in the way he plays. For a big guy, he can get small. You don't see blockers getting a clean shot on him.
Is generally too much for a tight end to have to block.
Can really turn the corner as a pass rusher. I think he's a better rusher when he's tight to the line than he is when he's wide.
Sees his share of double and triple teams. Is always fighting blocks. Strength and desire keep him from getting blocked.
Has dealt with plenty of injuries the last two seasons and missed a lot of games. When healthy one of the top five players in the league, regardless of position.
2018 Outlook:It's amazing how quickly injuries can rob someone of their status. It hasn't even been two years since Watt was at the apex of the NFL, coming off a 17.5-sack season with 74.5 sacks in just five years of work. The past two years have not been kind, however, as injuries have limited him to just eight games and 1.5 sacks since the start of the 2016 season. This year, Watt is once again rehabbing and hopeful to be back to his dominant form. The last time he played the Cowboys, in 2014, he was in the middle of a season that saw him earn consideration for NFL MVP – 20.5 sacks, 76 tackles, four forced fumbles, five fumble recoveries, 10 pass deflections and an interception. If he can even come close to recapturing that level of play, he'll re-enter the conversation for best defender in the NFL. And if the Texans can pair him with another budding star in Jadeveon Clowney, it should create quite a fearsome defense for opponents to deal with.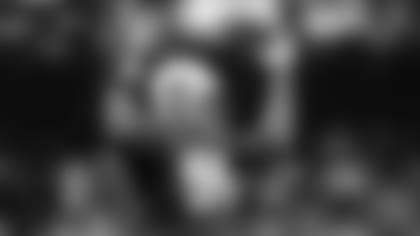 ---
Name: Cam Jordan
Team:New Orleans Saints
Height/Weight: 6-4/287
College: California
Experience:8th season
NFL Draft: Selected in the first round, 24th overall, by New Orleans in 2011
As is the case with many top flight pass rushers, Jordan plays both on the left and right side. He shows physical toughness throughout the game. Is not afraid to mix it up each and every snap.
Has football intelligence. Hard guy to fool on the play. Knows his assignment and executes it well. Plays with instincts, both run and pass.
More short area quickness than long chase speed. I thought he would have made more plays from the back side than he did.
Can break down blockers with his rush. He's the type that keeps coming after you.
Plays with initial quickness off the snap. Has a really good first step. He gets to the  corner in a hurry.
Can extend of the blocker. Has the reach to hold his man in place along the line. Plays with upper body power. Can push the blocker into the hole and make the tackle. Can anchor down at the point of attack.
Plays well on the move. Will get blockers off balance with his movement. Tends to rush a little tall. When he does bend, he can get around the corner.
Plays with contact balance. Hard guy to knock off his feet. Has a feel for how to avoid blockers around his legs.
Can cause problems in the pocket with his length. When he gets around the quarterback, he can finish.
2018 Outlook:Jordan tends to get overlooked in the conversation about elite defensive ends, but he has quietly put together a heck of a resume, with 59.5 sacks and three Pro Bowl selections since coming into the league. To their credit, the Cowboys have absolutely neutralized him in the past. In four career games against Dallas, Jordan has six total tackles and no sacks. Of course, it's been three years since the Cowboys and Saints have met, and the veteran has developed a bit in the interim. Jordan will come to AT&T Stadium as one of the faces of a defense that broke out in a big way last season.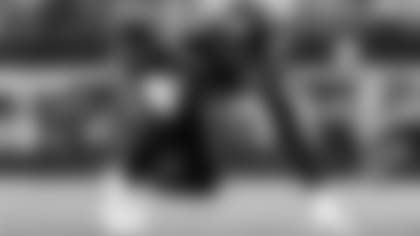 ---
Name: Frank Clark
Team: Seattle Seahawks
Height/Weight: 6-1/270
College: Michigan
Experience: 4th season
NFL Draft: Selected in the second round, 63rd overall, by Seattle in 2015
Plays with some pop in his hands. Clark can walk a blocker back with his power.
The Seahawks will move him around as a rusher. They love to use him to create mismatches.
Stays active. Doesn't let blockers around his legs.
Quick to get off blocks. Plays well with his hands.
Can really gain some ground on the blocker off his first step. Has some real start-stop quickness.
Puts the blocker off balance with his rush. A lot of movement coming off the ball.
Shows some redirection skills. He is able to get up the field, then bend back to get the ball.
Plays with bend. Can capture the edge by getting low and running underneath the blocker.
Hard to deal with when on the twist. Manages to keep himself from getting blocked.
Will give a little ground in the running game then fall back inside to make the tackle.
Can be disruptive in the pocket. He is a finisher when he gets around the quarterback.
2018 Outlook:Clark is developing into one of the league's best young pass rushers, and the Cowboys got a good look at that last fall. In that infamous Christmas Eve meeting last year, Clark gave fits to a banged up Cowboys offensive line, registering four tackles and a sack in the Seahawks' win. The fourth-year standout will be expected to take on a bigger role than ever in 2018, as both Michael Bennett and Cliff Avril – the bedrock of Seattle's pass rush for the past few years – are no longer with the team.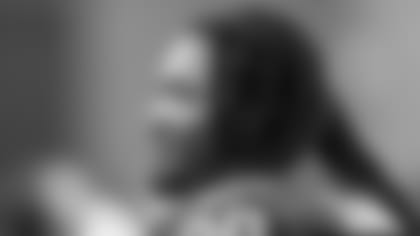 ---
Name: Jadeveon Clowney
Team:Houston Texans
Height/Weight: 6-5/270
College: South Carolina
Experience:5th season
NFL Draft: Selected in the first round, 1st overall, by Houston in 2014
The biggest impression is that he really comes off the ball. That first-step quickness is impressive.
Tremendous change of direction. Slippery in the way he plays. Hard to block when he's on the move.  Has the ability to make defenders lunge at him. Gets blockers off balance. Knows how to take advantage when the blocker is out of position.
Has a feel where he needs to be in order to make the tackle.
Can really close from the backside. Has a burst. Creates problems in the pocket. Hits the quarterback a ton.
Strength to extend on the blockers in order to capture the corner.
Does a good job with his hands to keep them active.
This is a difficult guy to handle one-on-one. It's a bad idea to try and block him with a tight end.
Tackles with power. Once in his grasp, he will bring you down.
Doesn't lose the ball. Works to retrace his steps when it goes inside.
Shows balance when blockers attempts to cut him. Very good body control. Doesn't go to the ground.
Coaches scheme to move him around. Doesn't stay in the same spot. He responds well to playing this way.
2018 Outlook:For a guy facing the high expectations of a No. 1 overall pick, it was a bumpy start for Clowney. He played just four games as a rookie, missing the Texans' 2014 meeting with the Cowboys as a result. From there, though, he has only gotten better. Clowney's sack total has gone up every year of his career, highlighted by 9.5 in 2017. This season should be particularly exciting for the Texans, as it should mark just the second time in Clowney's career that he and J.J. Watt will be healthy enough to play a full season together. If both players are healthy and available on Oct. 7, the Cowboys' offensive line will have its hands full.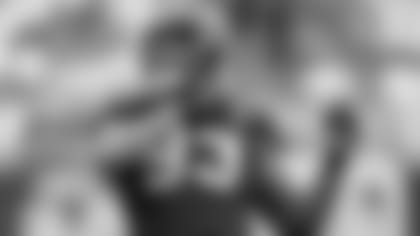 ---
Name: Calais Campbell
Team: Jacksonville Jaguars
Height/Weight: 6-8/300
College: Miami
Experience:11th season
NFL Draft: Selected in the second round, 50th overall, by Arizona in 2008
Campbell plays on both the left and right sides. He will play inside at tackle in pass rush situations.
Some initial quickness off the snap. Felt like he could have played with more lateral quickness.
His bigger size limits how well he really changes directions. Takes him a little time to get going.
Has the power to slip the double team. Doesn't get moved off the spot. Stays square to the line and doesn't get turned. Good contact balance. Plays with body control and balance.
Can walk the blocker back into the quarterback with ease.
Plays with his hands. Gets rid of blockers quickly and then works toward the ball. Just throws blockers aside.
Nice use of pass rush moves. Doesn't get stuck along the line of scrimmage.  Plays with bend and finish.
Does a nice job of falling back inside to make the tackle. Doesn't lose sight of the ball.
He is a violent tackler. Makes physical plays. When he makes contact, the ball carrier stops in his tracks.
Chases down the line of scrimmage. Plays outside the tackle box. Makes plays on the edge.
Sees his share of double teams even with all the talented players around him.
2018 Outlook:We've talked a lot about how the Cowboys have moved on from their older generation, as stars like Tony Romo, Jason Witten and Dez Bryant are no longer with the team. Campbell is a holdover from that generation – and he's still playing pretty well, judging from his 14.5 sacks in 2017. Campbell will play the Cowboys for just the fifth time in his long career this season, and for the first time since he joined the Jaguars. He tallied 11 tackles and two sacks in his four games against Dallas as a member of the Cardinals.