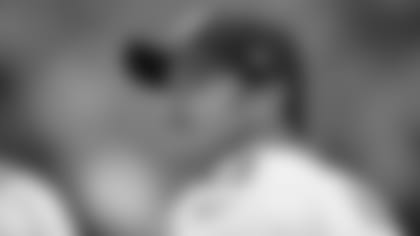 If your quarterback isn't a team player, you don't have much of a team. Tony Romo has always understood that and it doesn't sound like he's going to change his ways now.
But this could be a sticky situation that's about to unfold regarding Romo and his contract dilemma that faces the Cowboys and their starting quarterback.
The Cowboys' brass, including owner Jerry Jones and head coach Jason Garrett and his staff will head up to Indianapolis for the scouting combine this week. Vice President Stephen Jones is already in Indy for the Competition Committee meetings and told *The Dallas Morning News *Tuesday night the Cowboys are in "good shape" regarding the Romo contract talks but also said he wasn't "necessarily confident" and pointed out that "we've got to have both sides wanting to do something."
Stephen Jones also said things could happen fast in terms of a contract, even as early as this weekend.
For the record, let's clarify this: Romo is a team guy. He's always been Pro-Cowboys; especially all the times he's reworked his deal to help the club's financial status. Then again, that's not really a noble thing when players do that – it simply puts money in their pocket now instead of having to play for it throughout the season.
Either way, Romo has been willing to do whatever the Cowboys need. But now, it could be different. As the Cowboys prepare for the March 12 start to free agency, they must trim about $20 million off the cap. And they'd like to shave off more than that to possibly sign a few free agents, including some of their own.
Players such as Brandon Carr and DeMarcus Ware will likely do what Romo has done in the past and rework their deal a little to make it fit. But while the Cowboys would like to do that with Romo, it appears his next restructure will be a little more than tweaking some numbers and moving a few dollars around.
Romo has one year left on his contract. At the age of 33, he knows this will likely be his final opportunity to cash in. [embedded_ad]
So that's why he hasn't been too eager to sign a new deal just to help out the Cowboys. In the regular season, he tabled discussions so he could wait and see how the market would fall. That really didn't help much considering he was hoping Joe Flacco and Matt Ryan would get new deals first to set the market. That didn't happen and since Flacco won the Super Bowl and Ryan had a stellar season for the Falcons, both of those younger, more accomplished quarterbacks will likely get much more cash.
Still, it makes sense for Romo to look out for himself. However, there is a reason the Cowboys would want him to hurry and sign an new deal – one that would help them restructure their 2013 cap and heavily reduce his cap charge, which is currently over $16 million.
The Cowboys want to have a little free-agent flexibility to sign a few players and help this team. Helping this team means helping Romo play better. If Romo plays better, the Cowboys can win more games and if that happens, he gets paid more in the long run.
Call it a Catch 22, a domino-effect, or just your average negotiation of two sides who are trying to work together but also look out for their own best interest.
At this point, I wouldn't call it a problem and from what we know of both parties, I expect something to get worked out pretty soon.