IRVING, Texas – Any two-touchdown day in the NFL is cause for celebration, but Sunday's effort against the Giants had some special significance for Gavin Escobar.
It'd be easy to miss the connection, since the Cowboys drafted Escobar out of San Diego State. Originally a New York native, though, Escobar grew up rooting for the team he helped beat this past weekend.
With plenty of friends and acquaintances watching back in New York, he said he got plenty of feedback on his 65 yards and two touchdowns in the game.
"I got some texts saying, you know 'Man, I hate seeing the G-Men lose, but it's awesome to see you play like that,'" Escobar said. "It's kind of like people are happy to see me doing well over there, but they hate to see the Giants lose."
It's not exactly the first time the second-year tight end has made an impact on a game. Escobar scored two touchdowns as a rookie last season – one of them a somersaulting touchdown in the division championship game against the Eagles.
But in Sunday's 31-21 win, he set a career high for catches, yards and touchdowns en route to the win. It was something Giants fans were sure to notice, as well as the plethora of thrilled Cowboys fans.
"I guess, looking back on it, it's a little bit nicer," he said. "All my buddies back in New York and Jersey were watching, I know – I know they were specifically watching this game, so I guess it was nice that it was against the Giants."
There might be plenty of conflict for Escobar's friends, but he said his family – formerly Giants fans, as well – had no such problem jumping on board.
"They're Cowboys all the way," he said. "But I think when we're not playing the Giants they might be rooting for them, too."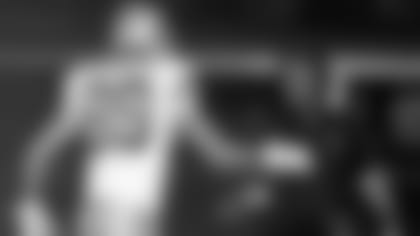 Escobar's emergence against the Giants – particularly near the red zone, where he scored both of his touchdowns – gives plenty of cause for intrigue for the Cowboys. Tony Romo has looked mainly to Dez Bryant and Terrance Williams on scoring plays this season, as the duo has accounted for 10 of his 14 touchdowns.
If Escobar can continue to create mismatches, particularly in tight end-heavy running sets, it could add a fun new wrinkle to the Dallas offense. Rather than get too far ahead of himself, though, he said he needs to continue to improve.
"I think people know my name now after the game on Sunday, which is a good feeling," he said. "But you've got to stay humble and remember that two weeks ago they didn't know my name. Just keep working and get better and just keep doing my thing."