Chris Covington was made to be a quarterback. The type of player that coaches dream about. Good size, strong arm. He can run. A natural leader. The complete package.
There was just one problem.
"I always wanted to be on the defensive side of the ball."
With the first of two sixth-round picks in the 2018 NFL Draft, the Dallas Cowboys' called out the name of Covington, the 193rdselection overall. A University of Indiana product. A linebacker. 
And the choice was certainly warranted. In his senior season with the Hoosiers, Covington racked up 85 tackles, which ranked third on the team and tied for 13thin the Big Ten. He also added 50 solo stops, 12 takedowns for loss and three sacks, an effort that earned him honorable mention all-conference honors. Not a bad résumé in the least. 
 But that final campaign with Indiana came with one caveat – it was the only season that Covington suited up as a starter at linebacker, which is somewhat of a rarity for players who eventually get drafted. And why was that? Well, throughout his high school career and even during his freshman year with the Hoosiers, he was, yes, a quarterback.
"In my heart, I wanted him to stay a quarterback," said Covington's high school head coach, D'Angelo Dereef. "But in his heart, he loved defense."
Back in 2010, Covington showed up at Al Raby High School in Chicago with little fanfare. Dereef admits that he had never heard of him when the young boy and his mother, Sheneesha Edwards, visited the campus in August 2010, looking to learn more about the school and its football program. 
Raby had only been open for business since 2004, the former Lucy Flower Vocational High having been reorganized into a small, college preparatory school that focused on science and computer technology. Six years later, with enrollment capped at just 550 students, the football program was still somewhat in the building stages.
Already 6-feet tall as an incoming freshman and in the neighborhood of 170 pounds, Covington at least looked the part of a quarterback. Still, Dereef wasn't sure what he had here, so when Covington asked if he could come out to practice during that first visit, the head coach was more than happy to take a look at him. And soon enough, despite the rest of the team already working out in full gear, Dereef had him lining up behind center. 
"I just went out there and did what I do," said the soft-spoken Covington. "I just tried to prove myself."
"This is live 11-on-11 and he doesn't have any pads on. The defense is just going to go by and touch him," said Dereef. "But as a freshman, he stood in the pocket, holding the ball, looking like a quarterback, not scared, not running, throwing passes on a dime. Boom! Boom!
"I looked at my assistant coach and was like, 'Wow!' He hadn't applied for school yet, but I called the assistant principal and said, 'We've got to get this boy in, we've got to get this boy in.' I couldn't even talk. He told me to calm down, but I said, 'We've got to get him!'"
Even though Dereef knew just how special his young prodigy was, he gave a returning senior the starting quarterback duties, a move he jokingly said he questions now. By the end of the season, though, Covington was taking the snaps.
"From his sophomore year on, he dominated," said Dereef. "He just kept getting better, getting better, getting better. We ran the spread and Chicago public schools weren't used to that fast-paced offense. He just dominated."
After the team went 4-5 in Covington's freshman year, he led them to a 5-4 mark in 2011, which was followed by back-to-back playoff appearances the next two years. Raby finished 7-3 in 2012 and posted a 7-4 record in his senior season of 2013.
In that final year, Covington passed for 1,993 yards and 26 touchdowns while also racking up 657 rushing yards with another 13 scores on the ground. He earned all-city and all-conference honors.
"It was still kind of a brand new program," said Covington. "We were the underdogs, underrated all the time. I took it upon myself to encourage the other guys. It turned out to be pretty good."
But let's not forget that at such a small school, Covington was asked to play on both sides of the ball. As primarily a defensive back, he also had three interceptions and one forced fumble in his final season at Raby, with six tackles for loss. 
"Against good quarterbacks, we would put him at middle linebacker and have Chris spy him," said Dereef. "He knew that he was going to knock your head off. He was just so strong."
With that kind of performance, college recruiters of course came calling. But while Covington had the required GPA, he still needed to reach the minimum score on the ACT test, and on his first three tries, he came up short. Never one to give up, he continued to work hard and finally hit the needed mark on his fourth attempt, good to go.
Unfortunately, by then several schools had moved on, unwilling to hold a scholarship. Indiana, though, refused to waver and stayed with their man. Covington became the first Raby graduate to earn a full Division-I scholarship in any sport. 
"He was a well-rounded athlete," said William Inge, who is currently Indiana's special teams coordinator, but previously served as the Hoosiers' linebackers coach. "In high school, you want your best athlete to touch the ball on every play, and that's what he was. But what Chris also brings to the table is his physical nature of being able to attack."
Even though his offensive numbers were hard to ignore, Indiana actually recruited Covington to be a defensive back, or a type of safety/linebacker hybrid, as Inge put it. But when two experienced backups transferred to other schools during the offseason and the injury bug then bit the remaining Hoosiers depth at quarterback before the 2014 schedule even began, guess who got the call?
"He went back and played quarterback," said Inge.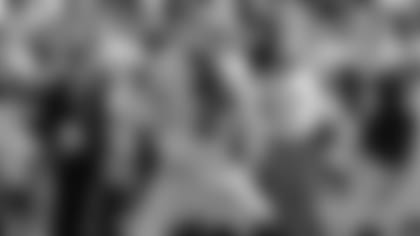 Covington took over as the primary backup behind Nate Sudfeld, who is currently with the Philadelphia Eagles, and he would appear in five of Indiana's first six games during his freshman season. And when Sudfeld then went down with a season-ending shoulder injury against Iowa on Oct. 11, Covington stepped up to finish the game with three completions for 31 yards and 11 carries for 41 more in a 45-29 loss. 
A Big Ten clash against Michigan State was up next, and Covington was now set to be the starter. 
Covington had already been playing on a sore knee and things got even worse against Iowa. Although he tried to hobble his way through the pain, test results revealed that he had torn his ACL. Like Sudfeld, he would now spend the rest of the season on the sidelines.
"I wouldn't say it was frustrating. I knew my knee wasn't all that good, playing on it," said Covington. "But that was my decision to keep playing [instead of resting]. I made a decision and the outcome wasn't so good."
There was never any doubt that Covington would be able to bounce back from the injury. The question now was would he do so as a quarterback. Sudfeld was returning for 2015, and once Covington went down, a fellow freshman, Zander Diamont, stepped into finish out the 2014 campaign behind center.
To their credit, the Hoosiers gave Covington a choice.
"I hoped he wouldn't [return to quarterback]," said Inge. "I knew if he kept growing and developing he was going to be pretty good at linebacker. We told him, 'We think you can help our team the most on defense. You'll have a chance to make this your occupation on defense.'"
In the end, the decision wasn't really all that difficult. 
"He said, 'Coach, all my friends are on defense. I really think I can go ahead and do defense,'" said Dereef. "I said, 'I just want you to get a degree, that's all I want. You do what you're going to do.' He said, 'I'm going to go to linebacker, and I'm going to work hard.'"
"That's true," said Covington. "I hung out with nothing but defensive players, despite playing quarterback. It was kind of odd for me, but defense was my home. That's where I wanted to be."
The turnaround would be slow, however. Primarily a special teamer, Covington only appeared in eight games during his sophomore effort, recording four tackles, all of which came at Penn State on Oct. 10. 
"We had a rule at linebacker," said Inge. "Before you could play linebacker, you had to play on special teams. And he embraced it. … Chris knew he was going to cut his teeth, but managed his role and maximized it."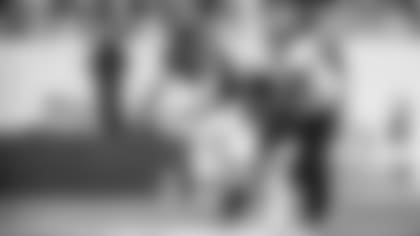 During the 2016 season, his junior year, Covington appeared in all 13 games and earned his first career start in a Nov. 19 loss at Michigan. In that game, he posted six solo tackles and recorded his first sack and first forced fumble. He was also named Indiana's Special Teams Player of Week in a 24-21 win over Michigan State and was picked to be a captain for the Hoosiers' game against Ohio State.
"I was kind of raw, still learning the position," said Covington. "But I wanted to improve. I wanted to do it so bad. So each and every day I tried to improve. I tried to get better any way I could."
Covington finally stepped into the starting role in his final season with the Hoosiers, alongside fellow senior Tegray Scales in Indiana's 4-2-5 alignment. Scales was coming off a year that saw him post 125 tackles, earn Second Team All-Big Ten honors and take home the Hoosiers' Male Athlete of the Year Award.
But while Scales may have been the star of the defense – he was named to six preseason watch lists, including the Chuck Bednarik Award and Bronko Nagurski Trophy – Covington went about the business of simply improving. Starting in all 12 games, he was named Indiana's Defensive Player of the Week after wins against Virginia, Georgia Southern and Illinois.
His best game, though, may have come against the Spartans of Michigan State. Despite his team losing 17-9, Covington recorded career highs in tackles (11), solo tackles (6), tackles for loss (2) and quarterback hits (3). He also picked up a sack.
For his effort in that 2017 season, Covington earned an Honorable Mention All-Big Ten nod and was named Indiana's Defensive Player of the Year.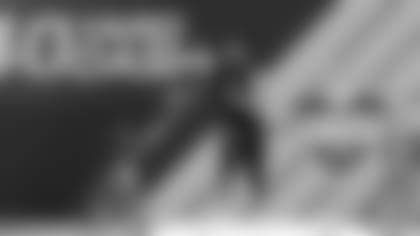 With his collegiate career over, Covington now faced perhaps the most grueling part of this little journey – the draft process. On Jan. 20, he played in the NFLPA Collegiate Bowl, where he led his side with nine tackles, and he participated in the annual NFL Scouting Combine. There was also Indiana's own Pro Day as well as private workouts for several teams, including Dallas. 
Through all that, however, the Cowboys never gave Covington any indication that they were seriously considering drafting him. 
"He told me that he would probably be drafted between rounds five to seven, and he had five teams that were ensuring him that they were going to take him," said Dereef, who still speaks to Covington on a weekly basis. "But Dallas wasn't one of the five. Dallas just kept it so low key."
One of the concerns about Covington, of course, was the fact that he only had 13 starts under his belt at linebacker, which may have scared some teams off. But although they kept their interest a relative secret, the Cowboys were all-in on Covington. 
"For me, it didn't matter that he only started one year. He was starting in the Big Ten," said Cowboys linebackers coach Ben Bloom on the power conference's hardnosed football reputation. "If anything, it's a positive that he may be 'young' for the position because he's got skills to develop."
As it is for most would-be rookies, the three-day draft was one of anxiety for Covington, especially on that third day when he knew his best chance at being selected would come. He spent the time watching the draft at home with his parents.
"Time was ticking," Covington said about the later rounds. "Your nerves get bad. Your blood pressure gets a little high. You start worrying a little bit. But at the same time, the situation I was in, I understood that not being drafted might have been a good situation. Just being a one-year starter, not playing as much, not having as many snaps at linebacker, either way it would have went, I would have been okay with it."
Finally, the call came from owner Jerry Jones in that sixth round, telling Covington that he was now a Dallas Cowboy. His teammate, Scales, would actually go undrafted, signing as a rookie free agent afterward with the Los Angeles Rams. 
For his part, Covington sounded remarkably cool and collected on the phone with Jones. Dereef, however, was anything but. 
"When his name popped up on the screen, I instantly started hollering," said his high school coach. "My wife paused the TV, and I started losing it. I hollered. I started calling my principal and everybody.
"Then I gave it a few minutes and then I called him. He didn't sound excited, but he was excited." 
"He was just filled with jubilation," said Inge. "He said, 'Coach, now I have a chance. I'm going to remember the things that we learned here and try to catapult myself there."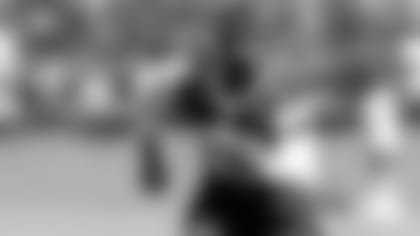 With the rookie minicamp having finished up, and with OTAs set to start next week, Covington's goal now is just to prove that he belongs in the NFL. And the fact that he was a former quarterback can only help.
"I think the more knowledge or athleticism you have, the better the athlete we can get, the better for us," said Bloom. "We can teach him how to tackle and get off blocks, but getting the athletes is what you want. And if they have a bigger picture perspective because he was, in Chris' case, a quarterback, he might understand the offense a little better, which can allow him to play faster on defense."
"Defensively, there are a lot of different things going on," said Covington. "But having played quarterback, it helps a little because you know where the ball wants to go or there are certain coverages that you have an idea where they want to put the ball. Inside the numbers, outside the numbers, things of that nature."
With his size (6-2, 245), Covington will primarily line up at middle linebacker for the Cowboys, which is mainly where he played in college, and on the strong side. But during the rookie practices, he was also seen working on the weak side, a testament to his ability to transition and adapt.
 "I just want to continue to improve each day," said Covington. "I obviously want to try to stay on the roster, make the team. Whatever it takes to do that, I'm going to do it."
"He's doing a good job," said Bloom about Covington's first weekend as a pro. "Their heads should be swimming, but that's okay. It's about how you react. Do you retain quickly, do you not make the same mistake twice, do you listen, do you take good notes, do you ask good questions. He's doing all of those things, and that's all that matters."
"He's a great kid," said Dereef. "The key is he worked so hard. I knew once he got to where he wanted, he was going to work hard to get whatever he deserved. He's that type of kid. I'm absolutely proud. I'm so happy."
Just as he was when Covington first showed up at Al Raby High School as a freshman, trying to showcase his talents as a quarterback to a new coach and team. Now, on the highest of stages, he is doing so for Bloom and the Cowboys, albeit where he always wanted to be, on the defensive side of the ball. 
Because truth be known, Chris Covington was made to be … a linebacker.