Follow along with the very latest Cowboys updates as staff writers David Helman, Rob Phillips, Nick Eatman and Bryan Broaddus provide in-depth news and analysis.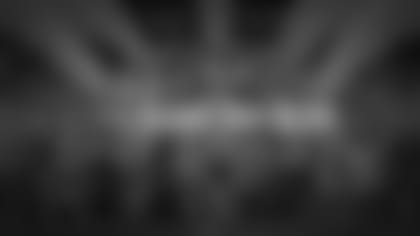 Blog: Zack Martin's Knee; Other Injury News
(Oct. 21, 10:51 p.m.) – It sounds like the Cowboys will be monitoring a few injury situations during their bye week.
Sunday's loss to the Redskins saw several noteworthy injuries – none more so than Zack Martin, who sprained his knee in the second quarter of the game.
"I came in at halftime, got it taped up and put a brace on it," Martin said. "I just had someone fall on the side of my leg. I was able to come back and play the second half."
That's something that will bear monitoring. Martin acknowledged that he'll at least have the bye week to work on it.
"Yeah, you never want to get hurt but if you have something nagging, at least we have a couple of weeks before the next game," he said.
Geoff Swaim also exited the game in the fourth quarter, although Cowboys coach Jason Garrett didn't specify what his injury was. Newly-acquired cornerback C.J. Goodwin also broke his forearm during the game.
and Crowder both sitting, the Redskins' leading active wide receiver is Josh Doctson, who has just eight catches on the year.
No Issues For Sean Lee In Return
(Oct. 21; 10:50 p.m.) -- Sean Lee said he had no issues with his hamstring after making his return to game action Sunday against Washington.
Lee missed the previous three games with a strained hamstring. Starting alongside Jaylon Smith at linebacker, he tallied six tackles Sunday.
"I felt really good physically," he said. "The key for me is just to continue to stay healthy, stay out there, be able to practice week in and week out, play week in and week out. If I can do that, I think I can help this team."
Lee rotated snaps and series in a linebacker rotation with rookie Leighton Vander Esch, Smith and Damien Wilson. The goal is to keep all of them fresh throughout games and the season.
"We've got a great group of guys who can help us win," Lee said.
All Four TEs Active For Dallas vs. Washington
(Oct. 21, 3:10pm) – The Cowboys are heading into this Week 7 matchup with all four of their tight ends active.
That's the most striking news to come out of Sunday's inactives, given that the Cowboys aren't facing any serious injury issues. The team announced 90 minutes prior to kickoff that Mike White, Tavon Austin, Joe Thomas, Caraun Reid, Chris Covington, Xavier Su'a-Filo and Daniel Ross are all inactive for Sunday's game against Washington.
None of that is terribly surprising. Austin and Thomas were ruled out on Friday, as they are still coping with previous injuries. White, Reid, Covington and Su'a-Filo have been regulars on the inactive list. And Ross is likely down this week due to the fact that David Irving and Maliek Collins are both available.
It is a bit surprising to see that Dalton Schultz is active for the first time since Week 1 against Carolina. Schultz played a minimal role in that loss to the Panthers and has been inactive ever since.
Not only is he active for Week 7 – the coaching staff opted not to sit any of their other tight ends, either. Geoff Swaim, Blake Jarwin and Rico Gathers will all be available against Washington, so it will be interesting to see how the snaps are divvied up.
It's also noteworthy that Chidobe Awuzie is active this week. Awuzie was active last week but did not play, as he continues to work his way through an ankle injury. So, while he will be in uniform, that's not necessarily a guarantee of his availability.
Washington has some notable inactives. The Redskins ruled out wide receiver Jamison Crowder with an ankle injury on Friday, and wide receiver Paul Richardson and running back Chris Thompson joined him on the inactive list on Sunday.
Those are big losses for the Washington passing game, which has leaned heavily on tight ends and running backs this season. With Richardson and Crowder both sitting, the Redskins' leading active wide receiver is Josh Doctson, who has just eight catches on the year.