The Nemesis: Miles Austin
On one Sunday afternoon in 2009, one of the greatest games by a Cowboys receiver took place. Miles Austin was in his third season with the club but was only making  his first start for the injured Roy Williams. Austin was talented player who had shown flashes of potential but never the possibility of a 10-catch, 250-yard day. Austin also had two touchdowns that afternoon, his final one, the game-winner in overtime.
After that day, Miles Austin was never viewed the same. Four years later, Austin is coming off a productive outing against the New York Giants as he once again prepares for a return to Kansas City. In studying the Chiefs secondary, I like the matchup of Austin on Sean Smith on the outside. Brandon Flowers is the Chiefs best cover man and he will most likely draw Dez Bryant. Smith is a taller and a longer corner but I didn't see the quickness to handle the routes that Austin can throw at him. I like Austin's ability here to give the Chiefs problems carrying Smith all over the field and even out of the slot. He should be able to find space against Smith.
In Tony Romo's only start against the Chiefs in 2009, he completed 20 passes on that chilly day in Kansas City but he made them all count by averaging over 10 yards a completion. Half of those passes were to Miles Austin, who was on his way to a Cowboys receiving record.
The Chiefs defensive coordinator is Bob Sutton who spent the majority of his NFL career working with Rex Ryan and the New York Jets. The scheme and approach that Sutton has taken with this Chiefs defense is very similar to what Ryan does with the Jets. It's a 3-4 scheme that believes in bringing pressure from all angles. These are the types of chess games that Romo enjoys playing. When it turns into a thinking man's game, Romo finds a way to be at his best.
He will use his weapons to his advantage to try and counter what he is going to see from Sutton. Jason Witten is one of the best "Hot" route runners in the league and I fully expect Romo to find ways to get the ball to him quickly to keep Sutton from bringing pressure every snap. Romo will be able to do his part in this game because he will not be confused at what he is seeing and that will help this offense.
Under The Radar: Lance Dunbar
With a good week of practice, I expect to see Lance Dunbar make his first appearance of the regular season against the Chiefs. Bill Callahan needs to figure out a plan to keep this Chiefs defense from blitzing him in this game on third down, so this is where Dunbar will help this club. He has the ability to help with those loose plays in space by running the ball but with check downs and screens as well. He is such an explosive player that can put pressure on a defense right now.
The Chiefs have a nice group of linebackers inside with Akeem Jordan and Derrick Johnson but dealing with Dunbar could present a whole different set of problems for them. There is such a different dynamic when the ball is in his hands.
During our time in Oxnard, you got the feeling watching the practices that Callahan and this offensive staff were creating plays to get him the ball. He can be special in this zone scheme getting the ball on the edge and around the corner. His lack of height allows him to work behind the line, then make a cut when he sees a crease. The Chiefs front seven is an aggressive group and a player with the ability of Dunbar can take advantage of that.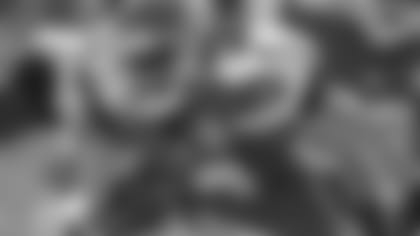 In the only time that Dwayne Bowe has faced the Dallas Cowboys in his career, he averaged over 14 yards a reception. Bowe is one of those players like Victor Cruz or Hakeem Nicks who the Cowboys faced last week that can take over a game with his play on the field.
Throughout his career, his receptions have historically have been for large gains. His size can him difficult to have to deal with. He is fearless as a route runner and will take his routes all over the field. He is sneaky fast and you will see him get in and out of breaks easily. Not afraid to physically push defensive backs off in order to buy separation. He can be a dangerous red zone player in that he fully understands how to play in a small space and get himself open.
Bowe had a very quiet game by his standards last week against Jacksonville and has even had a quiet preseason in working with Alex Smith. The one advantage that the Cowboys have in this game on defense, is that Brandon Carr understands his game and what his strengths and weaknesses are to battle against him. When corners play against receivers, they look for traits or keys that help them understand how they run their routes. Carr should be spot on here.
The Weapon: Brandon Albert
It might seem odd that I would say that the weapon for the Chiefs in this game would be an offensive tackle but that's the case. In my view, Brandon Albert is a really nice player on that left side. He plays with an ease of movement and can adjust very well in space. He can kick and slide to the outside to work himself into position to make blocks and once he is there, his punch is quite forceful. Have seen him jam a rusher in the chest, stop his charge, buy himself some separation and settle in to complete the block. He can be a load in the running game by getting push on the move. Will use his size to his advantage. Can reach or cut off his man but manage to stay on his feet.
DeMarcus Ware has to fight to not allow Albert to get his hands on him, because that is his strength. Of the many traits that DeMarcus Ware has, his best one might be his ability to not provide a large hitting surface for tackles to get their hands on him. How Ware does this by use some low shoulder runs to work past Albert to provide pressure. Albert has the ability to handle Ware one-on-one so how he plays him will be interesting.
Under The Radar: Mike DeVito
The Cowboys in their defensive line have Nick Hayden as a starter at defensive tackle. In this Chiefs 3-4 scheme, their Nick Hayden is defensive end, Mike DeVito. Both players are limited athletically but not limited in the way they show up on the film. DeVito is a veteran player that Chiefs defensive coordinator Bob Sutton had with the Jets and he brought him with him to Kansas City.
There is nothing flashy about the way that DeVito plays but at the point of attack he can be difficult to move because he is not going to let himself get outwork. He is going to play with power and toughness no matter how many blockers he has to take on.
DeVito plays well with his hands, he can extend and flatten the tackle out down the line, then shed the blocker and backdoor the play. He is a perfect two-gap end because he understands how to play with leverage and get off the block. He is not a dynamic pass rusher or a guy with a great deal of pass rush moves. He is relentless in the way he attacks the blocker and there are even times when you will see him slide down inside and take a rush or two at nose.  Not pretty about his game but you will notice him.