CANTON, Ohio – The first game of the NFL season is usually difficult to upstage.
But it happened, at least for the Cowboys this past weekend in Canton, Ohio, the site of a monumental achievement for the organization's longtime leader.
Jerry Jones etched his place in football's storied history with his induction into the Pro Football Hall of Fame.
While the official announcement took place Saturday evening, it was definitely a fun-filled 80 hours since the team touched down in Ohio on Wednesday. The Hall of Fame Game, which the Cowboys happened to win 20-18 over the Cardinals, was just the start of a wild ride that included parties, parades, tours and one speech for the ages.
It's a Celebration: JT & JJ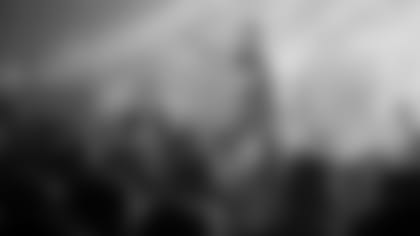 When it comes to football stadiums, Jerry Jones aspired to have the biggest and best sports venue in the world. When it came time to build a new team headquarters, he had the same vision and drive to produce a world-class facility.
Apparently, Jones and his family had that same mentality about throwing parties, especially one for this occasion.
Jerry Jones' celebration for the Pro Football Hall of Fame spared no expense – literally. The headline entertainer was not only Justin Timberlake, but the singer/actor megastar even quipped "Man, Jerry has a lot of money" when addressing the crowd in between songs.
Timberlake, also know as JT, undoubtedly rocked the event, which was held at a nearby country club in Canton, Ohio. But in no way did he steal the show.
No way that was happening and he made sure not to, as he constantly paid tribute to Jerry Jones and the Cowboys in the middle of performing platinum hits such as "Suit & Tie," "Rock Your Body" and "Bringing Sexy Back."
The night still belonged to Jones, whose initials "JJ" were plastered on anything and everything, from the napkins, the wristbands to even the drink stirrers to a massive "JJ" logo on the dance floor.
The entrance to the party was a grand one, beginning with a gold-carpet walk greeted by gold-wearing Dallas Cowboys Cheerleaders with gold pom-poms. And Jones had a new piece of clothing to match, donning his newly-issued gold jacket just a few hours earlier.
Accompanied by his wife Gene, they entered with their family to the song "Hall of Fame," a 2012 hit by The Script. The who's-who crowd even took a moment to honor the man of the evening, but it was clear he wasn't the only celebrity in the house. Nearly 50 other Hall of Famers were on hand, from the likes of Earl Campbell, Dan Marino, Jim Kelly, Eric Dickerson and Warren Sapp to former Cowboys greats such as Roger Staubach, Emmitt Smith, Troy Aikman, Michael Irvin and Mel Renfro. Former coaches such as Jimmy Johnson and Barry Switzer made it back, as did several other great players like Charles Haley and Darren Woodson and recently-departed vet Tony Romo.
The entire current roster, along with coaches and staff members also had invitations, as did selected media who had covered Jones and the Cowboys over the years.
One of the lighter moments of the evening occurred in a roast-like video, that included several familiar faces from former presidents George W. Bush and Bill Clinton to on-screen stars Jamie Foxx, Jimmy Kimmel, Joe Buck and Jon Bon Jovi to current players such as Dak, Zeke and Jason Witten. The theme of the video poked fun at some of Jerry's infamous one-liners over the years, featuring lines such as "crippled cricket's ass" and "glory hole."
From laughs to dance moves, to hugs and handshakes, it was a festive celebration of all celebrations for Jerry Jones on his final day before heading into the mecca of the pro football world.
The Visit: Cowboys Tour the Hall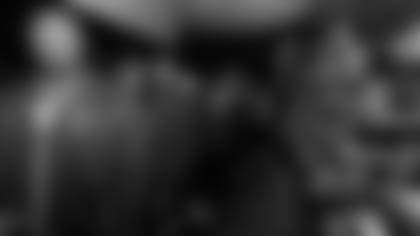 When it all boils down, there really aren't that many opportunities to see NFL players outside the confines of a football stadium or a practice facility.
That's what made for a fascinating evening on Saturday, as the Cowboys took a team trip to the Pro Football Hall of Fame ahead of Jones' induction. Even with all their size and stature, they looked a bit like school kids on a field trip as they fanned out around the museum in matching outfits.
It's easy to forget, given the high stakes and the sizable paychecks of the NFL, but all football players begin as football fans – and that was evident throughout the building. There was Sean Lee studying the bust of Oakland Raider great Ted Hendricks. Two days after for being the Hall of Fame Game's leading rusher, there was Rod Smith taking a photo of a painting of Jim Brown. At every turn, veteran coaches teased their 20-something players for not knowing the legend of the sport's early history. It was a fun flip to see the Dallas Cowboys, admired by fans all over the world, become fans themselves.
In the middle of it all, all eyes tended to gravitate toward Jason Witten. The perennial Pro Bowler, like the rest of his teammates, was in Canton to celebrate Jones' big moment. But it was hard to walk through the hallowed halls of that building without thinking that Witten will likely take a place there beside his boss – a fact that Jones himself alluded to in his speech.
"Jason will be here – he'll have one of these jackets. I hope he doesn't start his five-year clock running," Jones said.
Witten is always quick to deflect attention. But as he stood beside a display case filled with his cleats and equipment, commemorating his NFL-record 110 catches during the 2012 season, he reflected a bit.
"To be mentioned with some of these great players, like I said a few weeks back – you don't slip through the cracks getting in here," he said. "So to have a jersey or a pair of cleats or arm sleeves in there, anything. It's so humbling to think that – it was something you did on the field, but I'm just quick to recognize so many people that helped me get to here."
After a whirlwind visit, the Cowboys were gone, back to the familiar setting of a football stadium to watch Jones speak. But it made for a fun look back – and an interesting look into the future.
Enshrinement Night: A Family Honor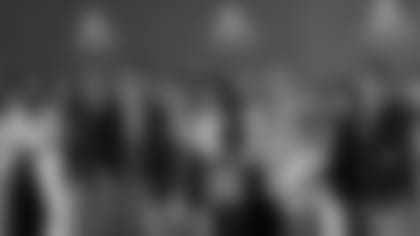 The most poignant and revealing part of Jerry Jones' 37-minute enshrinement speech might have been a song verse he recited from Garth Brooks:
I could have missed the pain
Jones is a known country music fan, yes. But he delivered two critical thematic messages within those three lines.
"We got here with a love of football *and a love of *family," he explained to a very pro-Cowboys audience at Tom Benson Hall of Fame Stadium.
Football and family. Those two passions have been constants throughout Jones' 29 seasons with America's Team. Those two passions helped shape his Canton bust, helped fashion his Hall of Fame jacket, despite challenges along the way.
Jones' college career (he was a starter on a national championship team at the University of Arkansas) strengthened his love for the game and fostered dreams of owning an NFL franchise. The Cowboys weren't always a $4 billion enterprise, and Jones wasn't always the most influential voice among ownership.
During his speech Saturday, he recalled feeling "scared" at his first NFL owners' meeting while surrounded by so many established, innovative and imposing league leaders. When he bought the Cowboys, the organization was losing millions of dollars. When he began setting his own foundation, he was roundly criticized for replacing legendary coach Tom Landry with his old college teammate, Jimmy Johnson. (He recognized both men Saturday, proclaiming that the late Landry's iconic legacy lives on, and telling Johnson, who was on stage as Jason Taylor's presenter, that he was a great partner in the organization for five years.)
Jones, an experienced businessman and an NFL neophyte early on, applied the lessons he'd learned from the game: persistence, competitiveness, toughness. Keep on keepin' on.
"Football kicked in," he said.
Nearly 30 years later, Jones' vision, leadership and marketing acumen produced three Super Bowls in Dallas and pushed the NFL to stratospheric levels of popularity. He's done it leading a family business. Each day he cherishes working with his three children, Stephen, Charlotte and Jerry Jr., in prominent organizational roles. His wife and Hall of Fame presenter, Gene, has been so influential in the Cowboys' philanthropic initiatives over the years.
Honored to wear custom gold Nike shoes given to him by Phil Knight (Knight has provided similar gifts for Tiger Woods and Michael Jordan in the past), Jones thanked former and current Cowboys coaches, players and executives. He thanked his college coach, Frank Broyles, and his old teammates. He acknowledged his parents for their love, support and life lessons growing up. He spoke glowingly of his wife, children and grandchildren.
Saturday night was a Jones family triumph.
The road hasn't always been smooth, but it led Jerry Jones to Canton. He wouldn't have missed that journey for anything.
Back to the Grind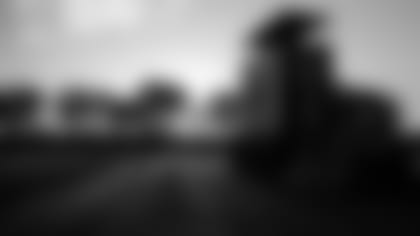 Immediately after the speech, nearly 90 players – all dressed in matching blue warmup suits – headed for the exits, even before the final Hall of Fame inductee, Kurt Warner, delivered his speech. But it's still training camp for the Cowboys, who still have two weeks to go before returning to Texas.
The Cowboys boarded their charter plane from nearby Akron and headed back to California, where they finally got back to their hotel around 3:30 a.m., and that was *after *gaining three hours traveling from the eastern zone to the pacific.
It'll be business as usual for the Cowboys come Monday. But not before getting a front-row seat to a historic weekend, one that won't be forgotten anytime soon.